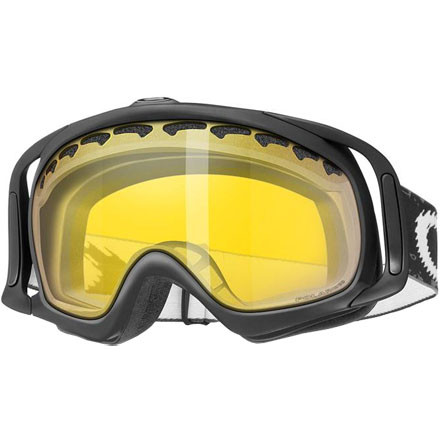 Detail Images
I've only had them out a couple of days but they seemed to perform well. I rarely use goggles and bought these to help with flat light. They are the best I have seen so far.
Good for vision in low light but easily scratched.
Got them and used them once and steamed up like windows on prom nite. GF cat crapped them and buffed them with my eyeglass chamois they scratched like it was going out of style.
Weak sauce.
For the price, i was expecting something much stronger.
Disappointed and am returning.
this bag is great. I got the 166. it fit my board, bindings, longjohns, undershirts (2), two pair of socks, boots, jacket, pants, googles, extra goodies, and has room for a few other small things. recommend to anyone who need a bag
this shirt kept me nice and warm. never got wet. recommend this shirt
these pants kept me warm and dry through various conditons. recommend these
these socks are thick, warm, and cool looking. recommend to everyone.
Optical Superiority Complex
I just rode in my new Crowbars w/ the yellow iridium lens the other day. First off, these goggles look dope (mine came with the retro Oakley logo on the strap). But this lens was perfect for Big Cottonwood Canyon Grey bird. The grippy rubber coating on the goggle strap kept the crowbars in place on my head. I came to the crowbar from a Smith Prodigy, and this goggle fits my face a little better -- it's a little smaller than a prodigy. The peripheral vision in these is sick too.
Simply put, these are the best goggles I have ever used in stormy conditions
a vast improvement over the already excellent Wisdoms
Oakley nailed this one. I had Oakley Wisdoms before and I still think they are excellent, but the Crowbars blow them out of the water.
The new suspension system on the sides of the goggle frame make the Crowbars extremely helmet-compatible right out of the box. (Wisdoms usually required a special helmet strap, sold separately.)
The field of vision - particularly peripherally - are even greater than the Wisdom's range of view. Going back to the Wisdoms felt stuffy after the nearly panoramic view of the Crowbars.
The fit seems more versatile than the Wisdoms. The Wisdoms were supposedly for larger faces while the Crowbars were more middle of the road. I found the Crowbars to fit my face far better than the Wisdoms though, despite my larger-than-average melon.
The only possible downside of the Crowbars is their appearance. If you have a small head, these goggles may just eclipse your face. Otherwise, I think these goggles look great, and they even fit in my jacket pocket more easily than my Wisdoms.
The steeper price for Oakley is definitely well-warranted and worth it if you're considering the Crowbar as your next goggle.
Fit like the oakley a frames but they seem to fit a helmet a little better because of the strap placements. Also you can't beat the high yellow lens for low light. I would get these over A frames and oakleys other newer goggle.
Not only do they look good they performance is out of this world.
I bought the crowbar with H.I blue lens a while ago and its still rocking. It looks great and works good too. Only think I would like to say is: Don't buy them, I want to be alone with them. BUY BUY BUY