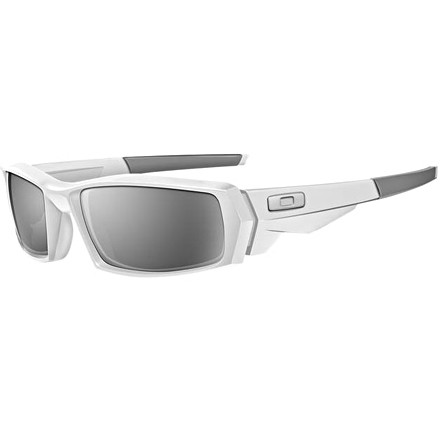 Detail Images

Community Images
great!.....unless you got a big head
i got a pair of the polished white/gray off steepandcheap for a great deal, and i have no problem with the glasses. just look a little wird on me because i have a fat mellon. if you have a average or small head these would work great for you
These fit my narrow head really well. They look sweet, and they held up really well. I finally destroyed mine after 3 years when I dropped them a few hundred feet off a cliff while climbing :(
True to oakley quality. Rubber ear-socks, but no rubber nosepiece. Gray lenses are classy, color is like black iridium without the reflection. Great for smaller faces.You can pick up polarized lenses on oakley vault for $40 making polarized oakleys less than $100 if you score these on a BC outlet site.
I have had many pairs of Oakley sunglasses and these are my current favorite. I got the polished white w/gray lens. They are lightweight and very comfortable. Even comfortable when you put them up on your head when inside, no headache. I also have some Oakley Gascans in black and they are a little big for my face. These are a little less square and fit closer to your face. The lens is great in Colorado, both with the snow and sun.

Did I mention they are Made in USA? Hard to find much made here anymore...

I bought from Steep and Cheap (or was it Brociety?) they shipped super fast and I got a great deal. I can always order worry free because they will take stuff back. Great customer service.
Best Oakleys I've ever had.
I got these for a three week canoe trip because my old SG's(cheap ones) had an unfortunate run in with the bottom of a friends foot.
I got Olive w/ Dark Gray lenses. The Olive frame is translucent and looks BA and the Dark Gray lens was great in the direct sun, in cloudy weather, or portaging through the forest. These glasses have a nice wrap around and stay on your face very well.(they never fell off once in 21 days of doing whitewater.) They were comfortable under my whitewater helmet too. Another thing that's great is when these glasses get stepped on(which happened 3 times this trip) the arms just pop off and it's super easy to pop them back on and they're on just as firm as before the arms snapped off. Also the lenses are tough. In 3weeks there are NO scratches or dents to speak of, which is amazing cause I would just throw these in my pocket or clip them on my PFD and I dropped them plenty of times.
Oakley did an amazing job on the Canteens, I highly recommend them for running, biking, canoeing, kyaking, boating, and looking good.
got em on steep and cheap for a great price...was definitely worth it if you get them at a good discount. I have a small face and they fit great on me and i like that they have the rubber ends to keep them on your face well. only problem with them is that the grey and brown lenses dont stop as much light as i wish they would and in really bright light i sometimes find myself squinting (im a lifeguard and i have sensitive eyes). Also, in terms of oakleys they aren't the most well built pair iv'e ever had. They are by no means cheap but are a little less sturdy than the quality im used to. Overall great pair of shades at a great price.
I just got these glasses and I absolutely love them. I purchased them online so I was a bit concerned about how they would look on me since I couldn't try them on first. They look great and I couldn't be happier! They remind me of a hybrid between the Fives-Squared and the Gascan. As with any Oakley sunglasses, they are extremely light-weight, yet durable and the optical clarity of the lenses is incredible. They feel really comfortable on your face due to the light weight and wrap-around design. Very edgy styling without being too far out, which makes them great for every day wear. An advantage to these over the Gascans, Fives, and many of the other plastic-framed models is the rubber on the ear-stems, which makes them grip to your face really well. I think these could become my new favorite sunglasses. I would highly reccomend buying a pair of these to anyone.
Does anyone know what the serial number...
Does anyone know what the serial number (printed on the inside of the left ear-stem) is supposed to say on these? I just got a pair and the serial says "MPH". Is this normal? Thanks!
There might be an item number, but it should say "Made in the USA" and the model of the frame. If it is a serial number and not an item number, every single one could be different. Don't sweat the small stuff though, as long as you like your Canteen's, that's all that matters. Backcountry.com is an official Oakley dealer, so if you think their fake or something, rest assured, they are legit.
Recommended but only Medium Fit
These glasses look great. However the problem I have with them is that it is too small. Even thought the size says it fit Medium to Large face, it really only fits medium. But if it fits you then it is an awesome pair of shades.
These Oakleys are straight solid. They fit perfect, aren't heavy but still sturdy, and the biggest thing for me is aren't too wide for my face. I have a tough time finding sunglasses that fit my narrower face, but these are perfect! I have the Black/Grey lens and I definitely highly recommend them for looks, function, and comfort. Bought them off Cheap and Steep for ~$50.
I have the white Canteen Oakley's with the...
I have the white Canteen Oakley's with the Grey O and i broke one of the arms off. I was wondering if i could get replacement arms or arm? Thank you
Hi Haley,Not through backcountry.com. You would have to go through Oakley for that sort of stuff. They're really easy to work with though!
I didn't expect much from these, but picked them up on a sweet SAC deal anyway. They have been great. They are a bit lighter than than all my other shades, and never become uncomfortable no matter how long they're on my face.

Like the warm grey lenses, works in a variety of lighting conditions.
Oakley good. Backcountry just as good.
Besides the fact that I love these sunglasses...and that Oakley is the most optically correct company out there... What's up with that reviewer? I'd put more faith in his diatribe if he learned how to spell.

You can't go wrong with Backcountry or Oakley!
I bought these with a grey lense, that got scratched up pretty good, so i replaced them with black iridium polarized, the dif was night and day! i love these glasses, i wear them running, hiking, and cycling, you can't beat them they are Waaaaay comfortable and the rubber on the ends help them stay on. I also have a pair of Gascan S and i have to say that these blow them out of the water.
First the white color looks dumb...
Second the strange lines and dull angle of lens make i to think of middle school teacher...
Can't go wrong with the Canteen's
These glasses are SAweet. i have a smaller face and these are great. they are much smaller compared to the Gascans. The rubber ear pieces really helps them stay on. they look great and are practical. I have the black iridium lenses and they do good in sunny conditions, they are pretty dark.
Unanswered Question
Compared to the twitch sunglasses by oakley...
Compared to the twitch sunglasses by oakley how do these stand?