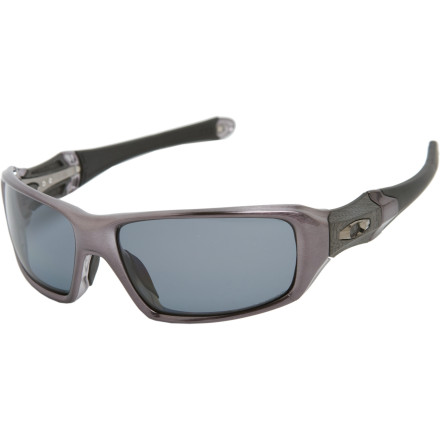 Detail Images
Featuring technology usually reserved for the manufacturing of premium wristwatches and Formula One race cars, the Oakley C-Six Polarized Sunglasses frame is composed of carbon fiber and lightweight aluminum materials.
HDPolarized lens technology provides 99% percent polarization efficiency to block out the maximum amount of glare
Plutonite lens material provides 100% UV protection and blocks harmful blue light up to 400nm
High Definition Optics give you stunning clarity at every possible angle of sight
Hydrophobic/oleophobic coating on lenses allows water and oil to bead off like a fresh coat of wax so your vision stays clear
The 8.75 base lens curvature optimizes peripheral vision and side protection
Iridium lens coating reduces glare and finetunes light transmission for optimal clarity
What do you think about this product?
Have questions about this product?
Great pair of sunglasses, but worth the price? NO DEFINITELY NOT! If you have that kind of money, go for flak jackets or pit bosses. Maybe radar pitch. Too overpriced, and still not the best pair of oakleys out there
re-finance your home for a pair of sunnies?
...more here on the amazing engineering and production process of the Elite C-Six:
* http://www.oakley.com/elite/csix
Want to trade it for a oakley minute...
Want to trade it for a oakley minute tittanium watch with elite box and tag. It cost me a $1,234.49 with tax. Im from Puerto Rico.
Luis - This isn't a trading site. I suggest Craigslist.
HAHAHAHA!!!!! that has to the stupidest question i have seen on a website... dude your a joke!!!!!! LMAO