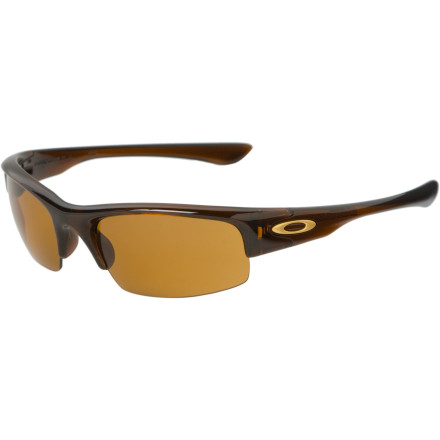 Detail Images
These glassed are nice, fit good, and the optics is excellent. If I was wearing them to the local farmers market I would have given them 4 or 5 stars.
But the "Recommended Use" is "Casual, running, biking, hiking". Yes to Casual and maybe to hiking, but without rubber nose and temple pads these are a big NO for running and biking. I even found myself constantly re-adjusting the glasses during a round of golf. Use on a bike is unsafe because just a little sweat and you find yourself fiddling with your glasses and not focusing on the wheel in front or the trail ahead. Perfect podium glasses, if you want to look fast off the bike these are perfect.
can I have them on black?..I just dont...
can I have them on black?..I just dont like the color bronze
Hey Juan. Inventory questions can languish here, so your best bet to ask about the black ones will be to click on the "Chat Now" link at the top of the page to get in touch with a BC rep. Best of luck!
It's Oakley... what more need I say
Own many pairs of Oakleys, wanted a brown pair, saw this on sale and had to have it. As always the lens is crystal clear. It is lightweight, stays on my face and looks great. I wear them casually and also when cycling.
I ordered these for track and motorcycling and these shades work perfect for both. They look great and perform great with the frame design that hugs your head these shades stay right where they need to be.
Oakley Bottlecap Titanium...
These sunglasses are the truth. I have owned around 10 pairs of Oakleys in the last decade or so, and these have been by far my favorites. They are durable, stylish, and fit my face precisely. I would recommend these to anyone.