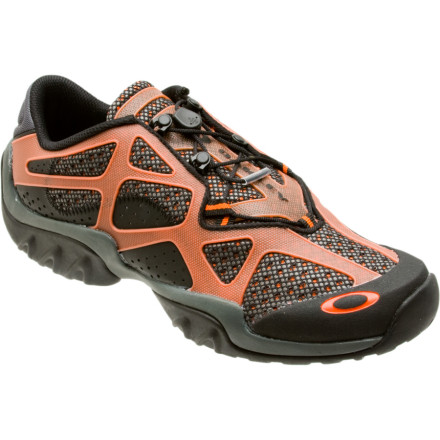 Detail Images

Community Images
What do you think about this product?
Have questions about this product?
Used in the 2010 Texas Water Safari
I wanted a water shoe that had a little more support than the Salomon Tech Amphibian so I tried these and actually liked them better.

They fit true to size and drain water well. I also got a lot less rocks/sand in my shoe then I would with the Tech Amphibian. The lacing system is easy and keeps the shoes on tight. The only thing I didn't really like was the lack of traction I would get walking on wet or submerged rocks. But since I only had to get out of the boat a few times for the Safari, they worked fine - I just had to be really cautious. If they had the traction of the Tech Amphibian, I would have given them a 5 star rating.

If you're looking for a water shoe that has more support and traction isn't as important, I would go with these over the Tech Amphibian, The North Face Padda and the Columbia outpost. If traction is important, go with the Tech Amphibian. I'd say about 95% of the people who do the Texas Water Safari wear the Tech Amphibian.
I was looking for a shoe that can do a lot of boating and side canyon hiking, and i decided on this one. I liked the drainage system which performed exceptionally well and the grip the soles provided on rubber tubes was great. I found them to fit true to size and work great with or without socks. I found them to perform very well at scrambling around on rocks for scouts and side canyon hikes. i even used them for some light trail running and easier climbing.
I only have found a few issues with the shoe after about 6 months of fairly consistent use. the first being that, like RockyMtnHigh said, they do allow quite a bit of sand through, but with socks you don't really notice. the lacing system, although quick and can be cinched down tight, loosens after a while. the last thing that is a little bothersome is that the mesh on the sole drains breaks easily and will let in larger rocks. i can't feel these rocks, but i can hear them.
That all being said, the ones i own are the bottlecap and as far as i know the only thing that changed for the bottlecap 2 was the colors.
Probably OK for boating...
First, the good. These are comfortable, fit true-to-size, and have a decent lacing system that tightens down fairly well. They drain water well, and I would guess that they provide good traction on a boat deck. In fact, as the description describes, they would probably be a good boat shoe.

The bad? If you are planning on using them as an actual water shoe, there could be some problems. Sand easily enters (though the top) but does not easily drain. Even worse, on natural terrain their traction leaves quite a bit to be desired. I tried them for wet-wading a river and will never use them again for this purpose. They have virtually no traction on submerged river rocks, and even poor traction when scrambling on dry rocks on the bank. Be very wary of using these for anything other than boats or flat terrain.

The ugly? Well, I got the red/black ones. Nuf said.