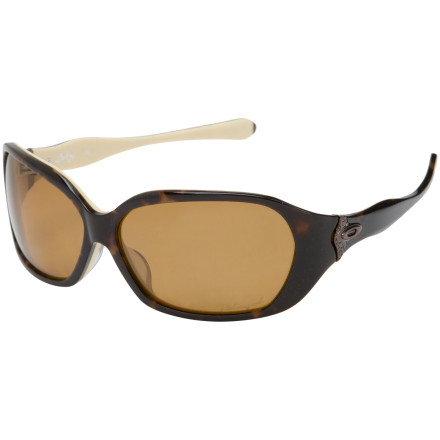 Detail Images
Great sunglasses, great buy!
I just got my new oakleys today and i love them! I love the shape, the fit and how well they stay on my face! I am not constantly pushing them up like I have had to do for all my other sun glasses. I love the polarized lenses, the style and the fit. This was a great buy for me.
Most uncomfortable sunglasses ever!
I gave these sunglasses 3 stars because although they were a disaster for me, they could potentially be great for someone else. The biggest draw for me was that they meet ANSI standards, plus they are very stylish. My eyes are very sensitive to sunlight and the lenses are great, but not too dark. However, I have always had a difficult time finding sunglasses that fit my face and these were no exception. The temples never sit properly on my ears. Instead of the rounded end part of the temples resting on my ears, the straight part usually does which is very uncomfortable. If they do fit properly on the ears, then they don't rest on my nose. I thought these glasses had potential because the temples are almost completely straight with almost no curvature. Not only are these glasses horribly uncomfortable on my nose, they crush my ears and also rest against my forehead. Can't wear them, had to return! (Any suggestions for a pair of glasses that might fit?!)
Unanswered Question
Is this Oakley Betray Sunglasses - Polarized...
Is this Oakley Betray Sunglasses - Polarized for Asian fit? Or do you just have the regular fit? Thanks!
These glasses are perfect for me, I have a small face and I really like trendy things. Theyre the bomb!!!!!!!!!!!!!!!!!!!!!!!