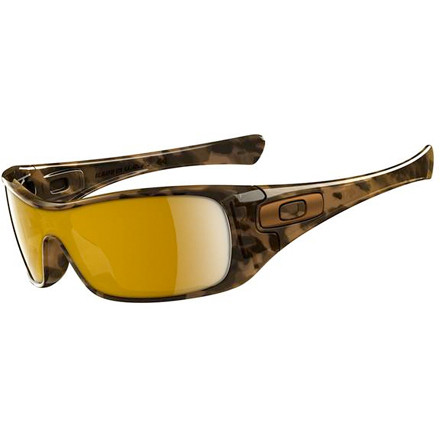 Videos

Community Images
Mischievous troublemaker or edgy sophisticate? The Oakley Antix Sunglasses help you blur the line between street and sleek. One continuous Plutonite lens with Oakley's High Definition Optics blocks out 100% of UV rays and provides uncompromising clarity, while the lightweight O Matter frame fits comfortably on your face. The Three-Point Fit increases comfort and holds the lens in optimal alignment, whether you're cruising to work or heading to the club.
Picture kind of misleading..
Familiarity:

I returned this product before using it
I like the overall design and look of these sunglasses. The lenses were perfect on the Black Tortoise. The only thing I did not care for was the Black Tortoise color. It was see through plastic with the design. I thought it would be a more solid color. For me, the color made me return these. Other than that, great glasses.
lens is scratched, does warranty cover?
lens is scratched, does warranty cover?
They (Oakley) warranty 'manufactures' defects. And they (Oakley) are very specific about how to make warranty claims; you must have original copy of receipt (of course), then they want you to fax that to them. They ask for pics. if possible. There's more, you can read it on their site.

As for B.C., talk to a rep. I know they take most anything...but scratched lenses?


at first i thought they were too big, but i guess that's what's cool these days. they work great for my medium round face
Smooth Sailing on the Grand Canyon
Wore these for a week in the Grand Canyon, they fit solid and they go great with beards.
Simple shade construction, yet look pimp on your face. I use them for everyday usage and coaching. They do the job and stay on well with movement of the head. Fits medium face best.
The perfect mix of sporty and stylish. Love the fit and the lens.
These are basically just the Hijinx with a one piece lens. However that said they are a great glass. The lens is large, giving great coverage, and letting you still see everything you want without ugly frame in the way. They tend to fit most faces, and are just all around awesome. I would caution against getting lens' that contrast with the frame color a lot. They tend to look kinda funny. But thats personal choice.
wear 'em with a helmet, not a faux hawk
If they were just a hair taller, the Antix would be very borderline Jersey Shore-esque. Luckily, they're just a perfectly lightweight mono lens frame with unmatched periphery. Couldn't ask for more.

* black tort frame is much darker, with 'camo' tones only visible when the glasses are not being worn
One of my new favorite pair of glasses. The fit really well on my rather large head.
I have worn these for about 2 weeks now and i like them a lot. They are pretty big compared to flak jackets but i like bigger sunglasses anyway. Awesome style. If you have a small head these probably wont fit you well. Otherwise you will not be disappointed.
What face type is it for... small, med,...
What face type is it for... small, med, large?
i tried 'em at the oakley store and my head is 7 3/8 cap size,so i think they are medium to large face,good coverage thou,i'm going to get em
I got narrow face with guite massive nose but still enjoy them, really fancy piece
i have a medium face, just right for me... oh, and since livenletlive gave a hat size, i'm 7 3/8 as well