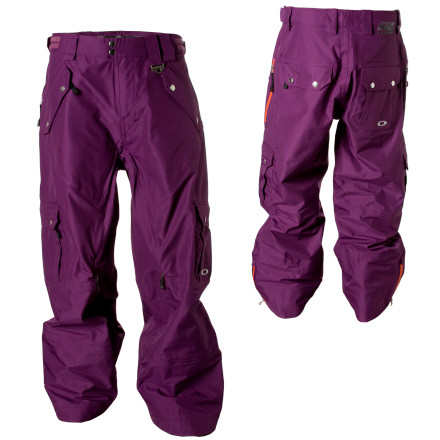 Detail Images
Unanswered Question
I bought a pair of these used, and the...
I bought a pair of these used, and the seller claimed the waterproof/breathability rating is 30k mm/30k g. I've searched everywhere and the only thing I can find showing a rating is 20k mm. Backcountry doesn't even have one listed. I even called Oakley and they had no info on them whatsoever (said they were discontinued).
Can anyone confirm otherwise? I'm sure I got the Alps pants as they matched the picture, but it's strange that the seller didn't even mention the Recco avalanche system. I can't even find the name "Alps" on them anywhere.
Hey! Are it posible to get this pant in...
Hey! Are it posible to get this pant in xl Helio purple? :)
, ☃bcs_badge_alumni_label☃
I am also pretty sure that Oakley is sold out of these. I tried to reorder these several times around October, and they were sold out by then.

sorry.
Hey I'm 5'10", 150 lbs, 31 waist and 32...
Hey I'm 5'10", 150 lbs, 31 waist and 32 inseam. I also like my outerwear to fit a little baggy, but not obnoxiously baggy. Should I go with a small or jump up to a medium for the Alps?
Best Answer
Whatup Erok. for your size I would go medium in these pants. They will fit baggy, but a small will prob be too small. Keep in mind that when you're moving around on the mountain you'll want the mobility a bigger pant can offer you. And if I'm way off and you're not stoked on the mediums, you can always send em back for exchange.

Hope that helps.
Do these pants have tougher material on...
Do these pants have tougher material on the lower leg? Cause i would hate to shred pants this expensive with my ski edges.
hey i wanted to get the helio purple in...
hey i wanted to get the helio purple in M. will they be ordering anymore in?
I asked the same question and they are restocking in early December
My son the extreme skier, received an early Christmas present in the form of these new Oakley pants. His previous pair, Oakley's also, lasted about 10 years and had been repaired many times. His last repair job was done with staples! He is very particular and requested a new pair this year. Considering the price, they were to be under the tree, but he convinced me he needed them now. He works at Snowmass, CO. They have not been worn as yet, but he was thrilled and I'm sure they will be on him this weekend when Snowmass opens.
Part of the "Pro Series" collection. Technical piece that Tanner and I worked on with Oakley Designers. And the designers did what we wanted 100% of the way.This is the best ventilation on a pant I have ever used, the horse shoe inner leg vent looks hidden and the side vents with no mesh and water proof zippers dump heat and moisture in a big way. Pocket location is great, with zipper entry and button snap flap to help keep your valuables secure. There is an inner cuff saver snap to help save the bottom edge of the pants as you stroll from parking lot to lifts. The material is a shell eVent 3 layer which rivals Gore's breathability, waterproofness and wind resistance . This pant can zip to the Alps jacket snow skirt to make a one piece unit, or you can snap it on to the jacket snow skirt as well as other Oakley Jackets, but the zip together is only on certain pieces. It can be a bit tough to get either of these systems connected, but after a bit of practice your golden for those deep days or cliff drops, where crashing may occur. Who wants snow coming in from those experiences? Not Me. There are belt loops, I wear a belt, but there also are some velcro waist adjusters on each to tighten up your show.Simple and clean the way we wanted. Very light pant! Fit is baggy, but true to size, so if your a L get and L. I used the Purple and Black last season, Purple is the new Black.
Hey, I want to get this pant and the...
Hey, I want to get this pant and the matching alps Jacket, backcountry.com has the T-Hall Alps jacket but doesn't have the red T-Hall pants. Instead it has black ones... oakley doesnt show they make the alps pant in black so im a little confused.
You are correct. The Tanner Hall Alps pant are red and a black doesn't exist. Red should be in stock..stay tuned.
Josh,

I am on the buying team at backcountry.com. I just wanted to clear up the confusion over this pant. We only carry the Black and the Helio Purple. We did not stock the Red. I'm not really sure why Oakley does not have the Black, but I can tell you for a fact that we have this pant in Black not red.

Sorry for the confusion
Yes, Oakley does make the Alps pants in black.
Oakley doesn't put all colors on their website when it comes to apparel. As the season goes along what ever they stock will change with what you see on the oakley site. Get an Oakley Catalog and it will have all the color options.
Hi there, I am 175 cm tall and I'm thinking...
Hi there, I am 175 cm tall and I'm thinking of getting the Oakley Alps Pant in size M. So my question is would they run too short on me?
I would suggest fitting these based on your waist size as well.

At 175 cm these are going to be a little on the long side more than likely. Oakley's fit for these ALPS is going to be baggier simply based on style as well. Definitely important to consider your use and what style will be easiest for you based on your riding choices.

I'm 5'11 (180.34cm), 165lbs (74.84 kg) and have a 33in (84cm) waist, I would purchase a medium and expect it to have some bagginess but fit pretty darn well.