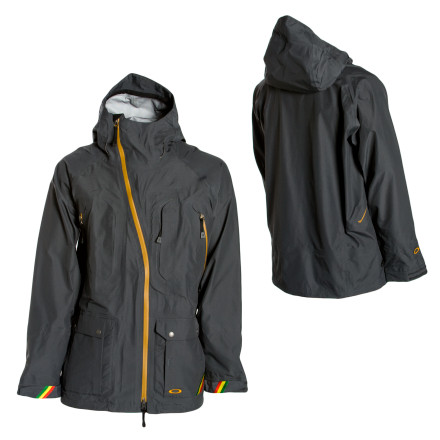 Detail Images

Community Images
It's always nice to have a review after a season of using it instead of when you just get it. Water proof has not worn off after 50+ days of skiing. Definitely keeps the warmth in on the cold days, but you still have to layer. On the really wet deep powder days it will get a bit wet, but way less wet then the rest of your equipment. Also once you go inside it dries off very quickly. A tiny bit of de lamination near the pockets, but doesn't affect the jacket at all. Other than that it's built to last and is super strong. I've had a few encounters with tree's and this jacket does not rip! One thing that would be nice is if the hood was just a tiny bit bigger. It fits well, but not well enough for the super deep, blower, windy pow days. Buy this jacket if it's on sale. Way worth it!
Hey I'm about 5'7" 5'8" and I like a bigger...
Hey I'm about 5'7" 5'8" and I like a bigger fit if I get this in a XXL how far down on me is it gonna go like... Mid thigh? knees?
I'm around 5"8 and got a medium. It was down to my thighs and was pretty damn fat and loose. Too much for me but if you like them big then go with a large. It'll go down to your thigh's maybe a little lower and be more roomy even though the medium's way roomy enough if you under 200 pounds.
Just got the jacket in the mail today and its material is just amazing. It's size medium is more like a size large so it upsizes. Otherwise best jacket you can get.
This Jacket is the most bombproof piece of outerwear I have ever owned. This jacket will keep you dry in the heaviest snowstorms. If you happen to live in a place where it may rain as well, you are covered there as well. When its cold out side throw on a layer, when its warm there are multiple venting options. I think this jacket may do the impossible....make it through multiple seasons!
Hey I'm 5'10", 150 lbs, and like my outerwear...
Hey I'm 5'10", 150 lbs, and like my outerwear a little baggy, but not obnoxiously baggy. I have last year's Oakley Puffy jacket in medium and it turned out to be pretty big on me, should I go with a small for the Alps or will I need to to go with a medium?
Best Answer
This jacket will be sized the same as last year's Oakley Puffy.
Oakley Alps Jacket - Men's
This is an amazing jacket, Seth has it right! The waterproofing/breathability is unmatchable, and compared to other eVent 2L shells that I have owned, this material feels so much more durable as well as the noticeable performance upgrade. I am 6'1, and went with an XL. While it is very close to being to big (and I like baggy stuff), it is good with some layers and looks fine with a pack on. If you want something a bit more fitted, go with a L or even M. Amazing jacket though!
Just got my Alps in the mail
Just got this jacket and it is has exceeded my expectations, the fabric is heavy duty and feels like it can take a few scratches from branches and bark. Lots of pockets. The hood is a little snug over my Smith Varient (low profile helmet) so I would not use it to ski but it will be fine on the chair lift. Cant find the bottle opener that is advertised. I am 5'11" 210 broad shouldered and the XL fits well over my XL softshell. If I wanted the helmet to fit under the hood to free ski I would try the XXL
The Oakley Alps jacket is one of the best of its kind. High performance and functionality combine together to make one great jacket. The 3L eVent material is extremely waterproof and high quality. Fully taped seams add to the great waterproofing. If it gets hot and steamy there is venting under arms and in front. On a cold day you will want to layer with this piece. Multiple pockets give you lots of storage for essentials or everyday items you take with you on the ski hill. The Alps Jacket is the top of the line. The Oakley and Seth Morrison/Tanner Hall collaboration produced one of the best jackets on the market.
Yes Oakley builds hoods around fitting the helmet.
Does the ALPS run big or should I up size...
Does the ALPS run big or should I up size to get a roomy fit?
Like most if not all of Oakley's jackets, the Alps runs loose. Check out the size charts to find out your size.
Best Oakley Jacket to Date.
Worked with Tanner and Oakley designers on this one for the Pro Rider Series, a small collection 100% influenced by a small group of riders. Obviously this a High Performance piece. 3 Layer eVent material, rivals Gore in breathability, waterproofness and wind resistant. My favorite part of the jacket is the offset 2 way front zipper. Being on the side of the face leaves a nice and smooth chin area. Plenty of pockets, the cargos above the waist have snaps for quick and easy access for your camera or whatever else you need quickly, thats where I like to put mine. Nice venting, a small one under the arm is kinda hidden but helps for more air flow or air escape when main vents are open.

This jacket is a blend between Mountaineering and Park. So its a loose fit shell with lots of features. We wanted to keep a stylish look, not fitted. Another nice feature is the powder shirt, there is a zipper on the bottom edge so you can zip it to the waist line of the Alps pant and a few others in the Oakley line, thus making a one piece for those deep powder days or times your sending it and may possibly Tomahawk. Its a bit tricky to use at first but after some use you'll figure out your system to do it up quickly. There are also snaps on the shirt so you can connect to more Oakley pants other than the Alps, and this is pretty easy after some practice.

I've been on many testing trips over the years and know the drill of what we can do to gear between athletes needs and retail needs. This is the best we've done to date. Stoked to have all the input used on this one.
Although it isn't insulated, is this jacket...
Although it isn't insulated, is this jacket warm?
Layer with this piece for warmth. However, you will not get wet in this Alps Jacket.....3 layer event fabric with fully taped seams and water proof zippers!
Is this jacket insulated?
Is this jacket insulated?
No it is not insulated. 3 Layer Shell.
Please tell me the Tanner/Jah billboard is gone!!!
I'm ready to spend a winter in this jacket. Oakley outerwear is actually really high quality. I ski daily in there stuff and it really holds up well. Zipper pulls are my only complaint. They are plastic and can break. Just be aware of that and you'll love their stuff. Anything 10K or high from them will keep you dry.*I'm inking out the rasta stripes.REGGAE IS FOR LISTENING NOT WEARING!!Tanner you're from Utah so rep some Bluegrass KID!