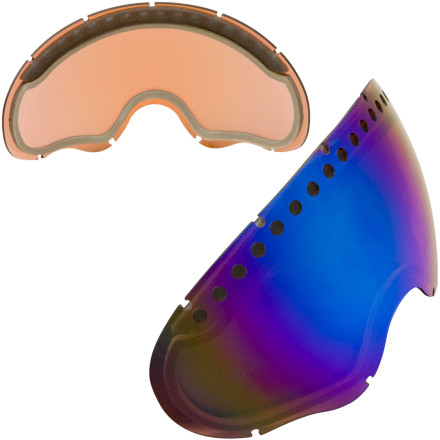 Detail Images

Community Images
must have
Familiarity:

I've put it through the wringer
I have the yellow lens, must have for a white out day! you can actually see using this lens.
Excellent Lens: Great contrast
Familiarity:

I've used it several times
Polarized gives accentuates color/shadow contrast on sunny or cloudy days without ever being too dark. Replacement lens doesn't come with micro fiber bag
do the lenses come with a microfiber...
do the lenses come with a microfiber bag?
Oakley replacement lenses generally do not come packaged with a microfiber bag. However, it is possible to purchase one separately if you are in need.
HI Yellow - Perfect for gloomy days
Familiarity:

I've put it through the wringer
I love the HI Yellow for the darker days, for sunny - I switch to emerald
Classic Lense for a Classic Frame
The Vr28 is great for low light conditions, protects your eyeballs in sunny conditions. Good for all-around use.
Oakley A Frame Goggle - Lens Change Tuto
Using for wingsuit base jumping
Gender:

Female

Familiarity:

I've used it several times
I spent a while on the internet trying to figure out which lens would be the least dark--not using these for skiing, using them for wingsuit base jumping. I don't like jumping with sunglasses or anything that affects my depth perception. I ordered clear and the gold iridium. Clear is obviously great, and the gold iridium is also pretty light and non-distorting.

The Oakley website has a menu of lens darknesses, but it's not complete and pretty confusing overall. That would be a great feature to add here!
Time to Replace the Lens
Gender:

Male

Familiarity:

I've used it once or twice and have initial impressions
I've had my A-Frames for about 4 years now and the lens is needing to be replaced. I had the Black Iridium lens that I loved, but a friend suggested I try the Blue Iridium or the new Emerald Iridium lenses. I bought them both and noticed that the Blue Iridium looked the same as by Black Iridium from the inside out (slightly orange), but from the outside in it was a little blue and not as mirrored. The Emerald looked more like looking through my Polarized Oakley Flack Jacket Black Iridium Sunglasses. It had a greyish tint from the inside out for the brighter days and you can't see in from the outside.
loved this lens in just about any light.
do these work for oakley O frame goggles...
do these work for oakley O frame goggles?
Unanswered Question
what r the best day/night lens out...
what r the best day/night lens out there?
Im about to make a trip out to Jackson...
Im about to make a trip out to Jackson Hole and am wondering what lens would be recomended. i currently have the black iradiums and dont know if they are to tinted for Jackson Hole. Any thoughts?
I'd go to the Oakley site to peruse what kind of lenses do what to the current conditions. Really, Jackson Hole will be no different than any other location - I'd have lenses to deal with low light (snowy, foggy, cloudy) conditions and lenses to deal with high light (partly cloudy to sunny days). Here's the Oakley Site (go to the bottom to click on lens tints) - http://www.oakley.com/products/1650/24160
Do these work for the asian fit a frames...
Do these work for the asian fit a frames as well?
Unfortunately we don't carry any of Oakley's Asian Fit lenses. Don't fret though, hit up Oakley directly, and they should be able to get you dialed!
i picked up some hi-intensity yellow lens for my night riding and love them. makes boarding much easier than my old Oakley lenses that were slightly darker (don't know exactly which lens they were). have not had any issues and would highly recommend to anyone who go out at night.
This review is for all A-Frame lenses.
I've come to the conclusion that there is an issue with the foam lens sandwich in all A-Frame lenses. I have had an issue with the foam in between the 2 lenses getting a crack in it letting moisture in which causes a terrible, unfixable, fogging issue in every A-Frame lens I have owned. I am fed up with it and am looking to get new non Oakley goggles soon. Sad really as I had loved the A-Frames up until this last straw. Oakley has been good at replacing the defective lens in the past, but every season I end up needing to send one of my lenses in for warranty.. really?!? Oh and even though the outside of the lens does a great job of resisting scratches.. however the inside does no job at all in resisting scratching.. i.e. only wipe the inside with a clean baby bum.

The optics are great, the tint choices are great (especially FIRE), but this issue makes all that greatness.. well.. useless!
this season i was ridin up at PC ridin and...
this season i was ridin up at PC ridin and the inside of both lenses foged horribly ! thinking it would help i tried to dry them out but it didnt help at all .... now there is huge smears all across the inside lense of my A frames and sucks to see out of. i was wondering if there is anything i could do to get rid of some of the smearing ? i dont really want to sink alot more money in these babys
It sounds like you might have rubbed off the anti-fog coating on the inside of the lens. You never want to wipe out the inside of your lens if they get wet, all you can do is let them dry out. Sounds like you're just going to have to get a new lens, sorry.
Remove the inner lense till you can buy another replacement lense.
I do my skiing in the NE and these lens are perfect for just about any condition I can throw at them. I had the standard persimmon but these have a sharper contrast it seems and are better in direct sunlight (probably due to the refelcetive lens). Anyway.... I love 'em.