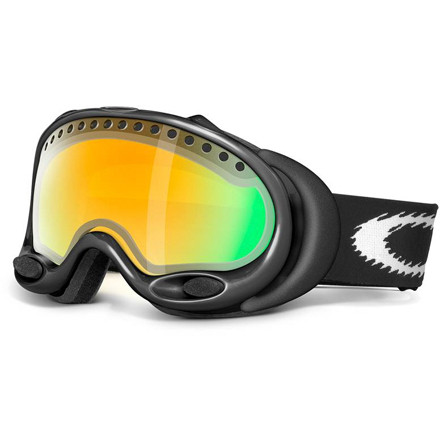 Detail Images

Videos

Community Images
Don the Oakley A Frame Goggles and try farting in them to fog them up. It may sound gross, but it's probably an effective method for testing Oakley's integrated dual-lens and surge-vent technology. Or hit the mountain and leave the beans at home. Oakley sealed a layer of air between two fog-treated lenses to reduce the chance of fog accumulating. Vented air circulates through the bottom of the A Frame and back out the top so air doesn't have a chance to get trapped in your goggle and fog your lens. Impact resistant frames, triple-layer foam with wicking fleece, and total UV protection make the A Frame the workhorse of Oakley's lineup.
Last for Years
Familiarity:

I've put it through the wringer
Over the years I've gone through tons of different goggles and have settled on smith for their cheaper interchangeable lenses. These were the first set of more expensive goggles I picked up. My first set lasted me 6 years (with a few lens replacements), my second 7 years (also a few lens replacements) and are now a backup hand-me-down pair my girlfriend uses. The lenses aren't the easiest to change, but aren't hard to change by any means. With a variety of colors and lens options its easy to find one that fits what you are looking for.



For whatever reason, my Oakley A frames always fit really well with my Giro G10MX and Bern Watts helmet (size medium). As a result they were almost always fog free, with the exception of a few brutally cold days.



These are definitely intended for smaller to medium sized faces and as a result have a slightly diminished field of view compared to some of the latest models.


Great goggles
Familiarity:

I've put it through the wringer
I have had 2 pairs of Oakley A frame goggles and love them. This style frame still looks awesome for how old they are. my first pair lasted about 10 years before the top vent foam started deteriorating. I am ok with that because then I was able to get another pair. I am always fog free and wear them all day long because they are very comfortable. I have pink iridium lens, blue iridium lens and persimmon lens. I use the pink iridium on cloudy days and blue iridium on sunny days. the persimmon I don't use much but on snowy days.
The most proven goggle out there
Familiarity:

I've put it through the wringer
These goggles work and they last. Not much else to say. Great piece of gear.
great goggles
Familiarity:

I've put it through the wringer
My wife and son both use A Frames. Typical Oakley quality and the best optics on the planet.
A frame es bueno.
Familiarity:

I've put it through the wringer
i got mine from the oakley vault on sale for 60 bucks. All black, with the VR50 Pink Iridium lens. The Pink Iridium lens is a good allround lens, whether it be light fog and relatively low-light, or bluebird. My profile picture is a picture of me wearing the a frames at the gondola summit at Jackson Hole. The Pink Iridium lens works well in variable conditions, but I am thinking about airbrakes so I don't have to have a do-it-all lens, and have a quiver of oakley tints.
The BEST goggle for me and LV!
Gender:

Female

Familiarity:

I've put it through the wringer
I have been wearing the Oakley A frame goggle for many years now and after being tempted by many other new brands/styles, this is still my absolute favorite goggle. When I first started wearing this goggle I was wearing contacts and they performed wonderfully and my contacts did not dry out, even on windy days. A few years ago I had corrective surgery on my eyes and now see better than 20/20 and these goggles are still my go to basically everyday i am on the mountain. i know the lenses are removable, but i own five different pairs, each with different lenses for different light, because let's be honest, the designs are too fun and cute to resist. i have on occasion taken the lens out and switched it with another and it was very easy to do. i treat my goggles as directed by oakley and i have not had any problems with scratches. They fit my face perfectly and they are extremely comfortable even after hours on the mountain. There's a reason Lindsey Vonn wears these goggles and it's not just because they pay her to! LOVE them!
Truly a Classic..
Familiarity:

I've put it through the wringer
I know there are a lot of different optic companies out there. I just don't know why Oakley's products just seem to stand above the rest? I have tried Scott, Smith, Dragon, Uvex. Etc etc.. Oakley goggles are the way to go.



I have had these A frames for skiing and boarding for years. The style and size just keeps being the one that doesn't change in their line up. Truly a classic.




Bombproof
Familiarity:

I've put it through the wringer
I have had these for a few years now and they look almost new. they stand up to abuse and keep on going. These are tried and true goggles.
Great--yellow iridium great 4 low light
Familiarity:

I've put it through the wringer
These, like all the A-frames, fit great, with or without a helmet. I have these with the yellow iridium lenses which are awesome for low light days on the mountain (also have amber, and the blackout polarized).
Abused & Still Performing
Familiarity:

I've put it through the wringer
I have had a pair of these goggles for over three seasons now and still are working flawless. I've bought different lenses based on lighting and the activities I'm doing since I use them both for snowmobiling and skiing.

You can't go wrong with these ones.
My First Oakley Goggle
Familiarity:

I've put it through the wringer
I've had these for quite a few years now and cannot complain one bit about them. The ability to swap lenses is awesome and the smaller fit to the face is great.
Another flawless Oakley product
Familiarity:

I've used it several times
I wanted a new pair of goggles for snowmobiling last winter, and found these. I had a pair of dirt goggles I had used in the past, but wanted one's for snow. So far, these have been an A+. I got persimmon lenses with them and even at night, I can see clearly. They have stayed fog-free and offer great clarity. I highly recommend oakley products to anyone who asks, i'm a huge fan. I love the rubber liners they put on the inside of the bands, so that they goggles don't slide on your helmet...even in rough terrain and in any weather conditions.
These goggles have lasted a long time and I still use them occasionally but I have become a fan of larger lense goggle. These work great but I personally like a bigger lense with a slightly better range of view.
The a-frame has always been the main stay of Oakley's line and my day sack.
Should be the first goggle to try when finally switching out of those gawd-awful low end cheapies.
And shall be benchmark for all following goggle purchases for years to come.

Hard to fog, even easier to vent.
Light weight
Seemingly one-size fits all.
Decent field of vision for the size.
A wide selection of snap-in lenses.

The only complaint I would have about these are bad luck.
I've destroyed a couple of these bad boys.
second pair
Gender:

Male

Familiarity:

I've put it through the wringer
Just killed off the lens and frame from my first pair of A frame's. They lasted many seasons and crashes and harsh conditions. I bought another pair because I liked these so much. Great fit for a helmet wearer also.