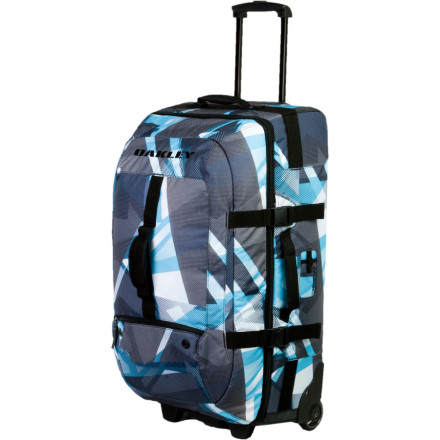 Detail Images
Unanswered Question
Hi there, I was wondering how much the bag...
Hi there, I was wondering how much the bag actually weighs in kilograms if you know it!

Thanks :)
I've gone through a lot of luggage and I'm so psyched to be rocking this guy now. It's giant, which is what I need for living on the road but I can still stay organized- the handles are comfortable and the wheels work great. The split option is ideal as well, paying for a second checked bag on the airlines is a heck of a lot cheaper than paying the overweight fee! Love, Love, Love this bag. Really durable too and has some awesome mesh compartments.
Living out of a bag can be troubling sometimes, this roller bag is sweet. I like the fact that you can make it into 2 bags. With luggage rules on airlines these days it may come in handy. The split style is nice and easy, cool to have the bottom compartment larger than the top. This will give you a better fitting place for a helmet or your dirty laundry as the trip goes on. Filling this bag all the way is more for road trips by car unless you plan on splitting it. No problems with the wheels or telescoping handle. The inner compartments have small flat pockets in mesh so you can see the little things that you have put in there. External handles are in the right place. Small external pocket for things you want quick access to like your tooth brush. Does a good job standing up as long as you put the heavy stuff down low.