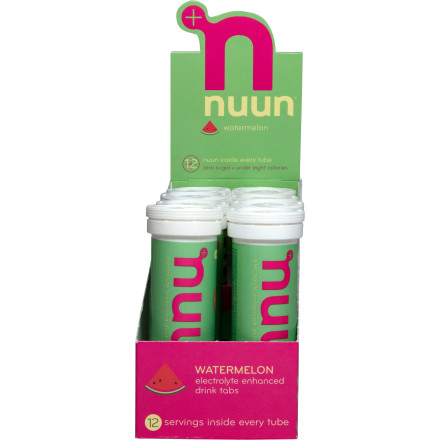 Colors

Community Images
Description
Sublte goodness.
You don't need sugar-packed over-flavored sports drinks to get your electrolyte fix before, during, or after your workout. Each Nuun tablet is loaded with enough electrolytes for 16 ounces of water. The flavors are subtle and not overly sweet, and Nuun tablets contain absolutely no sugar.
Each tablet flavors 16 ounces of water
No sugar
Go To Electrolyte Replacement
Familiarity:

I've put it through the wringer

Fit:

True to size
I love using Nuun on a ride, after a ride or when hungover.
Not too overpowering, but still tasty. They have kept me out of cramping trouble numerous times!
Super easy to carry a whole tube with you while you ride too!
Human Fuel
Familiarity:

I've used it several times
My wife has been adding Nuun to her water for her marathon training and has found that she doesn't need to bring energy chews with her, so it's nice to be able to get all your workout energy in just a water bottle.
Hot weather necessity
Familiarity:

I've put it through the wringer
The lemon lime flavor is subtle, but thats okay. Im not into the overpowering, super sweet sports drinks like Gatorade.



For working, hiking, etc outside in the heat, this is a great way to replace electrolytes without feeling bogged down by sugar.



Also, no carbs = a great option for diabetics.


stay hydrated and go longer!
Familiarity:

I've put it through the wringer
i work (and play) outside all day, often in 100 degree weather, and need to stay hydrated. i started using nuun because they are compact and easy to carry. its like carrying 6 gatorades if you have access to water. i think it tastes better than gatorade and doesn't leave that film in my mouth. i've also tried some of the other tablets and found they didn't dissolve as well. nuun is my favorite by far.



there seem to be some flavor problems among others. i personally stick with the citrus flavors. the cola, banana and some others are a bit artificial. do some taste testing.
Value for money when buying 8 packs
Familiarity:

I've put it through the wringer
I usually buy single tube from local store and they are not cheap. It is cheaper to get 8 packs if you find your favorite flavor. Mine is lemon lime. Hydrate and does not make you thirsty unlike some other Electrolyte.
This tastes really good and I prefer it over many other kinds of drinks. It is a great hydrator, and I use it on most of my trips. I highly recommend it.
I got the strawberry lemonade to take on a hiking trip in the Grand Canyon because they are light weight and can be added to water I am already carrying instead of carrying separate sports drinks in addition to water. Tried it out when I got it and tastes pretty good.
I live at 7,000 feet in the high desert. These babies work! They taste good, not too sweet, not too drab. I use them during my rides and afterward. They are the BEST.
I bought the lemon lime and love the subtle flavor. Really a great item to have with you when you're hitting the trail for long distances, helps you recover without the sugary aftertaste of a lot of energy drinks.
I use nuun daily and appreciate the added flavor and electrolytes it gives to water without adding calories.
love this stuff! i use it on a daily basis, as a treat at the end of my hike, during my bike rides, or just something to break up the monotony of drinking water all day. i especially love it when traveling or on an extended trip. traveling, i keep the tabs in my bag so that i can fill up my nalgene on the other side of security and drop some tabs to mask any funky tastes from the local water. backpacking, these tabs are so much lighter to carry than sugary mixes. plus the tubes keep the tabs from getting all messed up, no matter how long they're in my pack. only flavor i haven't tried is lemon tea. my three favorites are lemon+lime, fruit punch, and tri-berry.
I have a real issue with sodium depletion, and between these and the Margarita shot bloks can keep my levels up on long rides. I like the convenience, and I go for grape, orange and Lemon lime with no complaints about taste. A nice no calorie hydration option.
Wanted to love these for their uber-convenience while backpacking and for the reasons every other reviewer seems to love them, but I just didn't. Something about the taste didn't sit right with me, and unfortunately it was the only thing I brought along, so I drank water for the whole backpacking trip, and my buddies didn't want them either. I'll give it four stars, as is seems to do what it's supposed to do, I just didn't care for the taste.