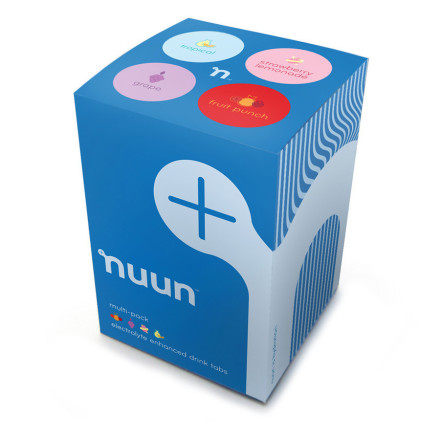 Description
Replenish.
The Nuun Electrolyte Tablets Mixed Fruit 4 Pack bundles Nuun's best flavors for easy on-the-go consumption. Each tube contains 12 tablets, with each tablet constituting one serving and dissolving in 16 ounces of water for an optimum balance of body-replenishing electrolytes and subtle, yet delicious flavor. And unlike most exercise hydration drinks, Nuun's Original Electrolyte Tablets use sorbitol over sugar, preventing the sickeningly sweet taste and flavor fatigue common with strongly sweetened sports beverages.
Once it's dissolved, you'll have an optimum solution that's readily absorbed by the body during everyday activities and intense exercise alike. It contains enough salts to combat hyponatremia, which happens when you consume too much water during rigorous exercise, effectively diluting your blood's sodium levels. Hyponatremia is usually responsible for nasty cramping on long-distance efforts, so it's best to have some Nuun Original Electrolyte Tablets on hand when you're pushing it on the tarmac and trail.
Nuun Mixed Fruit 4 pack
12 tablets in each tube
One tablet dissolves in 16 ounces of water (one serving)
360 milligrams of sodium per tablet
Share your thoughts
What do you think of the
Nuun
Mixed Fruit Nuun Tube - 4 Pack
? Share a...