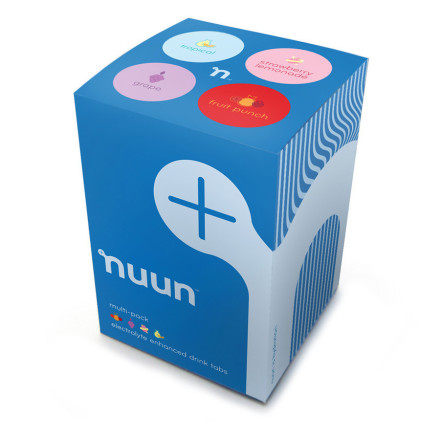 Description
Replenish.
The Nuun Electrolyte Tablets Mixed Fruit 4 Pack bundles Nuun's best flavors for easy on-the-go consumption. Each tube contains 12 tablets, with each tablet constituting one serving and dissolving in 16 ounces of water for an optimum balance of body-replenishing electrolytes and subtle, yet delicious flavor. And unlike most exercise hydration drinks, Nuun's Original Electrolyte Tablets use sorbitol over sugar, preventing the sickeningly sweet taste and flavor fatigue common with strongly sweetened sports beverages.
Once it's dissolved, you'll have an optimum solution that's readily absorbed by the body during everyday activities and intense exercise alike. It contains enough salts to combat hyponatremia, which happens when you consume too much water during rigorous exercise, effectively diluting your blood's sodium levels. Hyponatremia is usually responsible for nasty cramping on long-distance efforts, so it's best to have some Nuun Original Electrolyte Tablets on hand when you're pushing it on the tarmac and trail.
Nuun Mixed Fruit 4 pack
12 tablets in each tube
One tablet dissolves in 16 ounces of water (one serving)
360 milligrams of sodium per tablet
Goes down smooth and fights cramps
Familiarity:

I've put it through the wringer
I've been using Nuun for years. It's tasty enough that I don't mind drinking it (but not sticky sweet like straight Gatorade) and definitely helps avoid cramps and "the next day" muscle tightness. We always have some Nuun in our house.
First purchased this product for a 50 mile trek through the bottom of the Grand Canyon. Liked the product for the compact size, and flavors available. And will continue to buy. Sometimes I will use half of the recommended tablet to water ratio with no real side effects with the exception of a weaker flavor. No real issue IMO. Purchased another 8 tubes and haven't ran across a flavor that I didn't care much for.
Great for Long and Short Rides Alike
Familiarity:

I've put it through the wringer
I have been using the nuun for a few years now, and would not cycle without them. It adds a great (light) effervescence to plain water and flavor as well. Can I say definitively that it has helped me absorb the water/hydrate better? No, I am not a freakin' scientist, but I mentally believe it does - which in cycling, mental is half the battle. Very light flavor, awesome on long rides. I use them in up to 20oz bottles no problem.
I tried these hoping for a great tasting add-in to liven things up on the trail. I didn't like them at all. They sort of carbonated my drink, kinda like alka selzer. The flavoring was very weak. I went back to my standard propel packets. Not as healthy I guess, but the flavor is way stronger, and gives me that extra punch that water sometimes doesnt give alone. I know some love it, but it is not for me.
This tastes really good and I prefer it over many other kinds of drinks. It is a great hydrator, and I use it on most of my trips. I highly recommend it
Cheap, tasty, and useful.
These things are great. They keep you hydrated, add some flavor to your water, and they are super portable. Drop one in a water bottle, or 2 in a hydration pack, and you are good to go. Just don't drop the nuun and seal your drinking vessel right away, as it fizzes pretty strongly. Also, if you are into hydrating yourself as you dehydrate yourself, the lemon/lime flavor mixes pretty well in a ghetto G&T for post-activity celebration.
Not too sweet or messy - just right
If you've never used these before, they take a bit of getting used to as they are not like your ordinary powder mix. Instead, they are tablets roughly the size of a quarter (half dollar?) which you plop into water and they then dissolve by fizzing. Depending on how strong you mix it, Nuun creates a very light flavored sports drink which is very palatable for long distance events, like a full day of backcountry skiing.



As an added bonus, they come in a small plastic tube, which if perfect for travel and/or storage. Unlike a bag or tin of sticky powder, the Nuun packages won't spill all over everything and gunk up your junk.



I'll often use just half a tablet, which is easy to do as they come pre-scored for easy breaking in two.



They got a 4 instead of a 5 due to being so pricey.


All 8 mixed fruit favors are excellent!
Gender:

Male

Familiarity:

I've put it through the wringer
Water is okay and all, but Nuun is so tasty that I am more motivated to keep drinking and stay hydrated. It does not create a build-up in my water blatter. All 8 of the mixed fruit favors are excellent!
As a person who does a lot of high output activity I find myself in constant need of hydration but after a while water alone gets boring and uninspiring. That is where these come in. I actually like them really diluted so I just pop 1 or 2 into my 64oz hydration bladder and call it good. It is just enough of a taste to encourage me without being overpowering. I will also drink a concentrated beverage at the beginning of the day to preload my h2o needs and be sure to have some electrolytes on board.
Terrible flavor discourages water consumption
I bought the mixed flavor pack because some flavors aren't as good as others. However, to my surprise, they were all terrible. The recommended dosage tastes extremely watered down, but adding more does not really improve the disgusting fizzy taste.

It may be full of all sorts of essential vitamins and electrolytes, but I actually dreaded drinking the water. This is completely counter productive to the purpose.

It wasn't just me. My entire backpacking group of 5 agreed.
What is Sorbitol?? Fake sugar stuffs, gross. I was really excited about this product because it was advertised as you can see as sugar free. Well that is not really true, it has artificial sweetener in it!!! I wish there was a hydration product out there that didn't have anything but the goods and no crap in it. Also it kiind of bothered my stomach which is common I guess with Sorbitol.
These are a staple in my nutrition plan for training & competing in ultramarathons. The flavors are slight enough to be able to tolerate for hours and you still get enough electrolytes to legitimately stave off muscle cramping. With 360mg Sodium & 100mg Potassium, they replace the need to take oral salt tabs which can be difficult to eat while running. Love the grape flavor these days, but they have a bunch of flavors that are awesome. I love nuun.
I love this 4-pack option. It lets you try the flavors without committing to an entire 8-pack. I can drink this stuff while I am working out or sitting at my desk. Plus, at about $.50/serving it less than a diet coke (and much healthier)!
All great flavors, from their original to their new line of flavors
If you want energy with a hint of flavor that isn't too overpowering or chalky, then this is your choice. It helps with lactic acid build up and holds true to being a quick energy booster when you need it most.

A great product in any avenue, from a hard competition to a nice walk in the park!
I've been trying out the Fruit Punch/ Tropical/ Grape/ Strawberry Lemonade mixed fruit Nuun 4-pack and really like the new flavors. My personal favorite out of this 4-pack is the Strawberry Lemonade, followed closely by Tropical. I like the Grape and Fruit Punch too - really, it just comes down to personal preference. If you're not sure which flavor(s) are for you, these 4-packs are a great way to try them out and see what you like best.
These work great to keep me going when I need electrolytes. I don't really like gatorade, but when you need electrolytes, you need them! These work great for flavoring water also after you purify them, or if you can get water out on the trail but it tastes slightly off. Best of all, these don't upset my stomach after a long day like some other hydration drinks do.
I am not a huge fan of straight up water so these are great for me. I use them on hikes or sometimes when I am at my desk and I can take down any more plain water. The taste is not super strong which is good because I don't want the more syrupy gatorade-like taste. Also, you don't get as strong of the salty electrolytey taste as do with other sport-type drinks. I personally like the orange and the citrus flavors the best (hard to screw up citrus). The other flavors are not bad by any means.
Wanted to love these for their uber-convenience
Wanted to love these for their uber-convenience while backpacking and for the reasons every other reviewer seems to love them, but I just didn't. Something about the taste didn't sit right with me, and unfortunately it was the only thing I brought along, so I drank water for the whole backpacking trip, and my buddies didn't want them either. I'll give it four stars, as is seems to do what it's supposed to do, I just didn't care for the taste.