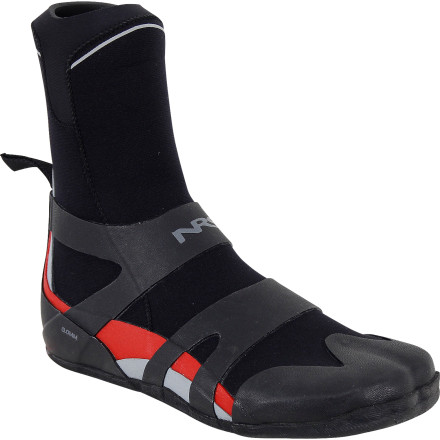 Colors
Description
It may not come as a shock after all.
It's easy to forget about your feet when a wall of water begs you to lose concentration for just a second. The NRS Shock Socks are there to help keep your digits cozy when your mind is on the currents. Thick Terraprene neoprene offers substantial warmth while thick rubber protects those toes from the hard bumps and slams that are bound to happen when you push the limits of your paddling. Over-foot web design attached to the soles helps keep your feet in place while shims protect the bottoms of your feet from shore rocks and add a little stability.
Great water shoe
Familiarity:

I've put it through the wringer
I love these shoes, they are really comfortable and warm for the cold, rainy days here on the coast. Great for the SUP and even the Kayak, I dont go anywhere near the water without these, I even pack them in my backpack for backcountry excursions in the summer. Great water shoe, good for swimming in, stable, comfy, true to size
Very comfortable and durable, stiff sole keeps the feet cut free. Use these ww boating and have been pleased with the protection they offer while scrambling over rocky shores at put ins/take outs and all else in between. Fairly grippy on wet rocks, have yet to slip. Easy on/easy off. Like the terraprene alternative to oil derived neoprene (more here http://www.nrsweb.com/tech_talk/terraprene.asp). Only downside is that the things stink to high heck, like really stink. I do have gnarly feet, but these things take it to a new level. Not sure if it is the terraprene or what, but it is pungent. Not enough of a bother to downgrade the shoes though, love them!
These kept my normally frozen feet toasty warm off the New England shore while kayaking in summer. They are cozy and soft inside, and I like the split pocket for your big toe. The thick, gripping soles also left me with no fear of slicing my feet on oyster shells, etc. True to size, the 11 had just enough extra room for my size 10.5 feet.