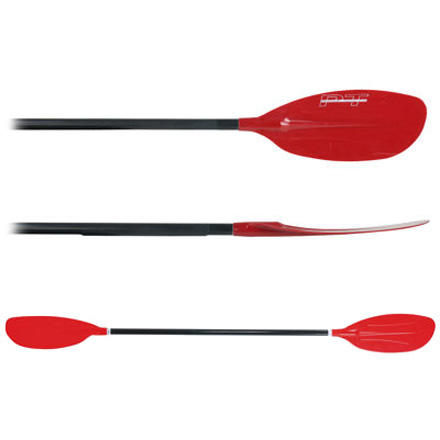 The NRS PTK Whitewater Aluminum Straight Shaft Paddle puts a high-strength, airplane-grade aluminum shaft and two asymmetrical fiberglass blades in your hands at a mere 42 ounces. The asymmetrical blade design reduces twisting on the paddle shaft, while the slightly-spooned blades increase the power of your stroke. Since controlling a paddle at different angles can be hard, NRS indexed the shaft of the PTK Whitewater Paddle, which means they shaped the shaft so that your right hand grips easily and so that you can naturally feel the blade angle without even looking. This one-piece kayak paddle has a 45-degree feather and right-hand control only.
I have three of these and have broken one after 1 hour of use. The blades are flemsy and will break if you are not careful. I don't think you could break them from just paddling. The slightest contact on the bottom can snap them. The handle is also a little flexy. Of course they are one piece so you need room in your car. I do like the way the grip feels. I reinforced one with carbon strips on both sides and I hope it adds some strength. If I break another I will change to another brand. I do like the paddle though
how do I know how long the paddle should...
how do I know how long the paddle should be?
go here http://www.nrsweb.com/inflatables/paddle_sizing_guide.asp?deptid=1116

:)
NRS PTK Whitewater Paddle is junk
I bought this paddle while in a pinch and had it shipped overnight. There were no paddling shops around and I was low on funds when my favorite paddle was stolen. I took it on a trip the day after it arrived and the start of the trip was in class I, pretty weak stuff entirely. The paddle didn't even make it through the second ripple. It brushed off of a rock and a plant and the blade broke instantly leaving me to paddle the rest of the trip with one blade. Which only got up to class III, but it was plenty to make it hard with one blade. If you are actually planning to run real whitewater don't buy this paddle! This was just supposed to be a leisure run that turned into one of the worst trips I have ever taken.
Junk plain and simple. If you want to save a few duckets, get an aqua-bound or seven2. This paddle is utter crap.
This is not a serious whitewater paddle. If you are in a cheap inflatable it might be OK, but it is too HEAVY for all day use. Get one with a 30 degree feather, that weighs under 35oz. Werner, Aquabound, ect.
Great paddle.... not heavy at all. Does a great job.
Pretty cheap paddle, but got the job done for me when I just got into paddling. The grip will make sure your stroke isn't way off, its fairly light and will get you where you need to go out on the water.
, ☃bcs_badge_alumni_label☃
anyone use this paddle? looking to get...
anyone use this paddle? looking to get into whitewater without losing my car. Any gripes? and I'm 5"9, what size do I go with?
Best Answer
Don't bother with this one. China made. If you're looking to spend under $150 go with an AquaBound or H2O.
I bought one as a backup. It is a piece of crap, just like the reviews say.