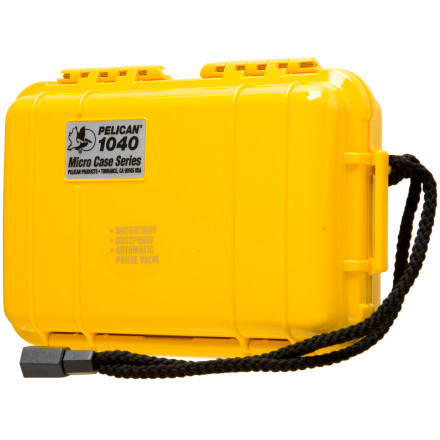 Colors

Detail Images

Community Images
Share your thoughts
What do you think of the
NRS
Pelican Micro Cases
? Share a...
Reliable and perfect for intended use
Familiarity:

I've put it through the wringer
Whenever I purchase an expensive gadget for canoe camping, I immediately go to Pelican for the perfect-size box to put it in. Pelican has never let me down. Water-proof, floating, durable, and there's almost always the right size for what I need.
1050 with clear lid
Familiarity:

I've put it through the wringer
The case has enough room for a wallet, phone, keys and a handful of snacks. It kept everything dry while waves washed over the top. The rubber liner provided shock protection for the contents when things got jostled around. The sun beat down through the clear lid, and my phone overheated. I wrapped it in a bandana, and all was good. Pelican has an excellent customer service team, and will replace or repair the case for any reason for as long as you are the owner (you just cover shipping to their location). That alone has me sold. This is a solid piece of gear for terrestrial or aquatic adventures.
It's PeliCAN, not pelican't!
Familiarity:

I've put it through the wringer
Holy shazbo! So I got into SUP'ing a few months back and I am totally paddlin' out to the fullest and I got to thinking, maybe I need to start bringing my phone with me!? You know, stream some tunes via bluetooth, 'gram my lake/river views and whatnot. The possibilities are endless. Anyhow, cue the Pelican 1050 (the model I scored). This box of awesomeness keeps your essentials (phone & wallet) dry to the bone!

Initially I had my eye on the smaller 1030 model, but then I opted for the 1050 on a whim; which can actually hold 2 phones (galaxy & iphone with cases on) and wallet or two and a car key if necessary. This thing is seriously bad to the bone.

When I started this whole water-phone-protection search on the internets, I was contemplating on getting one of those dry bag thingamajigs, but then I figured the extra protection (aka bombproofness) of the hardcase Pelican would be awesome for all types of water adventures I go on, whether it be SUP, kayakin' or canoeing.

Total happy camper with this little beast.
Seals tight and stays dry.
Familiarity:

I've used it several times
Awesome case purchased the 1060 with a clear lid. Fits my Iphone wallet and keys perfect. The clear lid comes in real handy when you face your phone up you can see when you get a message or an incoming call. Case seems super durable and the carabiner it comes with allows you to connect to something sturdy to insure you don't lose it to the waters below.
A case for everything.
Familiarity:

I've used it once or twice and have initial impressions
These little cases are great. Really stand up to the Pelican name. So far they seem to be very durable and as advertised keep the water out. The micro cases come in a variety of sizes so that you can fit virtually anything you need to in them. The clear lids are nice so that you can see what you have in each case without opening them up. The yellow cases are nice if you're trying to keep your goods a secret.
Quality made & won't fail!
Familiarity:

I've put it through the wringer
I purchased this for my little digital camera for kayaking & for other wet activities & I couldn't be happier! It has held up through some harsh falls & wet times. It is scratches & dinged but still work like new. Great case if you want to make sure your precious cargo inside stays safe & dry.
Pushed to the limit and back.
Familiarity:

I've put it through the wringer
Pelican are one of the few cases I fully trust with anything. I have taken my in the backcountry of Alaska, plains of Africa and even used as side cases on my motorcycle. They are tough, waterproof and stand by their product. The only down side is the heavy weight; although that's what makes them so bombproof.
1010 Case:
Exterior: 5 7/16"L x 4 1/16"W x 2 1/8"D
Interior: 4 7/16"L x 2 7/8"W x 1 11/16"D
1015 Case:
Exterior: 6 3/5" x 3 4/5" x 1 4/5"
Interior: 5 1/10" x 2 3/5" x 1 3/10"
1020 Case:
Exterior: 6 3/8"L x 4 3/4"W x 2 1/8"D
Interior: 5 5/16"L x 3 9/16"W x 1 11/16"D
1030 Case:
Exterior: 7 1/2"L x 3 7/8"W x 2 7/16"D
Interior: 6 3/8"L x 2 5/8"W x 2 1/16"D
1040 Case:
Exterior: 7 1/2"L x 5 1/16"W x 2 1/8"D
Interior: 6 1/2"L x 3 7/8"W x 1 3/4"D
1050 Case:
Exterior: 7 1/2"L x 5 1/16"W x 3 1/8"D
Interior: 6 5/16"L x 3 11/16"W x 2 3/4"D
1060 Case:
Exterior: 9 3/8"L x 5 9/16"W x 2 5/8"D
Interior: 8 1/4"L x 4 1/4"W x 2 1/4"D

All this info I found on NRS's site. Here is the link I found this info on.
http://www.nrs.com/product/3012/pelican-micro-cases
When keeping dry is required.
Familiarity:

I've put it through the wringer
Not only will a pelican case keep your gear dry, it will also keep it from getting damaged from impacts (if you packed your stuff in there correctly). I've had my 1050 for years and have always used while kayaking or rafting. Right now it is out on loan with a group trekking to the Wakhan Corridor in Afghanistan. Roof of the world!
My family brought this waterproof case for tubing down the Guadalupe. needless to say we was glad to have this by the end. you won't be disappointed just make sure to get the right size if you're looking for something for your phone.
As advertised
Familiarity:

I've put it through the wringer
I have 2 of these, the 1050 and 1020 . Great cases to carry gear you want to protect. Brought them camping, to the beach, and other areas that can be inhospitable to sensitive electronics and they have protected from dirt and water. No submersions so I can't speak to that. The padding on the inside takes up some of the space so I suggest you go 1 size up from what you think you need.
Great for watersport activitys
I used this Pelican 1020 case to keep my phone & wallet dry and safe while I'm out Wakeboarding and it works like a charm. I would definitely recommend this case to anyone that needs to keep their electronics close while enjoying water sports.
I wondered the same as Dori, below, where are the specs?? Am I missing something? Ultimately, I used the reviews to figure out what size I needed - I really just wanted to have a case that would fit my iPhone, iPod, driver's license, cash, etc. for when I go backpacking or somewhere else where you don't want to worry about water or sand or other elements. I decided on the 1030 (mostly because I wanted the aqua color and the 1020 wasn't available then) figuring if it was a little big, that would be alright - just more room! What I didn't know is the 1030 also completely changes shape! It's a longer, thinner rectangle, more like a jewelry box a necklace comes in, so my iPhone doesn't even fit. So now, I have a useless case. The case itself seems very nice - strong, protective, secure close - but the change in shape doesn't begin to address what I bought it for. And now I have to pay return shipping. Ugh. Would be nice to get dimensions on the description. I wish I had looked elsewhere to make comparisons before buying. I give the case itself 4 stars, but the process has been a 1 star ordeal.
Am I missing something???? What are the...
Am I missing something???? What are the specs on these?
The interior and exterior measurements can be found on Pelican's site. Best of luck!

http://www.pelican.com/case_category.php?pageNum_RecordsetCase=0&totalRows_RecordsetCase=77&CaseSize=%25&New=%25
I know this is weird but this thing is the best travel soap container you can find on the market. The 1010 fits a regualr bar of soap perfect.
The NRS Pelican Micro Cases are perfect for the little items like your camera that you want to keep waterproof but have easy access to. I recently used mine on a river trip for my little point and shoot camera and chapstick. My camera stayed safe and dry. The case was great because it's so easy to close when rougher water is coming up. I would not have taken any pictures if I had to deal with re-rolling a dry bag each time I wanted to get a quick shot. I definitely recommend one of these to any kayaker or rafter.
I picked up the Red/Clear, and both my Samsung BlackJack II and iTouch both fit together in the case. I had no worries knowing that these items were encased in the 1020.