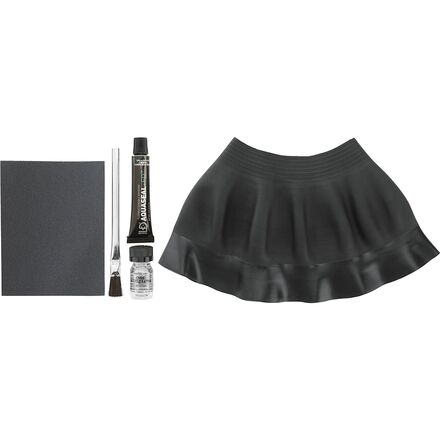 Colors
Instead of draining your bank account for a new dry top, repair that blown gasket yourself with the NRS Neck Gasket Repair Kit. With complete instructions and everything you need to get the job done right, you'll save money and acquire a new skill.
Kit includes one neck gasket, Aquaseal Adhesive, Cotol Cleaner and Cure, sandpaper, and complete instructions
Included neck gasket is the same high quality gasket found on NRS dry tops
Share your thoughts
What do you think of the
NRS
Neck Gasket Repair Kit
? Share a...
Posted on
How To: Replace a Drysuit Wrist Gasket
This video of for the sleeve, but it pretty much transfers over to putting in a new Neck Gasket. The only difference will be finding something the same size as the neck of your drysuit. A basketball works well if you don't want to buy or cut some foam.

I hope you enjoyed my How To video and I hope it helped you understand how easy it is to replace your latex wrist gasket on your drysuit by yourself. All the videos I've watched and people I have talked to say to use Acetone to clean the latex before applying but I was too lazy to go out and buy a thing of Acetone so I just used Goo Gone. I've never heard of anyone using Goo Gone to clean the latex but I figured it should work since it is meant to clean and not be harmful. It seemed to work pretty good and I have no regrets using it.

Things you will need:
A new Latex Gasket
Sharp Scissors (Brand new if able)
A cone/jar/bottle/Basketball (anything round that will fit snug in the neck to keep it round while the Aquaseal dries)
Fine Grit Sandpaper (for roughing up the latex for glueing)
Acetone (for cleaning the Latex after roughing up with sandpaper)
Paper towel (for cleaning the Latex after roughing up with sandpaper)
Aquaseal (use a small beaded line of Aquaseal around the old latex)
Popsicle stick or dull plastic knife (spread the Aquaseal evenly and in a small layer from edge to edge around the old gasket)
Masking tape (put the tape around the gasket edge so it is covering the gasket and the Gore-Tex Sleeve so it will prevent the gasket from moving and keep the over-spill Aquaseal from getting on stuff while it dries)