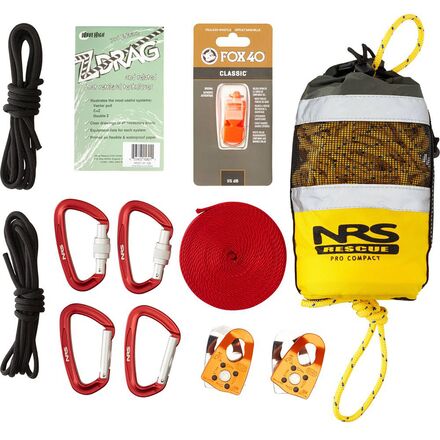 Equip yourself with the NRS Kayak Un-Pin Kit on your next kayak or rafting adventure because it's better to be prepared for the unexpected than not. This stellar kit gives you all the basic essentials for a Z-drag set-up when you need to rescue your buddy or a flipped raft.
Small kit fits easily in any whitewater kayak, canoe, or raft
It's highly recommended that you take a swiftwater rescue course in your local area
Drybag not included
NRS walks you thru this product.
Keep it Simple
Familiarity:

I've used it several times
What I like best about the NRS UnPin Kit is that all the components I need to do a large amount of tasks are there for me in one easy package. Since my time producing for Rescue for River Runners I have found more and more opportunities to use the tools in this kit and have realized that being prepared on the river is the best step you can take to avoiding any unwanted situations.



I like that it is just the right amount of equipment to fit easily in my NRS Zen pfd. That way it is always with me and ready for use in a sticky situation. I also keep the Z-drag cheat sheet in my front pocket so that we are always sure to have the right set up when the time comes.

I recommend that all paddlers keep this kit with them on and off the water. In my time since using it I have used it countless number of times for many situations (and not always gear extraction).