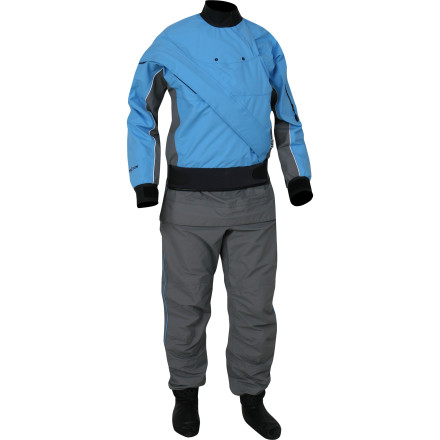 Just because you're regularly out-paddling the boys doesn't mean you need to suffer in an overly bulky men's drysuit. The NRS Women's Inversion Drysuit is patterned to fit the female form while providing top-tier waterproof and breathable performance. Plus, the included Whiz Freedom Feminine Funnel allows you to quickly relieve yourself without taking the entire suit off.
Three-layer TriTon fabric is fully waterproof, breathable, and highly abrasion resistant
Factory-taped seams and waterproof YKK zippers ensure you'll stay dry
Women-specific cut fits just right and allows a full range of paddling motions
Latex neck and wrist gaskets keep water out
Built-in latex socks keep feet dry and comfortable
Reinforced seat and knees provide river-worthy durability
Wide double-pull neoprene waistband provides a snug and comfortable fit
Included Whiz Freedom Feminine Funnel allows you to easily relieve yourself without taking the suit off
Sleeve pocket keeps essential items dry and close at hand
I originally had this dry suit but ended up sending it back for a Kokatat gore-tex suit, below is why:



Pros:

- durable material

- NRS is a great US company to support

- this suit comes in sizes for little paddlers

- zipper covers, so you don't gouge your knuckles

- compatible with spray skirt



Cons:

- I prefer a drop seat, although the pee funnel works fine if you're careful.

- Where the zipper crosses my right shoulder put weird pressure on my shoulder while rowing.

- I don't like the latex socks, they are hot and really hard to get into shoes, I recommend (obviously socks underneath) but then a neoprene bootie over top, to keep your feet warm and for ease at putting on and taking off shoes.



All in all, it's a good drysuit, just wasn't exactly what I wanted.