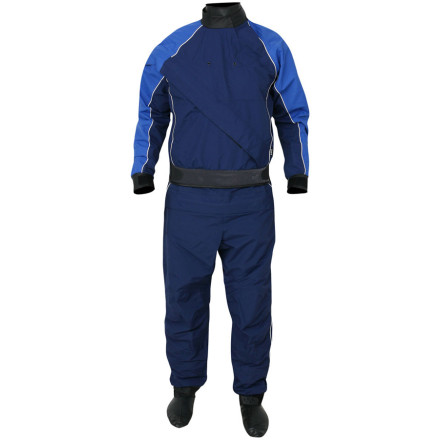 Stay warm and dry while you barrel down rivers or explore caves with the NRS Men's Inversion Drysuit. Made with durable, waterproof, breathable 70D TriTon fabric and waterproof zippers, the Inversion knows how to keep you dry during long sessions on the water. Plus, this comfortably fitting suit is easy to move around in so you don't feel restricted while you paddle or when you're getting in and out of your boat.
Waterproof, breathable, and durable TriTon 3L 70D fabric ensures comfort and keeps you bone dry
Heavy-duty YKK waterproof entry and relief zippers prevent the wet from creeping in
Kayak-style drysuit features an overskirt with a wide neoprene band and double-pull hook-and-loop closure that fits over your sprayskirt tunnel to complete a watertight seal
Relief zipper comes in super-handy when you need to go
Durable latex wrist and neck gaskets combine with built-in latex socks to seal out the wet
Cordura fabric reinforces the seat while the knees are protected with an additional layer of TriTon for rugged protection in high-wear areas
Adjustable hook-and-loop sock, neck, wrist, and waist closures for a just-right seal
Sleeve pocket stashes your on-hand essentials
What do you think about this product?
Have questions about this product?
This dry suit gets it done. The zipper is massive and fluid in use when needed. I'm a fan. The booties could use some beefing up, but only time will tell if they last.
A good drysuit for a good price. NRS uses there triton material which is just like gore-tex, you just don't have to pay for the gore-tex name. Tritron is strong and I doubt it will tear. I use this drysuit when I'm guiding rafts or kayaking. First off, NRS will stand behind their gear. If you have any problems NRS will work to make it right. I've experienced their customer service a couple of times and was always impressed.



As far as the sizing goes be very careful... you want to order one size smaller than the NRS sizing chart. I am 5' 11" 180lbs and according to NRS sizing I am clearly a large... but a large is way too big on me and I fit perfect in a medium. I know about 6 other guides who bought this drysuit only to find that the size they bought based off of the NRS sizing guide is too big and they had to send it back for a smaller one.



As far as the zipper over the shoulder, it will feel different but it will also loosen up over time. The zipper is gonna feel weird no matter what kind of drysuit you get. Also be sure to take care of your zippers, don't bend them aggressively or leave them stored closed. You will also want to clean and wax them occasionally to keep them fully waterproof... NRS has plenty of instructions how to take care of them.



The other weak point of this drysuit besides the zippers are the latex socks. Make sure you take care of them as they are another more fragile part of the suit that you don't wanna have to replace. Don't walk on concrete or gravel... or anything for that matter in just the latex sock. You'll wanna wear socks underneath the latex sock for comfort. Then over the latex socks I either wear thick wooly socks and sandals or a neoprene bootie.



Take care of this drysuit and you can be kayaking all through winter! It is so warm. Just a polartec layer underneath and I am toasty and dry. Almost as good as a kokatat at only half the price.
I originally had this dry suit but ended up sending it back for a Kokatat gore-tex suit, but my boyfriend has this same one and it's great for him:



Pros:

- durable material (it's take a beating, sticks, rocks, etc.)

- NRS is a great US company to support

- zipper covers, so you don't gouge your knuckles

- compatible with spray skirt



Cons:

- Where the zipper crosses my right shoulder put weird pressure on my shoulder while rowing.

- I don't like the latex socks, they are hot and really hard to get into shoes, I recommend (obviously socks underneath) but then a neoprene bootie over top, to keep your feet warm and for ease at putting on and taking off shoes.



All in all, it's a good drysuit, just wasn't exactly what I wanted, but it is holding up awesome and my boyfriend loves his!