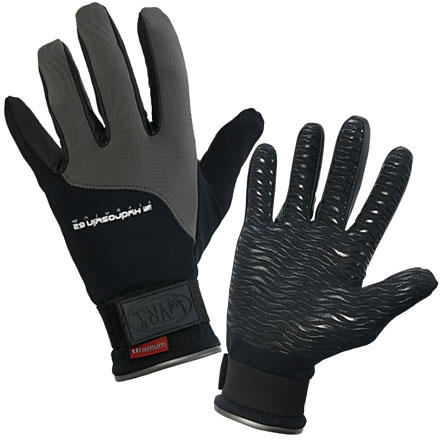 Colors
Description
The NRS Hydroskin Gloves keep your hands from becoming blocks of ice when you take on a cold-weather river.
The NRS Hydroskin Gloves pack a soft, warm ThermalPlush fleece lining inside their neoprene shells to increase your comfort on cold-weather river trips. A DWR coating gives the Hydroskin Gloves excellent splash protection, so your hands stay dry until you completely submerge them in water.
Paddling Gloves
Gender:

Female

Familiarity:

I've used it once or twice and have initial impressions
Warm, protective, yet thin enough to provide tactile dexterity and sensation. Good for fair weather wet or mild winter. I have large hands for a woman & the men's medium fits fine.
looking for some gloves to use out here on the CA coast for pulling up crab traps and fishing off my yak, would these hold up?
Best Answer
Hey Chris,



In terms of warmth, they'd definitely be comfortable, but the grippy material on the palms isn't going to be very durable for non-paddling applications-- especially if you're handing crab traps.
Great thank you for your time. Can you recommend a pair from this site by any chance? Maybe ones with half fingers?
I use these mostly in Lake Superior but have used them in other environments like the Bering Strait and off of Chile. They keep your hands warm if you need them and don't really get to hot when you start to heat up. They are definitely something you want to have with you during any tour for sure. I have never had a problem gripping my paddle with these, but I spend hours paddling weekly year round so maybe I am more adept than others. Maybe using my gripmaster for hand strength helps as well, I don't know, but I sure don't have a problem gripping my paddle for long periods of time with these on.
Would these be a good glove for a 3-day...
Would these be a good glove for a 3-day Alaskan kayaking trip in August?
Best Answer
I just used a pair kayaking in southern Alaska, and they worked well for me. Kept my hands warm enough - no complaints.
Thanks Steve- I also found a review on NRS' website from a kayaker who lives in South East Alaska who said these gloves were good for kayaking there. I decided to purchase.
Yes Matt, these will do just fine up in Alaska. I use them year round in Lake Superior which never gets above 42 degrees and they do just fin up here. I have also used these off of the southern tip of Chile and in Russia in the Bering Strait and they have done just fine in both of those environments as well.
An update to the conversation above...I never used the paddling gloves on the kayaking portion of my recent Haines, AK trip (it was way too warm). Instead, I used them on the mountaineering portion of the trip with great results. I recommend them for mountaineering in warm weather when the snow is super wet..
I've owned two pairs of these and have used them a lot over the years. They are definitely warmer than bare hands, but they also weaken your grip on the paddle. If you coat your paddle shaft with sex wax, it helps a lot. Personally, I now go straight for pogies if the water is too cold for bare hands; they're warmer and they allow for a more secure grip on my paddle.
Unanswered Question
How do these differ from their predecsor...
How do these differ from their predecsors?
I used these gloves in 40-50 temps on my local river. They worked great for me. I highly recommend them.
When you need them you won't be sorry bought them. They saved hands several times. Rafting I don't wear gloves unless it is really cold. These gloves do not get in the way of holding onto your oar and they keep your hands warm.
When you need them you won't be sorry bought them. They saved hands several times. Rafting I don't wear gloves unless it is really cold. These gloves do not get in the way of holding onto your oar and they keep your hands warm.
Have used these kayaking for about three or four years now. They have held up well. Only complaint is that one seam along one finger has folded over wrong and will sometimes rub, annoying the >>>>> out of me until I can resettle it to a better spot. Otherwise, these are pretty good.
Great gloves. Used them during an adventure race in Moab last month and they worked well in the cold Colorado river with my Kayak. I am normally an XL and the XL seemed a little small but they were fine after I wore them for an hour or so.
I got these last summer and have used them a few times kayaking in all weather conditions. They kept my hands warm in as low as 35 degrees and keep your hands from getting wet. I had tipped my kayak last week with these on and they can only be waterproof for so long. submerging them in water for a longer amount of time will make them wet all the way through, although they weren't all that uncomfortable afterwards. They air out pretty fast. I would definately recommend this glove very comfortable and have a great grip!
Got these for steering a 6-man outrigger canoe. Great grip and keeps your hands nice and warm. Fingers are a tad long.
Great fit/grip, but better learn to sew
These fit very well and keep my hands warm in all conditions except for winter. The grip is perfect.

I have had the stitching blow out countless times and I feel that I have essentially resewn my gloves completely. It seems a seam blows out every time I used them. Good thing I can hand sew them back together.
I got these to minimise blisters paddleing. They do it and give resistence to the shock of cold water hitting hands.
I was surprised at how well these fit my canned-ham hands. The XXL fit like very few gloves I've ever owned have. Great for water of any kind
I got these, and loved them, they keep you warm and dry, unless you sumberge them for 15 seconds or so! For real cold weather(25Degrees and already soaking wet) I could've used a bit more, but these are thin and light, and when dry used them on a freezing bike ride in a 24 hour race.