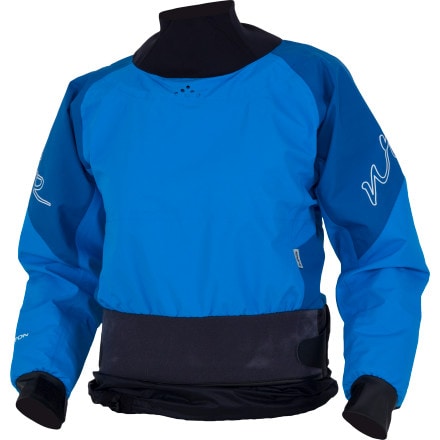 Colors
Description
Full mobility, waterproof protection within a female-specific design.
Don't compromise on waterproof protection, mobility, or female-specific fit when searching for your next drytop. The NRS Women's Flux Drytop fully seals out water so it won't ruin your river-running experience. A supple, polyester microfiber shell reduces paddling friction while simultaneously protecting against punctures and abrasion. Eclipse fabric (4-layer) blocks moisture with its waterproof membrane, yet it still allows built-up perspiration to escape for maximum breathability when when you're paddling hard.

A female-specific, action-cut design brings freedom of movement and a roomy fit that allows for layering underneath. This drytop connects to your pre-existing sprayskirt via a five-inch, double-pull waist—keeping both you and your kayak's cockpit dry. Latex neck and wrist gaiters fit snugly for a water-tight closure against mist, chop, and unexpected spray. A GlideSkin coating inside the neoprene neck overcuff ensures your paddle sessions won't end prematurely due to chafing.

Polyester microfiber shell with Nanosphere DWR finish
Eclipse fabric (4-layer) with waterproof and breathable membrane
Waterproof and breathable HyproTex inner skirt
Five-inch, double-pull waist connects with sprayskirt (separate)
GlideSkin coating inside neoprene neck overcuff
Latex neck and wrist gaiters provide snug, waterproof seal
Stretchy polyurethane overcuffs with hook-and-loop closures
Female-specific, action-cut design for maximum mobility