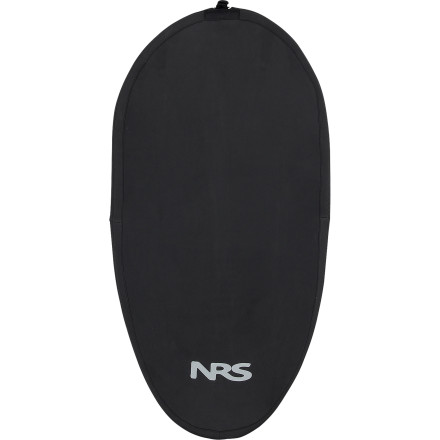 Colors
Description
The newest recreational kayak cockpit cover of choice.
NRS made the all-new Elasti-Grip Neoprene Cockpit Cover with a super-stretchy neoprene to fit a wider variety of cockpit sizes. So, you can bet the easiest and most reliable way to keep varmints, debris, and whatever else out of your boat is with the Elasti-Grip cockpit cover.
Nice Cover for Storage and Travel
Gender:

Male

Familiarity:

I've used it several times
Purchased two months ago. Fits tight, and is very flexible. Travels extremely well. Recently survived 1,500 mile road trip. Fabric stands up very well to straps. No noticeable wind noise. Keeps rain, bugs, dust, and plant debris out. Flexible fabric is nice when grasping kayak and lifting it up onto carriers. Purchased for Wilderness Systems Aspire 105 and 100 kayaks. Cockpit openings are 51"x23" and 48.5"x21.5", so we purchased LARGE covers. The only challenge with this cover is learning how to install. Best method we've found is to straddle the kayak. With bow forward and legs positioned near rear of cockpit, start cover at front. Fit the cover into the grove, keeping it taught until about ½ way, then grasp the cover near the rear corners. While clamping kayak with legs, keep the cover low and pull the cover past the cockpit opening (width and length) and set it into the grove. Then, working towards the front, roll the edge of the cover into the grove. Bonus: my petite wife can even install her own. Highly recommend this cover.
I have a future beach 126 fishing kayak, My cockpit dims are 24 inches wide by 47 inches long which one would fit? Also is it a good travel cover for when I put it on top my Chevy Equinox? Thanks
Unanswered Question
I have a pelican trailblazer 100 kayak 10'...
I have a pelican trailblazer 100 kayak 10' what size cover does it take
I measured exactly to the 8th of an inch for my kayak, & this cover only covered about 3/4 of the cockpit. The quality of the cover is great, but wasn't even close in the description of the size.
Unanswered Question
We have a Necky Looksha 12SI and a Wilderness...
We have a Necky Looksha 12SI and a Wilderness Pungo 120. Would both need a small?
I own a lot of NRS cockpit covers (I have way too many boats). This one definitely fit better than the Nylon (works fine on the boat when driving on highways) but is no where near as bombproof as the more expensive Neoprene NRS version. The other covers (NRS Nylon and Neoprene) still look good as new but this one is already showing some wear (which worries me). Great design but needs to be made of tougher material.
Write your question here...I have a pelican...
Write your question here...I have a pelican Pursuit 100 Angler sit in, what size cockpit cover would I get for it? Needs to stay on during travel. My son says it is 43" by 2 feet.
The cockpit size of the Pelican Pursuit 100 Angler is 24.5″ W x 44.5″ L so you would most likely need the large.