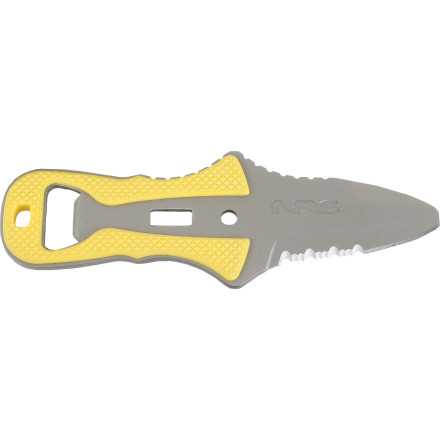 Detail Images

Community Images
Description
Don't worry—we'll sell you another one if you do.
The NRS Co-Pilot Knife makes an essential companion to bring along on your next rafting trip. This river rescue knife's chock full of features useful for any river enthusiast. Its blunt blade tip prevents accidental stabbings and raft punctures and also doubles as a flat-head screwdriver. The handle's contoured design and rubber grip gives you total control. NRS knows how good a river-chilled beverage tastes, so they added a bottle opener on the handle as well as an oxygen tank valve wrench. Clip the Co-Pilot to your PFD lash tab since it'd be a shame to lose such a versatile knife.
What is the difference between the NRS Pilot and the Co-Pilot?
The Co-Pilot is essentially a smaller version of the Pilot.



The sheath, handle, and blade materials on the two are all identical.



Size specs for the Pilot:

Total length: 7.38"

Blade length: 3"



and for the Co-Pilot:

Total length: 5.75"

Blade length: 2.25"



Feel free to contact me with any river gear related questions!

llabar@backcountry.com or 801-736-6399.
heavier than expected
Familiarity:

I've used it several times
Great river rafting knife, but the case makes it heavier than it needs to be. Yes, it's quality, and most people won't have weight restrictions, but it's heavy enough that I'll leave it at home for a packrafting trip.
The perfect river rafting knife.
Familiarity:

I've put it through the wringer
After a terrible experience with the Stohlquist PFD knife, I received the Co-Pilot as a serendipitous gift. The sheath is hardy and metal reinforced surviving snags and yanks and impacts. The knife is durable and I've needed for several rafting trips including a 21 day Grand Canyon float. Don't forget to lash your knife to your PFD and buy this knife with the assurance that it is quality.
Quite Pleased
Familiarity:

I've used it once or twice and have initial impressions
Overall I am very pleased with this purchase. Needed an emergency knife to clip to my life jacket, the Co-Pilot meets my needs exactly. I especially like the sheath and the way the easily knife pops into my hand.

Would have given it 5 stars if not for "Made in China".
Sharp as a Knife !
Familiarity:

I've used it several times
The Pilot is a simple blunt tip knife. Handy and straight to the point :) . Clips on smooth and can be grabbed easy. Bells and whistles sold separate hehe . Got the yellow .
Pretty good.
Familiarity:

I've used it several times
I like this knife but do like a little larger folder like the Gerber rescue. Definitely big enough to get the job done but not very useful for other things around camp or on overnight trips. Just a one trick pony.
Co-Pilot
Familiarity:

I gave it as a gift but have feedback to share
this knife is pretty sweet- tiny, yet packs a punch with all you need on the water and the beach. It sits flat and close to a PFD so it is well out of the way. The clip that holds the knife to the sheath is bomber, and doesn't come undone unless you want it to. Great knife.
Great little blade
Familiarity:

I've put it through the wringer
What can I say that hasn't already been said.... Not a lot really this as a great knife to have on the river. It just lives in my PFD I don't have to really think about it. Always there when I need it. Haven't had to use it in anger yet, thankfully. It is perfectly secure. I have it mounted blade up on my Kokatat Ronin Rescue vest, it has never got in the way climbing into rafts etc. Just a great knife.
Good knife, stays secure
Familiarity:

I've put it through the wringer
I do whitewater kayaking and a river knife is an essential piece of safety equipment. If you get entangled in a rope you need some way of getting yourself free quickly. I needed a knife that would attach to my life jacket and stay securely in its sheath even if I flipped my boat and went for a swim in rough water. Furthermore, I needed one that would release quickly in an emergency, and be grippy in the water. I also wanted one that would work well as an emergency camping knife -aka: one with a bottle opener :)-



The Co-Pilot is perfect for what I need. I've flipped my kayak twice while wearing it, once getting banged around pretty badly over some rocks. The co-pilot stayed secure the entire time. The sheath design lets the knife release quickly and with one hand, but won't let go accidentally. The bottle opener and serrated edge are great for camping, making this a great all-in-one knife for me.



My one complaint might be that it is very hard to secure the sheath to my PFD, but after getting it connected I'm very happy with how secure it is (no rattling or motion at all), so this might even be a plus.
My wife has the co-pilot and I had the pilot which is basically the larger version of the same knife. We both guided commercially on the colorado without loosing it so far (2 years her, 1 year for me). Honestly the co-pilot has a better design because it doesn't have the sharpish point on the end of the handle. I ended up taking a grinder too the handle shortening the handle and getting rid of the point- essentially making it a co-pilot. One caution is that when mounted horizontally on the astral Willis PFD as pictured here it doesn't get in the way when kayaking but can be a pain when rowing. Also it holds its edge fairly well. Great river knife aka security and cream cheese spreader.
Very light but not cheap
Gender:

Male

Familiarity:

I've put it through the wringer
This is a great product that is very dependable.
Awesome Knife
Gender:

Male

Familiarity:

I've put it through the wringer
I originally bought this for river trips but this has become one of my favorite knifes.



It is very well made and one can feel the quality when they first pick it up. The plastic sheath/holster is made from a very strong, durable, and quality plastic. Bomb-proof.



The knife was fairly sharp and has become my go-to outdoor knife.
Multifunctional.
Gender:

Male

Familiarity:

I've used it several times
Blunt edge so you don't go popping your inflatable.



Sharp, serrated blade so you can cut through a rope in a jiffy, should an emergency arise.



Useful bottle opener for adult beverages to be enjoyed.



Super-convenient carrying clip, with easy, single-handed pop-out deployment.



Useful shape for prying, digging, or chiseling.



Works well, and I'm glad to know it's there if I need it.
I dont know if Arcadian is talking specifically about the front edge of the knife where a typical point would be but if so then he bought a completely wrong knife for his needs.

If you know anything about water knives the front edge is not sharpened or pointed in order to keep you from puncturing your raft or even yourself, since in most rapids you are tossing and turning around. Also it is shaped into a dull chisel in case you need to pry anything open. If you want a sharp pointed knife dont buy a water knife FYI.

Four stars because I dont own this knife.