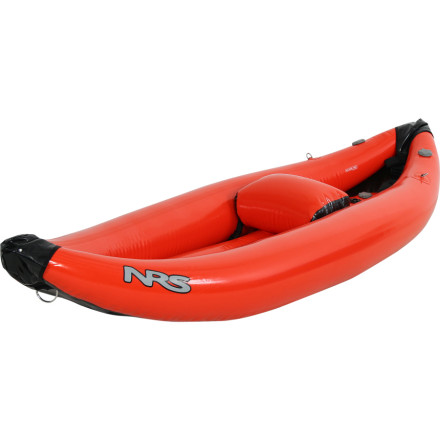 Detail Images

Community Images
The NRS Bandit Inflatable Kayaks' trim shape and self-bailing floor gives them excellent performance to help you get more play boating into your day. The lace-in highback seats provide extra support for a high brace and make a long day of paddling easy. At only 17-pounds, the one-person Bandit I kayak weighs little enough that a kid can easily get it to the water for some beach-side playing, and an adult can handle it with ease even in a big play hole. Want to take a friend onto the river? Check out the two-person Bandit II model.
Unanswered Question
I've read some reviews that indicate the...
I've read some reviews that indicate the Bandit isn't a good boat for a large person. I'm interested in hearing some real experiences from anybody who is average height, ~225lbs. Does the boat get tipsy, or wallow?
what is the recommended inflate pressure...
what is the recommended inflate pressure for this kayak? (NRS bandit) 2.5 LBS. ?
It appears to be 2 to 2.5 lbs: http://www.nrsweb.com/inflatables/raft_care.asp
NRS generally makes a good product, and 'duckies' are hella fun. Occasionally I've experienced leaky valves, but this generally can be fixed by really scrubbing the sand out of them. A comfortable ride even through munchy stuff; myself and a buddy who also guides actually surfed a couple of these in Cow Swim on the Green (class III) with no major trouble, super buoyant with a wide base and low center of gravity to the water surface. At night when you're tired of the campfire, or just had too much dessert from the dutch oven, deflate the backrest to make a comfy bed :)
, ☃bcs_badge_alumni_label☃
Can you put thigh-straps and foot pegs...
Can you put thigh-straps and foot pegs into this boat? Thanks!
Best Answer
Thigh-straps yes..not sure about the foot pegs though.
Yes you can put foot pegs in this boat. They come attached to 2 "patches" that you glue directly to the boat. I think the NRS website has them.
I would like to see a photo of a one-person...
I would like to see a photo of a one-person bandit. My spaniel goes out with me in my other kayak and I would like to see if I can take him along. Does it come with a duffel bag for storage and foot pump?
Don't have a photo but I did temporarily install a second seat and make a solo boat into a tander for a 10 mile class II trip. it was cramped but do-able. Two ladies weiging about 120lbs each rode plenty high. Unless you are huge you and a pup should be just fine. My only complaint is that there is so much bow rise that headwinds are a nightmare on slower water.
, ☃bcs_badge_alumni_label☃
Fun light inflatable
I used one of these Bandits for a trip on the Dolores River, and also down Westwater Canyon on the Colorado River. For the Dolores (lower flow) it was a blast, and could easily do class III water, even a run on Snaggletooth (class IV). I found it a little overloaded with two bigger guys... the tandem model shouldn't be used by two big paddlers if your hitting big water (easily on lakes and calm rivers though). Westwater was very fun in it too, and it had enough float to make me feel comfortable in the bigger class IV water. It is a little narrow which makes it tipsy, but still pretty stable for a boat being 24 lbs. You could almost roll it if you had thigh straps too (heard of some one doing this but never seen it). This is awesome river boat for class IV and below, and would be more than adequate on lakes and for recreational use.
I have had this kayak for a year and can't say enough about it. I am not an expert paddler by any means, but this boat is great. It handles super, the seat is comfortable, and it is stable in the mild whitewater that I paddle. It is very well made, and the fabric and other materials are very durable. It is lighter than many inflatables, which is a real plus for lighter paddlers like myself. I considered several different brands, but I'm glad I went with the NRS Bandit!