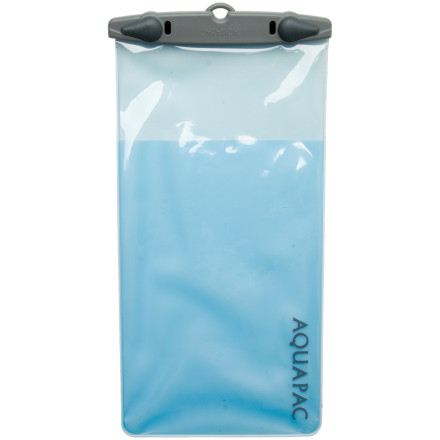 Colors
Description
This pack enjoys a good swim.
Sick of rifling through your big dry bag to find your iPod and map? Or going out for a short paddle and want to bring just a few necessities without fear of water damage? Grab the NRS Aquapac 654 Small Whanganui All-Purpose Case. The Whanganui (wang-ah-new-ee) is waterproof to 15 feet so you needn't worry if this pack goes for a swim during an unintentional capsize, and this case will float. Secure the detachable shoulder strap to your kayak rigging or use it to carry the Aquapac on shore lunch-breaks.
Keeps everything dry whether I'm kayaking or in a Vegas pool party. Perfect size fora key fob, I phone 6, two cigars and book of matches.
Which size should i take for a Nexus 4...
Which size should i take for a Nexus 4 ?

H: 133.9 mm (5.27 in)

W: 68.7 mm (2.70 in)

D: 9.1 mm (0.36 in)
The Mini would work out as it fits items up to 5"x 6".
What are the dimensions for each size?
What are the dimensions for each size?
The sizes for what fits in them is as follows:

Mini- 5"x 6"

Small- 6"x 8"

Medium- 7.9" x 10.5"

Large- 11.5" x 17.3"
Dry and Happy
Familiarity:

I've used it several times
Do you need a pack to keep your phone and keys dry when running the river or going into the water park? This will do it for you. I bought the Small size and it holds my Subaru key, iPhone, and wallet with plenty of room for extras. Two latches on the top seem like it wouldn't be enough to keep everything dry, but it does the job just fine. No water has leaked in on the dozen times I've used this. You can leave some air in the bag for those just-in-case moments you drop it into the water behind you; it will continue to float. It comes with a bright yellow/green string you can wear around your neck or secure to your boat/lifejacket to prevent it from running away.



Just curious to see how long these seals hold up. So far so good.
These things are sweet! I have used mine for a full season. It is very waterproof and you can still work a smartphone and even talk through the case. I carry my Droid in my PFD now nearly full time with this and it has been bone dry.
I bought this along with the aquapack 414 compact camera to compare them for use with the camera (because this one was a little cheaper). I decided the window feature of the 414 was the way to go for camera use and ended up returning this one, however I could definitely see this being useful for documents, passport, or anything else small that you want to keep dry and handy. You could still use it to keep a small camera dry and just take it out when you want to use it (depending on the situation of course, and would not be able to do under water photos). Also, it's not pictured, but it does come with a string to hang around your neck, or tie to something else.