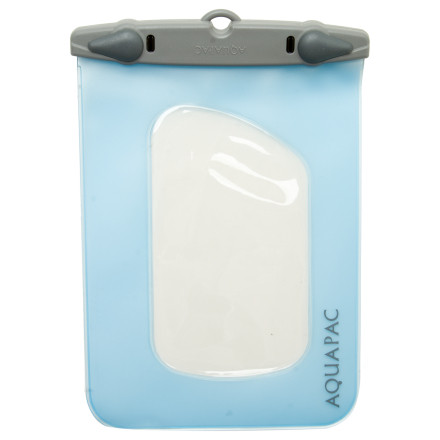 Description
Water is no longer your camera's enemy.
Bringing your point-and-shoot camera out on the water used to be a catch 22 (you really want to take pictures but you don't want to risk a camera-dunk). Try the NRS Aquapac 414 Compact Camera Case. NRS designed this case to keep your camera protected even if the case gets submerged (case is waterproof to 15 feet). The ultra-clear LenzFlex window lets you take photos while your camera is in the case, although the zoom feature might not work. Hold your camera lens as close to the window as possible, avoid using the flash, and take underwater pictures on bright, sunny days. The PVC-free polyurethane fabric stays flexible when it's cold.
Not great for rafting.
Gender:

Female

Familiarity:

I've put it through the wringer
This thing is waterproof, and if you close it with a bunch of air in it, it'll float, but that's it on the pros list. It doesn't really work well because if you have a camera that has a lens that comes out you turn it on, the lens can't come out all the way if you don't leave enough air in the bag. Also, if it is getting splashed at all or the plastic is not flat over the screen, the picture will be blurry or distorted. If you want good pictures, just buy a waterproof camera or buy a waterproof hard case specifically designed for your camera. (I now use this bag for my phone, keys, and other stuff I need to stay dry, it works great for that).
A Little Tough to Close, But Nothing Got Wet
I used the NRS Aquapac Compact Camera Case on a Caribbean trip that I took earlier in the year. It is good for fitting medium sized point and shoot cameras, to other things such as a wallet and iPhone. Once sealed, everything stayed super dry and I didn't need to worry about anything. The two side knobs that seal the case sometimes can take a bit of work, but they feel more secure in that way.
I used a Canon S90 in this aquapack during a multi-day raft trip, and loaned it to a friend during a canyoneering trip who loved using it. The temps were generally cool to moderate while I was using it.

Pros: Keeps the water out! The plastic is nice and pliable so it's pretty easy to change settings on the camera -even with a rotating dial, and the long neck string was great to just keep it around my neck hanging down over my PFD -it was always at the ready, and as long as the window was clear for the shot, you can't notice any difference in quality shooting through it.

Cons: because the closure system is a long plastic bar, it didn't fit very well in any pockets of my PFD, and even if it fit, it was difficult to get it back out of those pockets (so I had to just leave it hanging around my neck), you also need to take a little extra care to make sure the plastic window is flat against the lens so your photos don't look warped, but it's not difficult to do that (or you could turn this into a plus and get artsy!)
I have a small point-and-shoot with a small zoom lens (the lens comes out when you turn on the camera), so I wasn't sure if this would work with my camera or not, but there's enough room in the bag that the lens can come out and it works just fine.
The underwater pictures came out the best - I had the bag submerged in the water in the ocean, and the camera is totally fine. I will say that the pictures I took out of the water (when I was kayaking around) were a bit washed-out, probably because it was hot and humid and that made the bag a bit ... hot, I guess. But for underwater, which is what I wanted it for, I think this works really well.
I use this in all seasons in the Washington Cascades. Nice to know that weather we're out surfing, hiking in the rain, or enduring some wet PNW snow my electronics are well-protected.