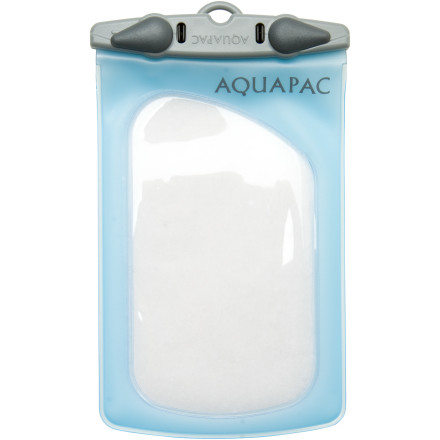 Description
Bring home pictures of your kayaking or rafting trip.
Do you have a small digital camera that you want to take out on the water and that could fit in a, oh, say 7.9in-circumference bag? The NRS Aquapac 404 Mini Camera Case uses a waterproof case and a clear window to take the precariousness out of shooting on the water. Keep your point-and-shoot in the case, hold the lens as close to the window as possible, and take your shot. The case is waterproof to 15 feet, so you can take pictures underwater (best on a bright sunny day). Just as a warning, your zoom feature might not work inside the case.
Aquapac
Gender:

Female

Familiarity:

I've used it once or twice and have initial impressions
404, no error. So far so good! Watertight, fits my phone well but not my camera with retractable lens. I thought maybe the other review was wrong & my camera would be different but, it, wasn't. It comes with a landyard that can be worn around your neck or tied to your PFD.
alternative uses
Familiarity:

I've used it several times
Whenever I'm on the river this is in the chest pocket of my pfd. While I purchased it for taking pictures on rafting trips really found it less than ideal for the purpose, though it did prove itself to be water tight.It has functioned wonderfully since for housing my phone, mophie charger, keys to the jeep and a few double and triple A batteries.
not suitable for a retracting lens
I have a cannon sureshot where the lens will open out and then close when powering off. The lens will not open with this bag. bummer for those cold rainy days but good to keep the water off your cam. If you can handle the time to take the camera in/out of the bag then buy it. i keep mine on hand in case I go canoeing or hiking in the rain. Like I said, I need to take the cam out of the bag to take a picture.

P.S. Don't use the flash in the bag. the pictures do not come out good at all. (From a friend who has a camera that does work in the bag.)
Camera might not work inside bag
So..sounds great. Can put your camera in and take photos under water, right? I understand you can't use your zoom. I put my camera in and just turned it on. My camera automatically pokes the lens out just a bit- it hit the other side of the bag. The camera totally freaked out- sending the zoom in and out. Then the screen went blank. I bought this because of the idea you could take pictures through the bag. So, there is no way that I could use this underwater or even just in the bag. If the Aquapac is just to store the camera, I can find a cheaper product. Had to return it. Hope it works for you though.