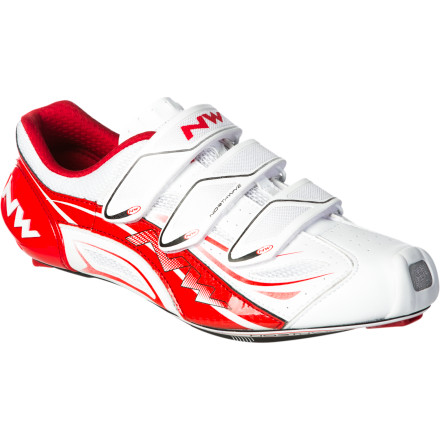 Detail Images

Videos
While aesthetics can be arguably subjective, technology is a truth. That's why we tend to favor function over form. But, in the case of the Northwave Typhoon Evo Shoes, we're no longer forced to opt for one over the other. Northwave somehow managed to create a sleek profile to house a sophisticated ventilation system, optimal levels of rigidity, and superior comfort.
The Typhoon Evo shoes feature Northwave's Carbon Light design. Using a sophisticated blend of carbon fiber and fiberglass, the Carbon Light outsole provides a heightened level of rigidity, while effectively managing the overall weight. And while its not quite as feathery as the Northwave Extreme's 60g Ultralight Carbon sole, the Carbon Light features the same remarkably low stack height. So, your power experiences a minimal loss of energy as you're pounding on the pedals. Additionally, the outsole has received Northwave's Airflow System, where there are two large, channeled ventilation ports over the arch and heel on the sole. Cool air will flow over the foot, keeping you cool and controlled on race day.
Further skewing the lines between comfort and power, the Typhoon Evo features Northwave's Omega Heel system. For comfort, this design has dedicated ventilation ports that coincide with the aforementioned Airflow System. And for power, the Omega Heel provides a rigid, securing grip that ensures that minimal energy is lost to foot slippage on your up and down strokes. The principle effect of this leads to a level of comfort that almost feels custom, and by maintaining a proper foot position, a direct transmission of power. Additionally, you'll find that the Typhoon Evo shoes make use of Northwave's Performance Pro Footbed. This footbed has been specifically designed to support the shoes' Airflow System. Accordingly, you'll find points of perforation throughout the sole so airflow doesn't simply stop at the footbed, but continues over the entire foot. Also, Northwave designed the footbed to be highly supportive, almost erring on the side of stiff. This design philosophy ensures that the sole balances the responsibilities of comfort with an effective power transmission.
At the uppers, you'll find that the Typhoon Evo's comparatively heavier outsole has been balanced out through the incorporation of three hook-and-loop closure straps. The overall weight reaches an equilibrium by excluding the Extreme's S.B.S. and S.L.W. closure systems. Instead, the three straps provide a customizable level of volume control, while making on-the-fly adjustments a breeze. As for the uppers themselves, Northwave constructed them from a lightweight and breathable microfiber. And not only does this effectively manage weight, but when coupled with the multiple mesh ventilation panels, temperature is well controlled and regulated within the shoe.
The Northwave Typhoon Evo Shoes are available in the colors Black/white and White/red and in whole and half sizes from 39.0 to 48.0. Please note that these shoes are designed for use with either standard three-hole cleat systems or Speedplay. However, Speedplay cleats require the use of Northwave's Speedplay Adapter Kit.
What do you think about this product?
Have questions about this product?
Northwave Typhoon Evo Shoes
Unanswered Question
Would like to know where I can purchase...
Would like to know where I can purchase replacement rubber heel pads.