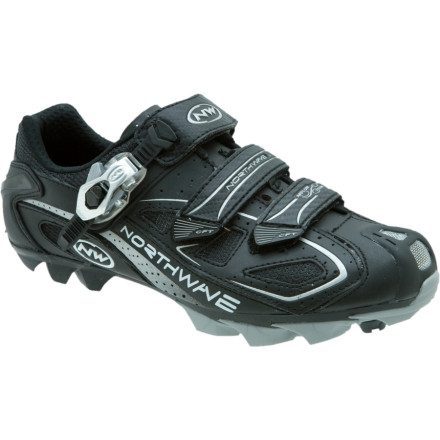 Detail Images

Community Images
Who said you need to drop handful of C-notes to get a high performance, quality mountain bike shoe? The Northwave Rebel SBS has many of the same features as the top-end Aerlite SBS, but without the price tag. Northwave's Ultra Y heel cup keeps your heel locked in place so avoid heel blisters and gain the most out of each pedal stroke. The main buckle adjusts easily when riding and eliminates pressure points. At 34 grams lighter per shoe than their blinged-out Aerlite siblings, the Rebels could stow an energy bar in each toe without you knowing.
Removable cleat ports for dry rides
Performance Pro Footbed for a cushy feel
SBS closing system and 2 straps for a tight fit
Carbon-reinforced sole for better power transfer
The quality of the upper is not exceptional, but to get some of the features of this shoe at this price, it is worth a try. The sole seems pretty stiff and well made; likewise with the Step by Step ratchet system. My only real gripe with the manufacturing is that the toe vents are almost completely covered with adhesive... I will not send them back for that. I bought these because Nortwave is said fit wide feet well, the 45.5 fits me great. I normally wear a 10.5W or an 11 in U.S. shoes. I measured today, my heel to toe is 11.25" and the widest part of my foot is 4.375 inches. I was impressed by the fit. My feet are not abnormally wide, but most normal shoes do not feel as good. There is definitely not enough arch support, but I guess it is easier to add than it would be to take out.



(updated)



I have ridden on them for about 100 miles now (24 miles at a time) and have to say I like them a lot. They are very comfortable, get good traction hiking on rocks and stuff, and do not get too hot inside. Definitely use some non-permanent thread locker on the cleat fasteners ; )
I do love HNR but gotta say my experience with this shoe is exactly the opposite of pretty much everybodies post. My buddy as well has the same experience with this shoe. Shoe seems to be quite high volume. So much so that although it is really adjustable I can't adjust it to my low volume foot. It's maxed and the velcro is stretched in a half season. Got these at the end of last season and already have to replace them. The buckles bent and tread is ripping off the outside. I ride close to 100 miles a week in the season, but it's been winter so theses jammies have been on vacation. The reviews I read pre-order said made in Italy and the product description says custom insole or something to that effect. Of course I didn't really expect that, but it's not even a bad attempt. It's a straight up 1/8" piece of crappy foam that says "custom" on it. SWEET! Anyway, I put a moldable foot bed in and it worked for a while. Definitely made in China. Sadly it shows. Didn't send them back sooner because I thought I'd get a season out of these bad boys but they are so clapped out after half a season they gotta go. My buddy Adam with club feet will likely inherit these as spares. You need a 13 EEE to wear the 12. Or maybe I just got a shot of the R.O.C.s finest QA/QC. Sounds like that probably. Crazy how much people like these shoes. Not being pricky, but are those reviews from guys that ride 10 miles on Saturday afternoon? I doubt it. I'm just saying I'm totally amazed how bad I think these shoes are. Spend another 40 bucks. Worst shoes owned. Bbbrrrppp bbrrrppp.
My first set of Northwave lasted 6 years. Buckles getting stiff I loved my last pair so much thought I would give these a shot.... Feel great on my feet, For some reason had to get one size larger than my shoe size. I will post again after I have a few more rides on them.
Unanswered Question
Hi Ron Please, I want to buy Northwave...
Hi Ron

Please, I want to buy Northwave Rebel S.B.S. Shoe - Men's- My bare foot measures exactly 26.5 cm. I would like to help me to know that size to purchase.

As data, I can tell you: in Specialized S-Works MTB my size is 43, in Sidi my size is 44.

Thanks for your kind response.
The Rebel S.B.S. shoe is great! My shoe size is 10.5 so I ordered a pair of the shoes size 44; they were very comfortable but I was worried they were a little big. I called HucknRoll's customer service and they allowed me to purchase a second pair of the shoes size 34.5 to compare with the 44's and then return the pair that didn't fit. The 34.5's were barely too small so I returned them; HucknRoll quickly refunded my money. The 44's fit well, I have to tighten the velcro straps as tight as they will tighten to get a somewhat snug (not quite as snug as I would like) fit around my foot. The preset S.B.S strap is also barely too loose but is adjustable by velcro; I adjusted the velcro portion of the S.B.S strap and it works perfectly; it holds my heel in place. I have had no problems with my heel slipping in the shoe and the shoe is wide and loose enough that my toes do not go numb. The rebel s.b.s shoe is a very comfortable, well made shoe with great power transfer. My experience with the sizing of this shoe is that they run a half size small so purchase a half size bigger than your normal shoe size. HucknRoll is great, they have fair prices and the best customer service in existence.
At least for the price. I have had about 100 hard desert miles on them so far and extremely happy from the purchase. No foot pains, holds my heal while I'm hiking, and seems its made with durable materials. Me happy happy. As a side note I bought these from HnR at 90$, I saw the on sale for 45% off about 20 days later and HnR refunded the difference without issue. Thanks HnR!! Too cool.
Solid but run a bit small
Good solid shoe. Quality of the rachet, straps, and velcro seem to be pretty good. They run half a size small. I wear size 9 regular shoes, ordered these in 9 as well but they're a bit tight around the sides up front. Also wish the straps could be tightened down a bit more, guess these are designed for thicker/wider feet?
So far, I'm digging this shoe. First off, HucknRoll is awesome. Great customer service, easy returns, and fast shipping!

I wear exactly a 11.5 shoe, so I ordered a 44.5. It turned out to be barely too small. I could touch the front a little too much where going downhill or doing technical sections would be uncomfortable. I ordered some 45s and returned the 44.5s. HucknRoll quickly shipped my new shoes and refunded my money for the 44.5s. The 45s fit pretty good. I have a narrow-to-average width foot and my feet fit fine even though Northwave shoes tend to be wider than most shoes. After 2 or 3 rides I did loose a spike. Northwave was quick to put another pair in the mail to me free of charge. I do wish the straps tighten down a bit more. Most people do have such thick feet. The stock insoles SUCK! I find them hard and don't offer enough support. I picked up some Specialized BG (blue) insoles and they are awesome in this shoe.

Overall:
*Lost a spike, but Northwave quickly sent me replacements free of charge
*Run at least a half size up from your true foot size
*Stock insoles suck. I used some Specialized BG footbeds (blue) and fixed multiple issues. More comfortable, better support, and my feet fill the shoes better
*No hot spots for me so far!
*Nice power delivery
*Seems like the shoe are made fairly well
I wear a 12 street shoe. Running shoes are...
I wear a 12 street shoe. Running shoes are 13 or 14 depending on the make. Any recommendations on this shoe for size?
I would suggest measuring your foot for your true size and then add a half size. So if you are a 45, get a 45.5. Although, everyone's preference and feet are different so you may find a 46 is better. I wear a 11.5 and the 45 is perfect for me.

Good luck!
Attractive shoe, stiff sole, cleans easily, too. It felt like my toes were being jammed pretty hard - especially compared to my smaller sized Northwave Aerlite S.B.S. road shoes, which ought to be similarly sized. Still, I'm hoping for these to stretch as they break in, and if so, I'd highly recommend these! I'm very happy w/my other two pair (Aerlite SBS as mentioned, and the GTX Celsius), so while the jury is still out, I hope to amend this rating w/a full 5 stars after some more miles & races!
Like others i found these shoes too roomy. I guess my foot is on the slender side, but i don't have this trouble with every shoe. I'm a 10.5 most of the time. 43.5 cradled my foot perfectly but my toes were touching the front of the shoe. Returned for 44.5 and the length was perfect, but i had to tighten the straps almost all the way to get that nice snug feel. They felt good, but i knew if they stretched at all they would be unacceptable. So i returned them. The quality seemed great and they were pretty light so it is disappointing that they didn't fit me. I'd recommend giving them a try. If they fit you i think you'll be happy with them.
I'm almost always a 10.5, so I ordered the 43.5 per the sizing chart. My foot fit in, but just barely. I am exchanging for a 44.5. I hope those work out, because this looks like a great shoe.
Hey, can you tell me the difference between...
Hey, can you tell me the difference between the Rebel S.B.S. shoe and the Lizzard Pro S.B.S. shoe? thanks alot..
The Lizzard Pro SBS does not have any mesh vent panels. The Rebel SBS has several small panels to help keep your feet cool. Make your decision on the climate you ride in.
I normally wear a size 13 and got the 47s which were a tad on the large side but not enough to return them. Very light, sturdy, comfortable shoe. Huge improvement over my heavy, old clunkers, lost 100 grams switching to these. Feel much more attached to the bike and the cinch system makes for a better fit and easier to put on/take off. Easy to walk in when hike-a-biking.
I've been looking at this shoe and the...
I've been looking at this shoe and the shimano m161 and I've almost made a decision. I just wanted to know if the bottom tread on the northwave shoes is as rubbery and grippy as on the shimanos. Also, in a 44, my toes just barely brush the end of the shoe, is that a good fit or should I go up a half size?
You don't want too much room. Biking shoes should fit snug like a glove. So if your feet don't hurt then you are probably okay.
These shoes have been great. Fit comfortably, have a nice solid sole for powering up hills. The click buckle holds the shoe tightly to your foot without allowing flex, which is great on the upstroke. The sizing chart was a little off for my foot and had to go one size larger. The return/exchange was smooth through HuckNRoll - and I was riding within a week.
Northwave Rebel S.B.S. Shoe
I purchased these shoes as a replacement/upgrade of my old NW Kameleons. These seem to be pretty much the same shoe. However, they have made some slight changes in creating a larger toe box, which I think they went too large! Only about 1/2 of what they added would've been sufficient. Using the standard sole inserts that come with the shoe will not be enough if you have a normal foot height. I have custom orthotic inserts to prevent "hot-spots" which I put in on top of the sole inserts already there and the shoe is still a touch too "tall". I had to double-up the ratchet strap to make it short enough to provide a tight fit and not be fully to the end of the strap. I ordered the exact same size and I probably could've gone with a 1/2 size smaller for a little more snug fit, but I'm hopin that the first wet ride/race will shrink-up the leather a touch. In all NW makes some damn good shoes! I couldn't see myself going to another shoe after 4+ years of abuse on the Kameleons which are still useable today! ENJOY!
Comfortable shoes. Wider than your average skinny cycling shoe.
Unanswered Question
The gap between the foot bed and the tongue...
The gap between the foot bed and the tongue is huge. Which thick insoles would you recommend to make the shoe more snug?