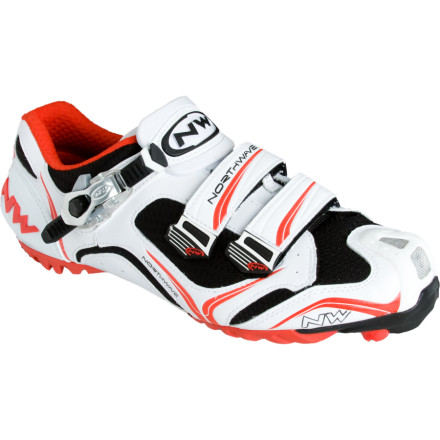 Detail Images
Strap on the Nothwave Men's Razer Mountain Bike Shoe and hammer your way to the front of the pack. Northwave designed the Razer to give you out-of-the-box comfort without sacrificing podium-stomping performance. This is accomplished using the Northwave SBS closure system, which cradles the foot in a Y-shaped yolk and utilizes a rachet-strap to lock your foot in place, and SBS eliminates heel-lift without creating annoying hot-spots or pressure points.
Microfiber and Airmesh upper cools your foot by maximizing air flow as you ride Carbon fiber soleplate adds stiffness and translates power directly to the pedal
Natural rubber lugs are lightweight and provide grip when you are off your bike
I have ordered two pairs of these. Went up half size for the next one. Shoes run very very small. The have a very small toe box. I would have to say these are narrows not normal (D) width. I can not recommend these shoes unless you can try on in person before you purchase. now I'm out $13.00 in return fees. Live and learn.
After 6 seasons of wearing a shoe that was too long, to gain some extra room in the toebox, I decided to step up to a premium shoe that actually fit. After much searching I tried these and man what a relief. They do make shoes to fit me! Sidi's are too narrow, Sidi Megas are too wide, Shimano has a loose heel, Specialized caused tendon pain on top of my foot due to my high instep, Northwave, perfect. They aren't cheap but they are compared to other premium options that aren't even as nice. These come with full carbon soles and real rubber cleats that won't crack your skull on wet rocks. The sythetic leather is the most supple I've found. Hands down most bang for your buck. By the way, go by the Northwave size chart, I am a 43.5 in sidi's and I am a 42 in Northwave.
I'll keep it short, but sweet. Best mtn bike shoes I've owned. Light and stiff, but comfortable. Soles are suprisingly grippy for those crappy hike a bike sections. Would buy again.
OK – here's the scoop: Imagine the most comfortable pair of slippers you have ever worn – the ones that mold themselves to your feet. Now, add an incredible exoskeleton that cradles your feet and pulls the power out of each pedal stroke. Attach the whole thing to a very stiff carbon fiber footbed and you have the Northwave Razer. I have pounded these shoes through long road grinds, sprint workouts, off-road intervals, and cyclocross mount/dismount practices with running sprints, including slogs through mud, sand and water, and they are beyond a doubt the most comfortable cycling togs I have ever worn (MTB or road).

Customer service was awesome, as it took several tries to find the right fit for me. I am an honest 10 ½ E, and took a 44 in this shoe with drymax socks (enough room left over for a little thicker sock for the winter). I have tried everything made by Bontrager and Shimano, and no other shoe fit nearly as well or was as comfortable.

Will definitely buy from both Northwave and H&R again!
Based on the reviews that I had read these shoes were supposed to be good for wider feet. Usually, wider feet in the cycling industry is code for: D-width. I wear a EEEE shoe on a daily basis and have issues with my toenails in narrow shoes. I am happy to report that these are plenty wide in the toe-box area, whilst remaining snug in the other areas of the shoe that you need them to be. I don't recommend white for MTB shoes as the material will stain rather easily. The cleats in the front of the sole are GREAT for giving you traction on slippery sections of the trail and I have found that these shoes are exactly what I had hoped they would be. They get 4 stars because I can't seem to get the fit on the heel to my liking and they slip a fair amount in the heel if you are just walking around and paying attention to such things.