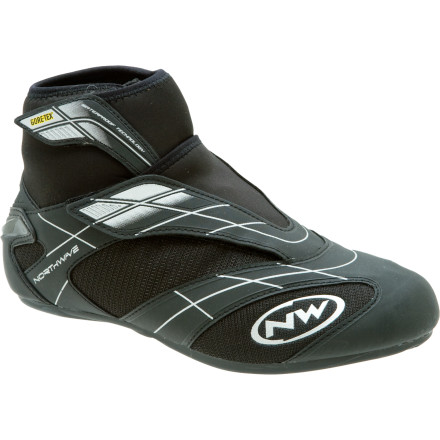 Detail Images
The Northwave Fahrenheit GTX Shoes gives you the ability to pedal to work, tour the deep north, or squeeze in a winter joy ride. A Gore-Tex lining provides water and wind protection, while Northwave's Speed Lace System lets you get out the door quickly and easily.
NRG nylon and fiberglass sole provides stiffness without weight
GTX footbed provides support and comfort
Hook-and-loop straps lock out the cold
Anti-slip rubber on heel for secure footing
Unanswered Question
I've had my Fahrenheit's for a couple seasons now, and love them. However, on a race recon ride for a very cold race the next day (temps at start, 25 degrees) 2 of the cleat nuts up inside the sole disintegrated. The nuts are sealed up inside shoe, and the footbed is enclosed all around. Even if I had replacement nuts, there was no way to get them inside. I was left scrounging my mates for a pair of borrowed shoes and booties... After contacting Northwave directly about the problem, all they'd say is "contact the shop where you bought them." Will CC repair or replace if the nuts inside the sole break apart? Need advice... these shoes are perfect, otherwise...
i am looking for a winter shoe but need...
i am looking for a winter shoe but need some width, which pair do you recommend?
Best Answer
I have the Celius Artic GTX which I assume are a similar fit. Anyway as far as width it is hard to say. Mine don't feel at all narrow or constricted. Also the lacing system is like a shoe lace and tightens up evenly so you should be able to make they fit comfortably. The sizing for this shoes is big. I wear a 44 Sidi Mt Bike shoe and a 43 Northwave. Even then the shoe has plenty of room for thick wooly socks.
Very well made shoe. Warm to the 30's with thin Defeet Woolies. However, I did find myself reaching for my normal shoes with booties this winter.

I do though, think that these shoes will be kept in my arsenal for years and will get used during that time. Perhaps, I've just gotten so used to my normal riding shoes, that I'm loathe to switch. I also found that getting used to these winter shoes takes a bit longer than summer ones. Just sayin'

I bought these shoes on sale in September and would make the same purchase again.
Now these are great winter shoes
These shoes are really good, the only thing that I had to fix was the foot-bed wasn't very comfortable, so I slipped in a pair of spencos & now thy are just right. These shoes are very easy to put on & the lacing system is great. I've only been riding in low of 26 degrees but they do a very good job of keeping my feet warm.
Living in Portland, Or I like to think I know a lot about rain and waterproofness. I never buy a jacket unless it is gore-tex or at least 25-30,000 mm waterproof rating, so when I came across a pair of Gore-tex biking shoes I sprung at the opportunity. I've had about 3-4 chances to put the gore-tex to test during some epic down pours and they held up great! I was caught in a huge storm about 6 miles from my house after class one day and battling the wind and rain was terrible on my other rain gear (pants and jacket) to the point where I could feel the water getting under my jacket but my feet were surprisingly dry and warm! Much like the other reviewer said they are pretty much true to size, I ordered a half size larger and found they fit nice but not as snug as if I got the true size. I haven't gotten a chance to ride with them in sub 45 degree weather as the other reviewer said but I will be soon in about another month. They have so far held up to my expectations of waterproofness.

They get the portland 5 star waterproof rating!

Bottom line: If you commute 365 or in the winter and need shoes that will keep your feet and toes dry when you get to work/school pick up a pair of these Northwaves!
Decent Shoe with Reservations
I was drawn to this shoe b/c of the price point. It's one of the only sub $200 shoes for winter road cycling. I've had my pair for two years now. And they are pretty good. But, these are NOT deep winter shoes. They will take you down to about freezing. And that will also require thick wool socks. While they do have Gore-tex, making them nicely waterproof, there is very little if any insulation (eg, Thinsulate). This is my biggest problem with these shoes: not warm enough. I was looking for an all winter solution in these and to that degree they really don't cut it. But, if you live in an area where it doesn't go below around 45 degrees, these might be for you.

BTW, the fit on these is pretty much true to size. But as with most winter shoes, you might want to go up a half to full size to accommodate thicker socks.