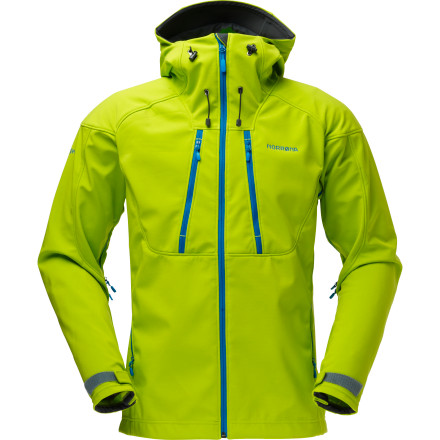 Detail Images
Built to thrive on the cold, exposed face of your ice- or mixed-climbing project, the Trollveggen Flex3 Softshell Jacket is Norrøna's warmest and most durable softshell top. Highly wind- and water-resistant fabric stands up to howling winds, dripping falls, and pounding snow as well as keeps you comfortable during extreme temperature fluctuations.
Flex3 Softshell fabric is highly wind- and water-resistant, stretches for added mobility, and breathes well so you don't overheat while you're pushing your limits
Micro-fleece lining traps in additional warmth, wicks sweat, and feels smooth and comfortable
Underarm vents lend airflow and increase evaporation when you work up a sweat
Chest pockets won't interfere with your climbing harness
Helmet-compatible hood means that you won't have to sacrifice safety for warmth
Articulated elbows mimic the normal anatomical shape of your arms and provide greater freedom of movement
Love It !
Familiarity:

I've used it once or twice and have initial impressions
This is a Killer Softshell...I have only used it now for a short time in cool windy conditions and it does exactly what the company states! Very comfortable,soft,warm,Great hood and love the inside pocket warmers and unique 3 zipper layout.Buy it and you will Love it too.....Norrona is definetly a ledge ahead of the others...
I am 5"10 175-180lbs. What is the right...
I am 5"10 175-180lbs. What is the right size for this jacket? In Arcteryx I am a medium yet I tried a medium in Mammut and it looked like a skin tight jacket made for a baby!
Mammut tends to run an inch or so smaller in the chest than Arcteryx, so a medium in this jacket should be fine.
Ok got the jacket and its pretty awesome. I had an arcteryx venta sv and this is pretty similar but better IMO. This jacket has awesome pit zips that are the largest I have seen. I also like the build quality. I instantly took it out for a long walk by the lake. It is about 37 degrees and this jacket is perfect with just a t-shirt underneath.
I had a large and returned it, too baggy and very long. Medium would have been perfect (5'11", 41" chest, 31" waist, 175#).
I purchased the jacket about 3 weeks ago and put it to the test in the Columbia Mountains in British Columbia. I went on a 7 day trip where I got helicoptered in to a hut and ski toured all week. The jacket was great! I could wear it skinning up and wearing going down. I saw all kinds of weather including -17celcius plus wind chill. As long as I was moving I stayed warm with an Ice Breaker 200 weight underneath. I also did not over heat. I had to take it off here and there on warm sunny days on the glacier to cool down. The jacket is well made and has become my go to. I left my Arc'teryx shell at the hut. Perfect for cold dry situations and even performed well on snowy powder days. The jacket is long enough so it doesn't ride up. I am 6'2" and around 180lbs.with a muscular athletic build and bought the large.
So far, so good
Gender:

Male

Familiarity:

I've used it once or twice and have initial impressions
I used this jacket the day after I got it on a weekend backpacking trip in New Hampshire. When an unexpected snowstorm rolled in, and the wind picked up, i was pretty happy to be wearing this thing. The lack of hip pockets take a little getting used to. The side vents and the internal pockets are not an exact replacement. The triple zipper thing seems pretty cool though. The yellow/green color is highly visible which is nice. The hood is about the best hood I've every had the pleasure of wearing. The hood has got two drawstrings to adjust for perfect fit/positioning, and the visor is awesome. Only time will tell how well the DWR holds up, but for the conditions its seen so far, it's keeping me dry and warm. The length was just perfect, partially covering my butt, and with the drawstring to keep the jacket from riding up. There are probably other softshells that are cheaper and nearly as feature-full, because at $200+ this jacket isn't cheap. All said and done, and happy with my purchase, and hope to keep this jacket for many years, and bring it with me on many trips.
Great quality
Gender:

Male

Familiarity:

I returned this product before using it
Excellent quality jacket. On initial inspection the material and everything else was high quality. Very close to my brothers mammut laser and my westcomb ronin. The only issue for me was the fit. Its a shame they dont make a 2xl. Knowing this I took a chance on the XL even though I checked the size chart. I have a about a 48 inch chest and pretty good size arms. 6'3'' 225. I was hoping this would fit even though i knew i was being overly optimistic and sure enough the jacket was too small in the chest and arms so had to send back. Overall great jacket though and if it fit right would have been my new softshell.
Amazing jacket!!
Gender:

Male

Familiarity:

I've used it several times
This jacket is phenomenal. very breathable, very windproof (haven't felt anything up to 50 mph), quite warm (down to about freezing), very water resistant (haven't been wet in 2 hour, Pacific Northwest downpours... would be nice if the seams were taped though for extended water resistance), and the fit is great. I can actually fit a down jacket under this jacket (but then again I'm very thin). The underarm pit zips extend all the way from the elbow to the hip bone. This is great especially when you're working in overdrive. Plenty of pockets to stash my essentials. The fabric stretch is great, the jacket really moves with you. The hood is also awesome. I would describe it as half football shaped. This allows for amazing peripherals. The hood doesn't obstruct your field of vision whatsoever. Also, the collar is nice and high (and very soft) to keep out unwanted wind and moisture.



I always hand wash my outdoor gear so I cannot speak for the brim problem another reviewer ran into.



All in all, great product! Highly recommended!
Will you get any black xls in anytime...
Will you get any black xls in anytime soon?
Joseph - Yes! There are some black XLs on order, but they could be here anytime between soon and mid-December. Since we bring them over directly from Norrona, they take a bit more time to re-order, but the consensus opinion here is that they are worth the wait!
After using it a handful of times and washing it once..
I have a front loading washer so there's no way it snagged. Great jacket however after washing it once the wire in the brim poppped out and the front face of the jacket's fabric is showing loose threads (like 10).

I returned it for the above reasons. Really like the jacket but wish the quality was up to par, everything else was great! Can't recommend a jacket that starts to fall apart 5 uses in.
Unanswered Question
Hi. Seller. I buy want to Norr?na Trollveggen...
Hi. Seller.

I buy want to Norrøna Trollveggen Flex3 Softshell Jacket.
But out of stock.

When I can buy??
Unanswered Question
Hi. Seller. I buy want to Norr?na Trollveggen...
Hi. Seller.

I buy want to Norrøna Trollveggen Flex3 Softshell Jacket.
But out of stock.

When I can buy??
Took this jacket up to Tuckermans for its test run. It was 35, rainy and the wind was howling, and I was loving it. Its ability to deal with wind and water was amazing. Everything about the jacket was thoughtfully designed. Right after I got home I logged on to Backcountry and ordered a couple of Norrona fleeces before they sold out. Quality like Arc used to be
Phenomenal jacket, so good it has me checking out the entire norrona catalog.
Took it out backcountry for the first time and was really impressed with this jacket, so impressed this is my first time writing a review. Was about 28-32F.

Wanted a jacket that I could wear a light layer and skin up in it without having to take it off. Regulating temperature using the pit zips, zipping the hood up, etc, was a breeze. Pit zips are super easy to operate, has 3 of them which leads to a really cool feature. Leave 2 at the top, one at the bottom and unzip the bottom one up a bit and put your hands in there, against the inside of the shell are two pockets that were made for that. Really feels like someone designed this jacket vs just picking a fabric, color, pocket placement and rolling it into production.

It snowed and howled and the jacket performed like a champ (slightly damp at the end of the day but no big deal). I don't like to wear a beanie hiking and the hood was perfect for adding protection/warmth.

On the way back down a woman skinning up stopped me just to look at my jacket. She was surprised I was wearing a Norrona jacket and proceeded to school me on how to say "Norrona" properly. Cracked me up. She apperently is a huge fan of the brand.

Need:
-Softshell
-Touch of warmth (fleece lined, inc hood)
-Ventilation
-Hood
-Multiple pockets
-bright visible color

Products compared:
-Mammut Ultimate Inuit Softshell (chafed chest like mad)
-Patagonia Talus Hoody (weird fit, short, so so hood)
-Mountain Hardwear Dragon (too broad for me in the shoulders, no warmth)

What sold me:
1) the hood, FINALLY a hood that fits big (collar), cinches down great, brim provides nice coverage and I can easily cover my nose and mouth if I have to. Brilliant!
2) pit zips, cake to operate
3) fit (longer coverage)
4) unique attention to detail
5) comfortable
6) price, its a great value for the money compared to the other jackets, all jackets compared were much more retail.
Which country is this jacket made in?
Which country is this jacket made in?
The Norrona stuff we have is made in China.
weight? This should be a standard in the...
weight? This should be a standard in the specs by now. When searching for outerwear for climbing weight it is important, because it addes up quickly along with all the other gear. come on BC
733g according to Norrona website. Roughly 26 oz.