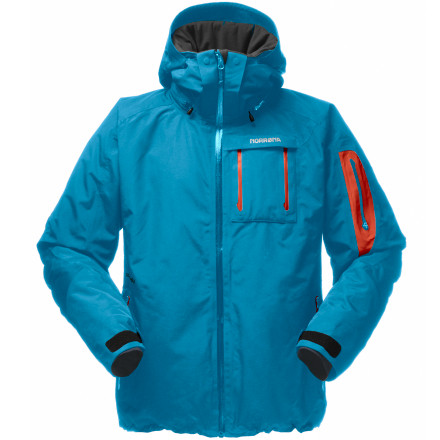 Detail Images
Does this Jacket have wrist gaitors? The...
Does this Jacket have wrist gaitors? The spec says it doesn't, but the pics show that it does?
Best Answer
Go with the pictures, the tech specs aren't always 100% right as backcountry employees have to enter those specs themselves and with the huge inventory they have sometimes don't catch everything. Or maybe what you see pictured isn't technically a "wrist gator" or something like that. Just trust the pics.
Jacket is awesome and you can tell once you pput it on. The materials are topnotch and this is by far the best hood I have ever seen on a jacket. This was my first norrona product and I will def be buying anotherone. Only downfall is it def runs small that's the only reason I returned it. I would def recommend this to anyone looking for a high quality jacket.
amazing in its overall functionality and in the little details. when I first got it I put the hood up and was like WTF its huge! then I found the compression cords which gave a tight fit around my head. Another great feature is the velcro on the edges of the hood that can strap into the neck gaiter and give you a seamless connection between your hood and your front neck/chin. Another nice little detail : the breast pocket opens out to display a pass (if u are a season pass kinda person). The inside pocket has a clipped in microfiber cloth for your goggles or shades. The inside of the neck area is soft so you dont need to wear a gaiter. And best of all is its easy movement and breathability. I live in NYC and I've been wearing it on my dawn bike rides in 15 degree weather, with just a base layer and an R1 fleece. Cant wait to use it on the mountain.Size wise, I'm 5'8" and 145 lbs, 38 Regular. The medium fits fine, in fact, a little bit baggy but I imagine the small would have been a little bit too small.Thanks BC.com!

by the way... it says in the description there is no wrist gaiter, but this jacket does have non-removable wrist gaiters.
Are the vents meshed or are they just open?...
Are the vents meshed or are they just open? I don't want snow in the pits... ya know?
they're open. Check out the picture.
Norrøna has years and years of experience making outerwear for ridiculously harsh places like the North Pole, so you can bet the farm that it has the clout to make a killer bike jacket. When the rain clouds gather, you'll find confident in the fact that you remembered to bring your Norrøna jacket.
This is a very high quality jacket, you can tell as soon as you put it on. The wrist cuffs are great as well. Two things to note:
The blue (at least on the charcoal model) is quite a bit brighter than in the picture.
The jacket seems to run small (6' 180 lbs and large was a bit small for me)
otherwise sick jacket, I can't wait to get it in XL.
The Velcro that comes on the wrists is grey not black like it is shown.
How is the collar on this jacket when its...
How is the collar on this jacket when its fully zipped...Soft? Nice and high? not too tight?
It comes to youre nose but its not to tight and with the cord in the back if you need to crank it down it does a very nice job, and with the fleece liner it helps with chaffing.
it is perfect, very soft, somehow doesn't freeze, is nice and high and no, not too tight at all.
I'm looking to get this jacket but I was...
I'm looking to get this jacket but I was hoping for a Medium in the blue which doesn't seem to be available. I'm 6' 1/2", but only weight about 155lbs and have 32 waist. Would a large be too big?
That's a tough call SM. You're kind of between sizes. Norrona fits small, as a rule, but you might find the Large to be too long. I'd say give it a shot. If it doesn't fit right, just return it. Backcountry has a superb return policy.
I am your height but weigh 195. I am in an XL and it is perfect. I doubt it will be too long. given your height I think large will fit fine.
What are anyone's experience with the...
What are anyone's experience with the waterproofing on this jacket. Does it hold up on those wet and sticky days??? Any comments would be much appreciated.
I don't have an answer from personal experience, but from the Norrona web site:

Technical Specification:

Waterproofness: min. 20,000mm (ISO811)

Breathability: Excellent (20,000g/m2/24h moisture permeability)

Windproofness: 100%
Very waterproof. I haven't tested it on the slopes yet, but just placing the sleeve under running water and the jacket repels the water easily. Cannot say how the waterproofness will hold up over time, but so far so good.
you know what instantly strikes me as nice...
you know what instantly strikes me as nice about this jacket? the fact that it DOESN"T have 37 pockets like my Spyder jacket does. If i need to carry a bunch of stuff I'll wear my pack...all i need it two handwarmers, one chest and maybe one interior, and I'll rarely use them.

How's the fit? I'm 6-1, 190. My biggest problem with jackets is usually sleeves not long enough and way too much room in the waist.
The fit of the Norrona Stranda Jacket is one of the best I've ever found in a jacket. I'm 5'9", 155 lbs and I purchased a size medium. The sleeves have plenty of length, and it has a slim fitting feel to it as opposed to most jackets that balloon out at the waist. I'm positive you will not be sorry with this jacket!
great ski/light winter jacket
Got this as skiing jacket, but was soon wearing as my go to winter jacket (over -10C), long neck and wrist warmers are great for securing that no wind get in! Soft and flexible!
It has a tight fit, but you are not suppose to wear big sweaters under it, if you want to do that, go one size up!
Plugs right into the Stranda pants giving you the option of almost a one-piece suit.
I would have liked just one more pocket, but overall very happy with this!
, ☃bcs_badge_alumni_label☃
Norrona Stranda Jacket - Men's....FINALLY!!!
This jacket is fantastic. It is warm, highly waterproof, comfortable, stretchy and the hood is the best helmet compatible piece I have ever used. The iPod pocket is intuitive and functional and allows for easy manipulation of your music on the lift or even during a quick stop during your descent. The stretch panels on the arm and around the back allow for ease of movement and full body motion without wrapping the whole jacket around you in the process. The styling on the Blue Jewel colorway is sick too! I always get compliments on the piece and the color. It has steeze without being ridiculous. The color on the Blue Jewel is more of a teal than shown here on the site. The hand warmer pockets are satin lined and excellent. This piece has the removable pow skirt and it also comes with the well designed jacket-to-pants zip-in interface which essentially turns this jacket into a one piece with corresponding Norrona pants. As soon as the mercury drops this is the piece I inevitably go to time and time again. Norrona is pure bad-ass and this piece is no exception. I would give it six stars if i could....
Anyone have an idea on how these jackets...
Anyone have an idea on how these jackets fit? Regular fit, Athletic fit, Baggy Fit?Thanks!
more regular to baggy fit.I'm 6ft 4 inch and med to skinny build. Finally i found one of the only ski jackets i found that fits well, i tried on XL and was long enough and it fitted well around the chest.i also found that most norrøna jackets fit well for longer people.