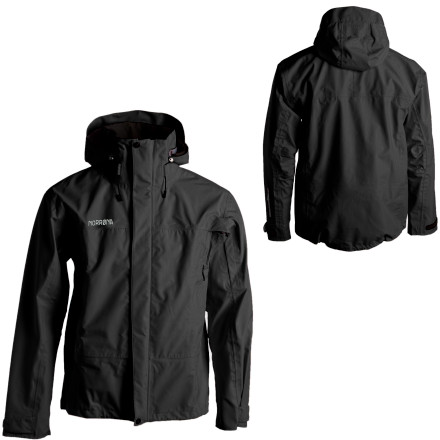 Detail Images

Community Images
Share your thoughts
What do you think of the
Norrøna
Narvik Gore-Tex Comfort Shell Jacket - Men's
? Share a...
Does anyone have any experience with the...
Does anyone have any experience with the XXL? I am 6'-4" 260. I can't find a size chart.
Picture on this website is misleading. wtf?
I picked up one of these, and I'm disappointed to find its not what is pictured on the BC.com website. The zipper is cheap, so instead of using a waterproof zipper with draft guard there is a cumbersome flap over the zipper with lots of velcro. The main pockets are small. The hood is barely helmet compatible. The goretex softshell fabric feels like an excellent fabric for a resort skiing shell, but the brushed liner fabric is difficult to layer against as it will catch on anything made of wool or fleece.

Overall its not a bad peice but its not what i expected and I'm not sure I'm going to keep it. Why does the picture on the website show a different jacket than what I recieved?
Just got this Jacket along with Narvik Gore-Tex Perf. Pants. Quality of this stuff is top notch, super well engineered stuff, Can't wait for snow. I am 5'9" 155lbs, pretty athletic build and I got smalls in both and was some what skeptical that the fit would be large enough, but everything fits well. With the jacket I can wear 2 layers underneath with out the jacket feeling tight, and the pants are just right as well, I don't like the baggy look or the tight look and these are right in between. A very nice free ride pant.
Over all I am very please, can't beat these deals!
I have never worn a non insulated jacket...
I have never worn a non insulated jacket before. how much layering up am i going to have to do under this?

Cheers,

Lachy
Best Answer
That's going to depend entirely on the temperature. You'll have times when a t-shirt works fine, and others when you'll obviously need more. A pretty typical set-up (and the one you should try to use for determining your fitting) consists of a good synthetic base layer, a quality fleece or softshell mid layer, followed by your shell. It's really an individual decision on your part, and one that you'll have to do some experimentation with to get the best results. Hope that helped.
looks like it does not have chest pockets...
looks like it does not have chest pockets for skins, am i right?
Hi, the chest pocket is located in the chest venting. There is a zipper in the mesh. You can either lock both zippers up if you will be venting alot, or just use the main venting zip if you want fast access. It was cleaner to intergrate them together and uses less Gore-Tex tape which makes it more breathable:-)
Who knew Norrøna did earth tones!
What is the difference in Narvik and...
What is the difference in Narvik and Lofoten?
Best Answer
The biggest difference is the material the jacket is made from. The Narvik is made using Gore-Tex Softshell, which means the jacket has a little stretch, or "give", to it. The Lofoten is constructed with Gore-Tex Pro Shell which does not stretch. Both are wind/waterproof and will serve you well though.
Great Jacket for tall fit
If youre tall with a long wingspan, non-linebacker build, one of those inbetween athletic and slim - then this is the Brand for you. After trying various jackets from Arcteryx (which are great) - im finding out how different the cuts for Euro vs US jackets can be. I dont like baggy - even for snowboarding. While the "alpine" jackets are indeed slimmer or more athletic cut, many US brands are still a bit baggy. Mountain Hardwear is a little less baggy and still great quality. All of them offer the Goretex which is what I want! Then I tried this one: This Norrona brand seems to have it all - a Large fits like a tailor-made custom suit for me (6-3, 170) - was sold at first try on. They are not cheap but same price as Arc't! (look for BC coupons!) I bought their fleece as well.But did it work? Yes - I just got back from Mammoth and layered with some Icebreaker Ts, Arcteyrx "Hercules" fleece, and it was perfect. Room for layers but not too much - or fine on its own with just a base layer. Its not as crunchy-loud as the usual 3x gortex either, but just as strong. Give it a try. (Im waiting to get the pants next season!)
I'm trying to decide between a "small" or...
I'm trying to decide between a "small" or a "medium". I'm 5'9", 155lbs, with a 31" waist. I usually wear a "small" in Arcteryx shells. Any advice?
Best Answer
Stick to small they have a similar fit....
Definitely small. I'm 5'10" 160lbs and i'd get a small.
Norrona vs. Arc'teryx who wins?
Norrona vs. Arc'teryx who wins?
You guys look like power rangers.
I was looking for something to replace the two jacket setup of Arcteryx (aka Deadbird) Sigma AR (softshell) and my Arcteryx Theta AR (hardshell). I love the Sigma: lightweight, totally windproof, low profile, warm but ventable. Only drawback was no hood... and it's getting beat. The Theta AR, which is about 3-4 seasons old, has been great and can handle ANY storm but it's more of the hard-shell style gore-tex which a) tends to overheat a little and b) is just a little too stiff compared to the softer materials that are available today. I was looking for something to split the gap: a softer soft-shell like jacket, yet still somewhat technical. This jacket looks like it might fit the bill. I just got the Narvik in the mail, so no real- world feeback yet, but I can give a couple first impressions.

Materials: First, the gore-tex softshell outer material looks like it definitely lands right in the middle of soft-shell and more technical hard-shell. Soft enough to be comfortable and more pliable but very likely still bomber enough for the toughest storm day. It's got the thin, soft brushed liner similar to the Sigma AR, and looks like it will provide the perfect weight when paired with a Patagonia R1 flash (cooler days) or Patagonia Cap 3 (warmer days).

Sizing: I'm 6'0, slender athletic build 170lbs and I got the Medium. This looks to fit very similar to the Theta AR, only slightly smaller. It is slightly shorter in length than the Theta, but is still "hip-length" in that it goes below the waist. The arms are LONG. Thankfully not too long and they are relatively slim so they don't feel too cumbersome and can be pulled slightly up the arm without issue. The asymmetrical cuffs might get a little annoying as they extend to cover the top 2/3 of my hand. We'll have to see how these feel over the course of a couple days. The wrist gaiters will be great on a powder day but frankly it's a feature I could do without. Not a show-stopper, they are very lightweight stretchy spandex can easily be worn on the wrists (not over thumbs) or just cut off the jacket. I would say the torso fits slightly smaller than the Theta, which is an improvement for me as there was too much excess girth/material on the Medium Theta, particularly when wearing a pack.

Pockets/zippers: I like the concept of the chest vents and I'm sure they will work well for cooling as opposed to pit zips. The only other thing that might be an issues is the hand pockets being almost down on your hips. It seems like these will be right underneath the hip belt when wearing a pack, which could be an annoyance so we'll have to see... In a perfect world I would like one more goggle/sunglass pocket. The one internal chest pocket is nice, but it's iPod/wallet/cell sized and frankly I would like another outside chest pocket or another internal goggle pocket or something.

Styling: I really like the low-key styling on this jacket compared to the other Norrona jackets. I really dig the bright royal blue color and black zips, as well as the suttle logos. Collar is nice and high for wind protection and hood seems awesome as well. Overall I am very pleased with the styling and happy to be wearing something unique and a little different than what is now the super-mainstream Deadbird.

Cost: Ridiculously high. But let's face it, not much higher than Deadbird and if you are a gear-whore like me you will pay for quality.

Final Verdict: Looking good, but need some days on the mountain before I will know for sure. For now, 8 out of 10.
Is the outer hardshell material of this...
Is the outer hardshell material of this jacket very similar to the Arcteryx Stingray or more like Burton AK Contnuum(Soft Shell)? And does this have an alpinist cut(shorter in front/longer in back)? Zipper length? Looking for around 32".

Should I go L or XL?

195 lbs, 6'2", athletic, looking for a baggier fit.

Other jacket sizing comparisons:
Burton AK-L is pretty much the most perfect fit I have found in body/arm length and perfect baggyness/chest sizing.
Arcteryx Stingray-XL is closest but don't like the shorter front/longer back, and zipper of only 30" so yeah, too short.
North Face Sedition-XL is pretty good fit, just a touch big.

How does the fit compare, most specifically to the Burton AK?

Thank you.
Best Answer
the material is closer to the burton ak continuum, but it is gore, so its not exactly the same.

i love this shell. i have been in some gnarly storms in this thing and it has never let me down.

6'2" and 195, i would go XL, especially if you want it to be roomy.
Its the same material as the stingray.
I bought size XL. Am 6'2" 210 lbs and it fits perfectly. My only complaint is that the hood is a tad small to fit over a helmet. Can be done but it is tight. Have used the jacket for skiing and snowboarding. perfect weight for a shell. looks good too.
In my opinion Norrona has lain claim to the throne. I own two Norronas (the Lofoten Insulated jacket, and the Narvik), and I can't say enough about how amazing they are. This jacket is warm, waterproof, but incredibly breathable. I wear it for BC days (and resort days in the 30's with a Patagonia R1 underneath) and don't even have to open the pit-zips on the uphills, and it's bomber on the way down (great powder skirt, the most waterproof softshell I've ever seen). Quality construction, excellent fit (I am 6'2", 165lbs and wear the large), not too baggy, not too tight, great colors (***NOTE THAT THE "METAL" COLOR IS SLIGHTLY GRAYER THAN IT APPEARS ON THE SITE). The little things make the jacket: The hood is large enough for a helmet, but easily adjustable for just your head, the wrist gaiters are key for skiing, the diagonally cut wrist openings allow your thumbs to move around when you're got gloves on, the draw cords are easily pulled with one hand to adjust the fit...I could go on and on. It's expensive, but absolutely worth the money if you're looking for a jacket that is truly top of the line.