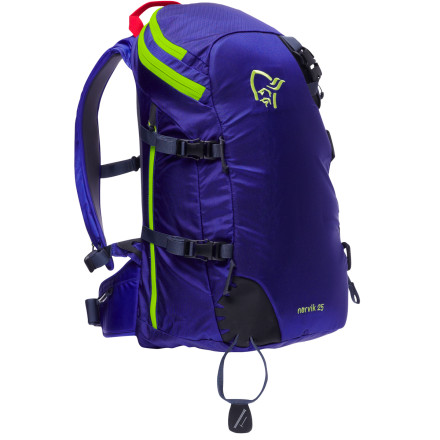 Hit the backcountry without having to cut back on the gear that you can carry because of your tiny pack. When Norrøna designed the Narvik 25L Pack, it added 10 liters to its tried and true backcountry pack so you could carry that extra layer, a little more lunch, the kitchen sink, etc, etc...
Integrated shovel and probe pockets
Snowboard and ski attachments
Adjustable 38mm waist belt
Backcountry.com is the exclusive US retailer for Norrøna products
What do you think about this product?
Have questions about this product?
Great and comfortable pack. Like what was said before, it sticks to your back much better than other ski packs I've used. Honestly it doesn't feel like it's there and doesn't inhibit motion in any way.

Tons of attachment points on the outside of the pack to carry your skis in A-frame, diagonal, or flat back positions and boards in vertical or horizontal positions. Very easy, quick and secure attachment points and straps make transitioning from touring to bootpacking quite quick without a lot of fumbling around with junk. A-frame/gear loops tuck away in pockets on the pack when not in use so you won't unwillingly grab some shrubbery on your descent.

Specific compartment for avy tools and sleeves for your probe and shovel handle keep the inside of the pack neat and organized, and save time in a rescue situation as all your tools are in one place. Top zipper into the main compartment is a little small and can sometimes be hard to get things in and out of the pack (especially if you hove a pair of goggles in the top goggle pocket), but just using the side access zipper alleviates this.

Integrated bladder pocket and insulated hose sleeve are pretty slick. I haven't been able to test this feature yet, but the concept is well thought out and nicely designed.

All in all this pack is an awesome tool and is worth the little bit of extra money. You won't be disappointed.


Edit: Don't be deceived by the weight in the stats over there on the left. It's not 35lb!
Hiking and skiing with Norr?na Narvik 25L pack
Shoulder straps are constructed to pull the pack towards your back, strapping it to your body and not just hanging the pack on your shoulders. The difference is obvious in use, as the pack does not flop around on your back and does not get pulled up on your back and into the back of your head when the shoulder straps are tightened.

Carries your sidecountry and short backcountry trip stash and straps skis and snowboards pretty much all ways; skis diagonal, A-frame, the x, side by side while board both vertical and horisontal. Even carries a mountain bike well and whatever else, as the straps are super versetile.

Main compartment entrance from top and side. Sleeves for shovel blade, handle, probe. Multiple smaller pockets.

Hydration system ready with super quick and hazzle free insert-removing of hydration system for filling etc without pulling the hose through any holes, loops, tubes etc. No more dragging the whole pack to the tap for filling, squirting all over the pack content etc.

Strong and durable fabric.

In other words, you're safe buying this pack!