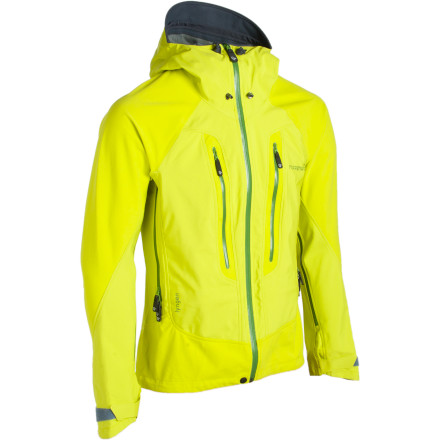 Detail Images

Community Images
The versatility of WindStopper Soft Shell fabric lets the Norrøna Men's Lyngen Softshell Jacket quickly adapt to ever-changing conditions in the mountains. This highly water-resistant jacket gets the job done in anything less than a torrential downpour? Massive snowstorm? No worries. Plus, Norrøna included super-burly zippers to handle the abuse that ice and alpine climbing throw at your outerwear.
Backcountry.com is the exclusive US retailer for Norrøna products
I just received the jacket and after waitng several months for it to go on sale, I finally did the purchase. I was stoked to receive it, but very disappointed in the fit. The body was not bad, but the sleeves were very tight. No room for a layer and in a t shirt they were barely comfortable. I am not overly muscular... just average. 150lbs and 5"8". Yes the sleeves are long, but that can be dealt with, but the arms...really tight!
The jacket is light and the Sulphur is a sick color. It would also be nice to have a waterproof inside pocket. I loved the long pit zips and the overall design is good.
If Norrona is going to sell their products in the States with any success, I would suggest they redesign the fit of their garments.
I think for now ArcTeryx or Mountain Hardwear are better choices when it comes to quality, fit, and performance.... You will get more bang for the buck.
I really wanted to like this jacket, but it has to be returned.
Pretty awesome so far, some shortcomings.
I somehow missed this jacket in my first search for a new jacket. I bought a Trollveggen Flex3 and when I saw this one which has a similiar design, bought it instantly. Last sulphur spring xl. The color is sick and I have already used it skiing in the teens with a light synthetic jacket and biking in the 30s. Great jacket. Thought about keeping only 1 of these but ended up keeping both. The pit zips are even longer than the flex3 (up the arms into the wrists). The cut is a little more generous than the flex3 which allows for easier layering. The hood keeps my head protected without getting to warm which makes my goggles fog. (insulating layer has no hood).

I'm really enjoying using it with an insulating layer, same warmth compared to a fully insulated jacket but lighter and more manuverable.

Pros:
-nice and light
-way easy to move in
-sleeves don't ride up and cinch down nicely
-fits great over a helmet, zips all the way up

Gripes:
-Feels a tad short, could be a little longer.
-for 400 dollars the entire jacket should be taped/welded (including hood). Would be nice if there was a waterproof zippered pocket on the inside.
-bulges in the chest a bit (holding the shape it was folded in, has like a crease or something).
Unanswered Question
does this jacket comes with blue zippers...
does this jacket comes with blue zippers or they are grey?
Man, the problem with buying online is that the pictures never do you any justice. You have to wait until it arrives before you know what you are getting. This could not be more true than with this jacket. I thought Windstopper would be stiff and not move well. I was totally wrong. This jacket is like a second skin, which I love. I am the enemy of bulk. It moves effortlessly. Here's how sick it is: I ordered the green one and the red one because I couldn't make up my mind on the color, with the goal being to send one of them back once I made my choice. I am actually giving serious thought to keeping BOTH. The colors are 50x cooler in person than they are in the pictures. Yet another Arcteryx jacket of mine is going in the dustbin. Now, if only Norrona made pants with "short" inseams (like Arc) I'd be 100% Norrona tops and bottoms.
I've been a Norröna-Fan for a number of years. However, lately the quality of their products is heading down hill fast. I've had some issuses with seams coming loose in other Norröna-articles. Bad enough for the high prices this company is demanding from its customers. But what I've experienced with the Lyngen Softshell Jacket is a breaker for me. The polyester outer fabric is not very resistant to wear and tear. After just wearing it for one week a couple of threads have been pulled out. Now I washed the jacket for first time and the wire inside the hood rim poked a hole through the material.

This is the last Norröna product for me. I've never had any quality issue with Arc'teryx. The canadians get my money from now on.
I've been told fresh stocks ship out on...
I've been told fresh stocks ship out on October 3, 2010. Is this information accurate?
These jackets are supposed to ship from Norway on the 9th of August, but the reality is that they will probably not get received into inventory until at least the end of September from past experience.
researched, fretted, etc. and I finally pulled the trigger on the Norrona. Up to this point I was strictlyArcteryx due to quality and "fit" vs. "fat" cut. Norrona Lyngen covers this department, but also has the long, triple-zipper arm vents -- ingenious. During a tour I'm a sweat hog on the ups and venting is key (I usually carry two baselayers, to give you an idea.) You can actually pull your arms through, stuff them in the pits and wear it like a vest during the climb. We take no breaks and push hard. No other softshell breathes like the Norrona.I would also add the wrist wrap is super comfortable and doesn't crimp circulation to the fingers in the glovers.In terms of wear, I've scraped, pinched and slid on this thing and it looks like the day I unwrapped it. No issues so far. I would say workmanship is on par with Arcteryx, OR.
I have been using this as my AT shell, and it works great thus far. It's made really we but at this point I am a bit skeptical of the long term quality. I have it paired with a down inner jacket and it has been warm enough but so far it has only gotten light use. Have noticed some loose threads
It's crap! A $50 softshell will last longer. The seams are not made for use, just for hanging in the closet. Norrøna have forgotten everything about quality and still they think it's worth that much money. The details are good, but that's worth nothing when there is no quality at all. Don't waste youre money on this one, you will have to buy another one this year!
How suitable is this jacket for skiing...
How suitable is this jacket for skiing seeing as it's not 100% waterproof?
Best Answer
That depends where you are skiing Shaun. If you stick to nice dry Canadian Rockies skiing like me, you'll be fine. If you're closer to the coast where the snow tends to be wetter, you'll probably want something waterproof. Also if you're just ripping around on the hill this will likely be fine, but backcountry adventures almost necessitate waterproof clothing.
Is the hood cut to fit over a ski and/or...
Is the hood cut to fit over a ski and/or climbing helmet?
Yes I am writing this from Scotland, land of the hard winter climber. Bought this jacket for this coming winter season, all I can say is brrrrrrrrrrrrriliant piece of kit Wired hood, will fit over climbing helmet, cut is perfect, ,.material. is fantastic One of the best moutaineering softshells I have seen in years. If u can only afford one softshell jacket make it this one.