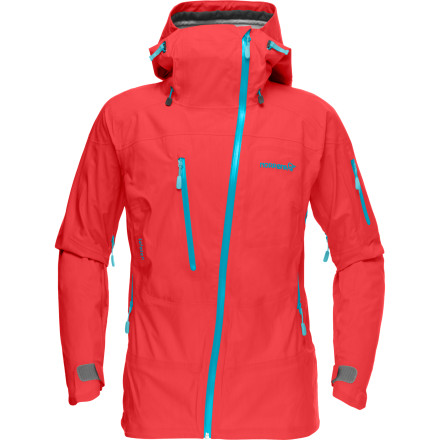 Detail Images

Videos

Community Images
Backcountry.com is the exclusive US retailer for Norrona products, and it's bringing you the Women's Lofoten Gore-Tex Active Shell Jacket so you can sport it down the steep summits in Chamonix, France or the steeps of A-Basin, Colorado. Made with a Gore-Tex Active Shell, this jacket has guaranteed waterproof protection that keeps you dry in the burliest weather, and yet it remains remarkably breathable and light—weighing barely over one pound—so you can climb, tour, or even hike in this jacket and stay completely comfortable. All the seams are taped with Gore-Tex's thinnest tape so you don't feel bulky and uncomfortable while you boot up big mountains. The powder skirt's silicon grip means you won't have to tug it down after a long run in the trees, and it's removable so you can leave it behind when you don't need the extra snow protection.

Norrona designed its Lofoten with a medium fit that accommodates layers for the frigid days and articulated elbows that make sure you get the freedom of movement you need to hike and ski. Not only does this jacket have the X-open ventilation zippers under the arms, but it also has a VentPoc pocket so you can let out all the steam you sweat up when you're working hard. The hood can either slide over your helmet or cinch comfortably across your head with a simple, one-handed adjustment. Water-resistant zippers enhance this jacket's waterproof capabilities in ways that most jackets don't. Asymmetric cuffs stay out of your hands so you can summit peaks without torn-up sleeves. And Norrona's proprietary Radio/Keycard Pocket at the sleeve offers an excellent place for your radio or ski pass.

Gore-Tex Active Shell
Fully taped seams with thin Gore-Tex tape
Medium fit with articulated elbows
X-open ventilation zipper
VentPoc
Removable powder skirt with silicon gripper and Snap seal system
Helmet-compatible hood with one-hand adjustment and wired brim
Water-resistant zippers
Weighs one pound
Asymmetric cuffs
Radio/Keycard Pocket
Backcountry.com is the exclusive US retailer for Norrona products
It's an uninsulated shell...
Hey Stacy,

Just to elaborate on what David said. There really isn't any warmth to this jacket. It is meant to keep you dry, and layered underneath for cold conditions. I would use this with a synthetic or down puffy under it for severe cold conditions.
Norrona Lofoten Gore-Tex Active Shell
Thrilled with this jacket so far...
I bought this piece as a replacement for my longtime jacket prior to a week skiing in Utah. I've been lucky to ski throughout Norway and always admired Norrona gear, thrilled to see Backcountry carrying it.



Some brief comments - (I'm really loving this jacket)- I was skeptical about the red color but it's actually a lot better looking in person; agree with the other commenters that there aren't a lot of pockets, but you can fit the essentials and I stored the rest of my gear in my under layer pockets; it's not a very hefty shell but I wore my usual layers and was perfectly warm; I really like the off-bias zipper, it kept me from wind burn and fit well with a helmet. For the fit, the jacket is slightly longer in the torso (which I like) and a bit narrower in the waist than most jackets, I was worried about the waist with layers but it ended up being fine - just a little trimmer than my prior jackets.



I haven't tried this jacket in extremely cold weather, but my Norwegian friends have a great saying - "there's no bad weather, just bad gear" - so with that mantra I'm going to assume it'll hold up on the cold days as well!
Great for the taller gals
Familiarity:

I returned this product before using it

Fit:

Runs large
This jacket is very long in the torso; would work great for some of the taller girls out there! Really nice looking jacket too, just a little too long for me on fit..bummer. ( I'm 5'4", for reference)
Unanswered Question
what pants match this jacket? is the zipper...
what pants match this jacket? is the zipper pink or red?
I love this Jacket!!
Familiarity:

I've used it several times

Fit:

True to size
People, This jacket is the best ski jacket I have ever owned.

The high neck protects you from the elements and you stay dry all day. The color and fit are great too. I highly recommend this for people who ski!
It says there are 2 hand pockets but I...
It says there are 2 hand pockets but I can't see them in the photos. Are there really normal hand pockets at the hips?
Hi,

The two hand pockets on this model are the zippers you see that sit right on the hips- they aren't lower down on the waist like most jackets
Can you double check on the "hip pockets"? It appears that there may just be two pockets (chest and sleeve), and the 'hip pockets' are actually just part of the pit zips.
Fits small
Familiarity:

I returned this product before using it

Fit:

Runs small
I fit medium with room in NF, Mammut, Columbia, Mountain Hardware, MEC and a bunch of brands, Noronna was so tight there was no way I was going to keep it. I did an exchange and hopefully the L is big enough to fit a thin down sweater underneath.



I love the asymmetrical zip, no frosty chin, you won't find other similar looking jackets on the hill -def stand out especially with the colour & zip.



Pros

-tough construction

-light weight

-asymmetrical zip

-long in body & arms



Cons

-a little pricey compared to competitors

-No inner cuffs on sleeve, this is needed for any 'wind proofing' shell in dramatic cold weather

-fits too small compared to other brands

- I'd have liked more color selection

-like another poster said, could use more exterior pockets






Fits very narrow in the hips
If you have any kind of hips, it won't fit. I'm generally a small - the top fit fine. Hops nowhere near closing (I'm a size 6-8 pant). Sleeves also long.
Photo Credit: Mike Bachman



Love this jacket. Was a bit worried about the diagonal zipper, and I can say that it did take some getting used to, but now I find it pretty handy. No cold zipper face! (Though it is really hard to find the zipper toggle with mittens on, guess I need more practice). Hood is solid, fits over a helmet. Wish this jacket had more pockets, but the Core vents are nice. The weight of this jacket is unbelievable! SOOO lightweight!



So far construction is good, have about 15 ski days on it. Color is great, never lost in the crowd! I am 5'3" and 120lbs and opted for the XS. Should have probably gone with a size Small, but they were out of stock, when I purchased. Backcountry is the only US dealer for the Norrona brand. So I went for it! No regrets, but I can't wear it on colder days since it's too tight to fit my down jacket underneath.



Pros

* bombproof construction

* Gore-Tex waterproof and breathable

* awesome color

* durable construction

* ultra lightweight

* huge cuffs easily accommodate bulky gauntlets on gloves or mitts



CONS

* needs more exterior pockets

* not as durable as Gore Tex Pro Shell, the tradeoff you get for the incredibly low weight of this jacket.

* asymmetrical zipper is somewhat annoying if not zipped up the whole way
Hi If I select the incorrect size am I...
Hi

If I select the incorrect size am I able to change it?

Cheers

Sue
Best Answer
Hey Sue,



Yep, BC has the best return/exchange policy going. Zero grief...ever.
Worth it, but a few considerations.
Pro's: Nice and light weight, breathable, long on the torso, sleeves are long, pockets in all the right places and right sizes (I don't know why you would need to fit an iphone#whatever in it anyways...), color is amazing, hood is like having a tarp over your head, packs down small,

Con's: I feel like it fits large, I am usually a medium/large, and I bought the large thinking it would leave just enough room for insulating layers, but I can fit a joey under there. Also, the specs, say there are wrist gaiters, but how does extra Velcro count as wrist gaiters? there are no thumb loops or anything of the sort. I was tricked. The powder skirt tugs around the waist in a weird way (not uncomfortably, just oddly) when the jacket is done up and the powder skirt is not, so I took it out. I didn't really have intentions of using it ever and was happy that it was removable.

With all said and done, i would recommend it,but I would buy true to size.
No fan of zipper love the rest
Gender:

Female

Familiarity:

I've used it several times
I haven't quite gotten used to the zipper on this, it is way nice on zero days but when I don't want my jacket zipped up all the way I tend to get a little annoyed. I still love this jacket though and won't stop wearing it just because of the zipper. I bought this one size up to layer up with, and am glad I did. The inside pocket does not fit the IPhone 5 very well and that is annoying. Anything smaller then that though and your golden. I love the bicep zipper (although I keep forgetting that I put stuff in there). If the IPhone would fit with out it being such a struggle to get in and out this would be a five star jacket.
What is the difference between the Gortex...
What is the difference between the Gortex Active Shell and Pro Shell?
I am assuming your are talking about the Falketind Pro since the Loften pro isn't in stock at the moment. The biggest diffence is going to be fit(in my opinion), and lenght I've tried them both on and own this one. The active shell is a little bit longer. Where the pro shells are a little bit shorter. I am not 100% sure on this but I do believe that the Falketind pro shells does not come with wrist gators, I do know the Loften shells do.

All shells are waterproof and breathable, use gore, and are fully taped. If you are looking for a powder skit this is the jacket to go with. I own it and love it!

I hope I was a little helpful if not you can always hit up the Live Chat those guys are awesome.



I forgot the zipper is a big difference as well, it take some getting used to having an off center zipper, it can be a little annoying from time to time.
Best Answer
Gore-Tex Active Shell and Pro Shell are actually two different types of Gore-Tex waterproof/breathable fabric.



Active shell is built for extreme breathability and are ideal for highly aerobic activities. It is a more minimalistic design with a fitted cut. It's also very lightweight.



Pro Shell is built with durability in mind, but you do sacrifice a bit of breathability as a result. It's designed with the intent to weather extreme conditions and years of hard use. It is waterproof and windproof.



Ive had both types of shells by Norrona, I can say with perfect confidence I did notice a major difference in durability with the Active Shell versus the Pro Shell. The Active shell was more vulnerable to wear and tear, especially where I was carrying my skis against my jacket. It is however CRAZY lightweight when held next to the Gore-Tex Pro shell.
Love it
Gender:

Female

Familiarity:

I've used it several times
Just got this jacket in the Red colour and on sale. Used it on a warm ish (and very wet!) weekend of ice climbing in Ouray and LOVED it. Beautifully made, super well ventilated and really light weight. As others have said, the side zip takes some getting used to but otherwise it's great. I am 5'7 and a reasonable broad shouldered 135lbs and the small fits very well on me. Definitely recommend this one.
Looking gooooood!
Familiarity:

I've used it several times
By far the most beautiful jacket I've ever owned! Found the color A LOT different than the website shows! Doesn't make it less beautiful tough, I think I even like the actual color more.

Fits a little tight and short over my downjacket which is unfortunate, but I blame it on the downjacket since it's kinda long.

Do have to get used to the zipper, I guess I would rather have had it just straight, and the jacket could use some more pockets!

It unfortunately only cost me 5 days of riding to get a cut/hole in the jacket by a branch while riding.

Got a love/hate relationship with the jacket.
Unbeatable ski jacket
Gender:

Female

Familiarity:

I've put it through the wringer
This has been my main ski shell for the past two winters and I still love it. It is ridiculously light weight and is amazingly waterproof/windproof. I am 5'2" 110lbs and the XS fits great. I'm able to layer with as much or as little as I need. One of my favorite parts of the jacket are the sleeves that are wide enough to go over mittens/gloves effortlessly but not so baggy that they let air in. Some cons of the jacket are the side zip takes some serious getting used to and if not zipped up all the way is kind of awkward. Also, with the hood on and the jacket zipped up all the way it is extremely tight on my face. All in all though, a killer jacket that I have used a ton but still looks good as new!
LOVE EVERYTHING NORRONA
Gender:

Female

Familiarity:

I've put it through the wringer
I love all norrona products. Have several fleeces and softshells. Just bought this jacket, i already have a lofoten proshell, this one is super light and still amazingly waterproof.
All of norrona gear went up 10% in price...
All of norrona gear went up 10% in price as of today. It is now officially cheaper to buy directly from Norrona's website, that is including their $20 shipping on all orders to u.s. and duties you have to pay, when you receive a package from abroad. WTF?
Best Answer
Hi Kara,



No scam going on (Norrona's site does not account for tax & duty so when you look at their site it's misleading)...just the unfortunate cost of getting this stuff into the US from Europe for our customers (we are the only US retailer you can get it from on the web or in a brick n' mortar).



Thanks for your question Kara & for your involvement in community!



Cheers,

--Brad
This is my third Norrona jacket. Ive tried on lots of other brands but I just keep coming back for more Norrona! Amazing quality & construction, handy details & pockets where you want them. Plus they are stylish with a flattering and functional fit. Lucky for Backcountry.com that they are the only place you can seem to get them in the US.