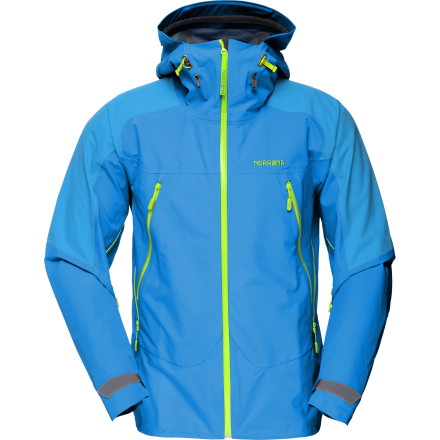 Community Images
By looking at the Falketind Gore-Tex Pro Shell from Norrøna, one could easily determine that the weather in Norway can get awfully serious at any moment. This lightweight shell protects you from moisture and wind when you're on route and the weather picks up.
Three-layer Gore-Tex Pro Shell is durable, abrasion resistant, waterproof, and breathable
Higher front pockets are easily accessible with a pack or harness on
Unzip the shell's long underarm vents to regulate your temperature
Modified Y-joint sleeve construction and articulated elbows for overhead mobility without jacket lifting at the waist
Reinforced elbows, shoulders, and waist adds durability in these areas of higher wear
Fully-adjustable storm hood with a wire brim directs rain away from your face
Backcountry.com is the exclusive US retailer for Norrøna products
Perfect performance and fit for me
This Jacket keeps out all the elements, has great zip access/ventilation and for a male average build just under 6 ft tall the medium size is a great cut - even for powder skiing without the powder skirt. Lightweight for longer trips, winner!
Poor Fit
Familiarity:

I returned this product before using it

Fit:

Runs small
I picked this jacket up on clearance. Unfortunately, the fit just wasn't right. I generally wear Arc'Teryx jackets. I found this to be way too tight through the chest. With only a tee-shirt on, the chest was tight and uncomfortable. The rest of the fit would have been acceptable (with the possible exception of the hood). I could not exchange for a larger size to try, as it was now completely sold out. The jacket itself seemed to be of decent quality, and would have been an good purchase at the clearance price (the regular price, however, seems way too high for this item). I would have liked more pockets. I didn't play around with hood adjustments, but it seemed to have been designed to fit a giraffe (ok - maybe I'm stretching it a bit, but you'd have to have a very long neck, or wear a serious helmet to properly fit under this hood without adjustment). Not sure how much the adjustment cord helps with this - could be just fine.
Broke My Heart
Familiarity:

I've put it through the wringer

Fit:

True to size
I loved the 2009 Norrona Pac-lite, but when I changed over to this model (~2012), I found it to be far too large in the torso. I worse size S and I'm 5'8", 37", 30", 125 lbs. Such a shame because the construction and design were all fabulous otherwise.
Good short fit
Familiarity:

I've used it several times

Fit:

True to size
Had to send back because the cut of the Large was too high for my 6'3" body. I loved the fit otherwise tho, and the sleeves were nice and long. The hood has a really nice big brim for creating a little shelter above ones forehead. The front of the collar is very long and comes right up ones face when zipped up, but sometimes sits awkwardly when not zipped up.

Overall great goretex pro shell but did not have a long enough cut for me. I've since acquired a Arcteryx Theta AR for is long fit.
Great for Alpine and Ice climbing!
Familiarity:

I've put it through the wringer

Fit:

True to size
The arms are nice and long so when climbing I don't expose my wrists and I can keep my sleeves up over my gloves. The chest is cut so that I don't get bunching in the stomach area so it is easy to see my feet. The hood is perfect and fits over a helmet... and on top of it all it's light and made from the best materials available.
Great shell
Familiarity:

I've put it through the wringer

Fit:

Runs large
Bought this jacket in search of the ultimate Gore-Tex Pro shell and was pleasantly surprised on the attention to detail and quality. Fit runs a tad on the larger side, and definitely can accommodate probably two insulation layers if you ever needed to. I've run it with a long sleeve shirt and down vest and have had a substantial amount of space. Roomy, but not overly huge. I'm 126lbs, 5'8" - I purchased a small.



My absolute favorite part of the jacket is the fact that the pit vents are absolutely MASSIVE. The fact that there's 2 opposite facing zippers means that you can "pinch" the zippers in the middle and get the same amount of air passing through the garment. Many other shells have only 1 zipper that goes 1 way, which means that when/if you zip it all the way down, the garment has a greater chance of snagging on something since the gaping hole it'll leave behind is just huge. With this jacket, you can zip the top one halfway, and butt the other zipper right up against it to get 2 "vents" on the same pit.



Solid quality all around, definitely no corners cut on this shell. If you're looking for the ultimate lightweight Gore-Tex Pro shell, look no further. By far one of my favorite pieces.
I've got a Norrona Svalbard softshell in...
I've got a Norrona Svalbard softshell in small that fits well for its uses. Should I go with the small in this Falketind or go up to the medium for more layering capabilities? For reference, I'm 5'11" 160 Lbs.
The hard shells usually run slightly fuller in the cut for layering purposes but it depends, of course, on how many and how thick the layers you want to wear under the shell.
Hey,

I'm 5'11 and about 155 lbs. Pretty long back and i've always had trouble with jackets being too short. Should I go for Medium or Small?
Hi, I'm 187 cm tall, 85 kg, and athletic...
Hi, I'm 187 cm tall, 85 kg, and athletic built, chest is 107 cm, what size will be right one for me, M or L? thanks
Best Answer
I think a Medium would be a squeeze for you. Go with the Large.
Functional, and stylish. Do not hesitate to choose it if you are after a super solid jkt.
The Falketind Gore-Tex Pro shell is a great jacket. I ordered it in orange crush and the color and fit is nothing like anything else out on the market - though it may be subtle to some, Norrona have a clearly distinct style in their cut and design of the apparels. I'm 5'11", ~170lbs, with 38.5" chest and ~31" waist, and the medium fit me pretty medium/slim but still enough room for layering (base layer plus a decent sized polartec midlayer). The shoulder was a bit cramped, which ultimately led me to return it (along with the fact that I didn't have any pant that went well with the orange), and I knew the large would be too "baggy" around my mid-section for my liking. But if it fits you right, this could be a great all around jacket for general alpine and snow sport applications. One thing that really stood out for me was how "light" the 3 layer Gore-Tex pro felt. I have other Gore-Tex Pro shells, and this jacket felt noticeably relaxed without sacrificing the durability that the pro shell is known for. And don't let the "simple" appearance fool you, it has most of the design features to make it a versatile jacket. One other thing worthy of mentioning is if you have a big head and had issues with jackets with hoods that wouldn't go over your helmet, this jacket has one of the bigger hoods I've seen. One downside (for me, but may be not for you) is there is no powder skirt if you're buying this for skiing - I'd look at Lofoten pro shell instead...but alas, they're mostly sold out.
While this is one of the very best jackets I've ever seen or used, it's HIGHLY over priced and I wouldn't pay more than $200.00 for it. Again the best most versatile jacket, very comfortable, light weight ect. it's nowhere near worth the $498.00 price tag. Sorry but this one is a bust!
BEST SHELL IVE EVER OWNED
So I purchased this mainly for skiing and the occasional mountaineering. I based my purchase on looks (and good reviews of course) and I couldnt be happier. This jacket looks awesome, is of excellent quality, just as good as my arcteryx shell. About as warm as a shell can be, the layering part is up to you, and it is 100% water proof as stated. I love this thing, so if you are into looks and need a high quality item this shell is definitely for you. Also Im 6ft, usually around 175 for ski season and i went with the large. Hope this helps.
for those of you who have this... does...
for those of you who have this... does this have a soft feel to it or hard texture like a rain jacket? This doesn't say what denier it is. Would this compare well with the NF point five? Thanks.
Bow,

The Gore-tex pro shell is a slightly textured nylon hardshell material. It feels more like a rain jacket, but not the super slippery variety you often find. It is not a soft shell, but it breathes pretty darn well and is bomb-proof. I find it to be more 'stiff' when folded while still moving and breathing nicely during high-output activities like ice climbing.

Happy trails!
What is out there that is soft, flexible, tough, and waterproof?
You should buy a RAB stretch neo soft/hardshell hybrid jacket. The fabric is a "soft" hardshell that breathes better than goretex or other hardshells. its new polartec stretch neo fabric will impress you. light and thin like a shell, soft and breathable like a softshell. best of both worlds. I own the pants and they rock.
where is this jacket made?
where is this jacket made?
It would be nice to say Norway, but I am pretty sure the answer is China - that is where my wife's Norrona shell was made....
Best Alpine Hard Shell Jacket EVER!
This is an extremely durable, lightweight jacket with a cut for climbers. I use this jacket for Ice Climbing, Alpine Climbing, skiing, rock climbing, and urban missions. Perfect cut for climbers who want to see their feet when climbing steep ground. I had jackets that are short in the arms or bulge in the stomach when wearing a harness. This jacket is perfect. Great sleeve coverage when climbing ice and no bulge. On top of that it had very durable construction and you don't have to look like every other climber in the hood. Bright colors look really good in the picture. Go Orange!
What's the status on getting more of these...
What's the status on getting more of these (not necessarily in this color... any of the Falketind shells)?
The folks at Backcountry respond like lightning to e-mails regarding stock inquirys. Shoot them an e-mail. Stock questions in this section might sit awhile before getting answered.
will backcountry be receiving more sizes...
will backcountry be receiving more sizes of this particular jacket in the Orange crush colorway...Large

Thanks
Sean,
Thanks for your question. Backcountry will be receiving additional stock of the Orange Crush Falketind Pro jacket from Norrona this coming Fall. I would check Backcountry around mid-September 2011. I hope this is helpful for you.