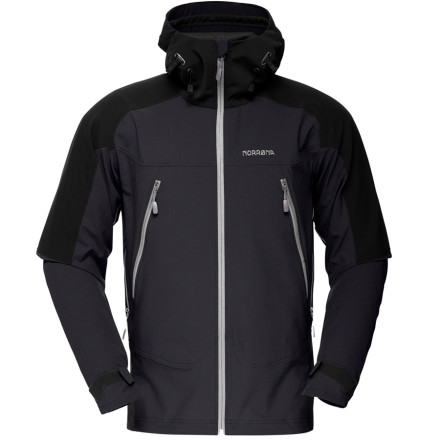 Chip away at your extensive bucket list with the help of the weather-resistant Norrøna Men's Falketind Flex 1 Jacket. This lightweight, highly packable softshell is designed for maximum mountaineering versatility, stretching to aid mobility while protecting you from wind and rain. Excellent breathability and underarm zip vents help keep you comfortable on grueling climbs. Norrøna added shoulder-and-hip reinforcements to bump up durability against a backpack or harness, as well as welded seams to improve comfort as you move.
Backcountry.com is the exclusive US retailer for Norrøna products
Unanswered Question
Is the cool black color blue (as it appears...
Is the cool black color blue (as it appears on the computer), or a grayish black?
Lovely, but will return larger size
Update: Received the XL and the body of the jacket was almost no different in size, but the sleeves grew by several inches which of no help. The fit is categorized as slim, while the Flex 3 Trollveggen jacket is considered athletic like my bitihorn. This could likely be the issue.



Received my jacket last night. Have a bithorn windstopper from several years ago (doesn't exists anymore) and wanted it to last a while longer because I pretty much wear it year round. It appears to be replaced by the Trollveggen soft shell, which has windstopper and a micro fleece lining. I wanted to try the bare bones version and thought this jacket would be just as great. I wear a size large in 3 other Norrona jackets I own and have read reviews in what people say about each model every time I order a new one because numerous people always comment on sizes being small and in this particular jacket I should have listened. Quality appears fantastic as usual, and the material has a crepe feel to it and seems it would hold up a bit better than any sort of convention soft shell by a competitor. I have already ordered an XL and will write a review after I use it for a while.
Likely will return but still nice...
I'm 6'6'' 185lbs got the XL: perfect layering, size-wise, over Norrona Warm3 fleece (THE BOMB). I love the larger pockets on the front vs. the softshell Trollveggen 1 which has only chest zips. However, no insulation inside this coat at all, so I must not have read that...for an extra $60, I was expecting insulation and stretch, so I'm not sure I'm gonna keep this. Insulation matters to me as I'm so thin. I was instantly bummed on looking inside of it and seeing quite a bit of sewing and "guts" that don't look that good and which actually do get snagged slightly and drag on my Warm3 fleece, so that was not entirely expected. I don't expect a work of art inside my jacket but this looks a bit like a flea market.



This is also semi-superficial - but the chest / front zippers are placed from inner chest to hip - zipping outward toward the hips, rather than inward toward zipper base. This outward zip-toward-the-hips look is TOTALLY DOPEY! For men (and again, pardon if this sounds superficial) you want to emphasize V-shape from chest to hips, not a pyramid shape - so oddly, the contrast in zips color on the chest makes it look like I have a pot-belly. Totally bizarre as I'm tall and in shape, very long...so to see that look on me looks so wrong. Norrona could just as easily slant the zips from the shoulder inward to the main-zipper and relocate the same-sized pocket w/ a much better, stronger looking effect.



Last - and this is perhaps slightly superficial - to me, chest zippers should zip DOWN to close not UP. Because these zip closed in the UP position - I feel like I'm wearing nipple rings with this! Ergonomically - this type of zip-up position means the pockets can OPEN during usage vs. staying closed if they zip down to close. These ergonomic items add up for me to be a likely return - however - I think this jacket is probably still major for its intended purpose which is largely not snowboarding (etc) that I'd be doing with it in the winter.
Light, tough, flexible, attractive
Just picked this up and can't really see using it too soon because it's summer, but I wanted to give some impressions and correct some misinformation in other reviews (maybe the models they referred to were different).

I got the Too Blue and it's a strong, bright blue. The photograph is pretty true to the color, although a little washed out.

The material is just what my review title says. It is similar to a Marmot Tempo or MH Offwidth, but with a little less stretch and, perhaps, more durability. It's light enough for fall/spring use or active pursuits in colder weather.

(Added a day later--some cool, breezy weather blew in and I was able to wear this around outdoors. The material feels just great. It's actually thinner than I originally had thought. It's soft and moves very well. While thin, the material is tough, wards off some wind, and holds in some heat. Seems like it will deliver on breathability, too. This could easily become a favorite jacket.)

The fit is trim. I'm 5-10, 135 and the Small fits well over a shirt or grid fleece. This isn't the kind of jacket you'd grab if the weather required heavy layering anyway.

The arms are long but that's probably by design for active uses. One thing I don't like is that they are very wide. I suppose that's so that you can throw on the jacket quickly. It's not really to accommodate multiple layers because the body won't allow that. There is a generous velcro tab to cinch the cuffs. Sleeves are asymmetrically cut to provide some coverage to the back of the hand, although my wrists are so slender that there's quite a bit of bunching there.

Pit zips are generous and work pretty easily.

There are two outside zippered pockets and one inside zippered pocket.

The waist has two hem cinches.

The hood adjusts in back and on each side. It has a nice brim. The fit is quite good on a bare head when cinched down. The only problem is that the toggles for regulating the side elastic pulls are buried in the fabric and can be hard to manipulate for loosening/tightening.

The Windstopper overlay on the hood, shoulders, and around the side and back of the waist looks like it's there for reinforcement against a pack and the placement seems to be for warding off rain, but the material is Windstopper. If the primary purpose is to stop wind then it should be located on the front of the jacket. If the primary purpose is durability or rain resistance, I'd think something besides Windstopper might be better. But I don't claim to be a backcountry expert so maybe there's something I don't understand.

The dye took similarly on both the Windstopper and Flex fabric so it's not that obvious that you're wearing a two-tone garment. The aesthetics are really nice. Colors are the typical eye-searingly bright (but pleasing, in my opinion) Norrona ones.
I am really happy with this jacket. It has really long arms, very slim midsection, broad shoulders. The thing that has me most impressed is the Flex 1 softshell fabric which is by far the best material I've seen. It is really flexible, very thin and stretchy, and it blocks out wind and is pretty amazing with rain. I got the blue jacket and I think it looks really sharp. I have lots of jackets, nearly all of them are now Norrona, but the most practical of all are soft shells. With this thing, I've finally replaced my 5 year old Arcteryx.
Just the jacket I've been looking for
I always get annoyed when I read reviews from people who haven't actually had their gear out in the backcountry yet, and hear I am committing the same crime. I promise to come back and revise this if I change my mind.

I'm not easy to please, jacket-wise. I've been searching for a minimalist softshell (no lining, nothing flashy, not too heavy) for a long time and I think this is the one.

I tried the Mammut Ultimate Hooded Softshell and found it cut too short, with pockets that are too small and in the wrong place, and poor hood fit with poor adjustment. Loved the waist-length pit zips though.

I tried the Rab Fusion, and loved the long cut and the three big chest-level pockets and the hood, but it had no pit zips. I know, it's a softshell, you're not supposed to need pit zips, but I do. I wanted that one to be the one but alas...

I tried a Millet Super Touring I was able to get used and loved everything about it except it also lacked pit zips and I needed a size smaller. I think I could have gotten over the pit zips on that one because it's made of the thin n light powershield. Do they still make stuff out of that? I digress...

So finally I tried this Norrona. It hits every check box: the cut is trim and long (6'2" 180 and the L fits like a glove with room for a layer); the pockets are large and well placed; the hood adjustment is brilliantly executed (one handed loosening!); the cuff tightening is amazing (I never knew I could be impressed by that); pit zips exist. I'm even impressed that the loop to hang it on a hook is on the outside of the jacket so it can dry more easily. Everything about it is well thought out.

This thing is for real. Snow is starting to fall, so I'll be putting it to the test as soon as possible.

** UPDATE 2/9/2012 I just returned from a week at Katahdin playing above tree-line and I could not be happier with the way this jacket performed. I never once noticed my range of motion being constricted. The chest pockets are large enough for one of them to hold my big warm mitts while I don't need them, and placed such that I could still access them while wearing a backpack, harness, and coil of rope over one shoulder. It shed snow perfectly. It breathes very well, like a softshell should. Temps were around 15f, and during high output types of activities I was wearing this with a merino base layer and I was just right. I layered it with a DriClime windshirt above treeline and was happy. When I stopped I put on my puffy. When I got a little toasty I used those pit zips. Just a very well done shell for winter fun.
is there a drawstring on the waist? is it...
is there a drawstring on the waist? is it long in the wiast or does it just lok that way? are there any pockets on the arms or sleves? suitability for high-output/aerobic in extreme cold (with a midlayer?)
There is not waist drawstring. It will be slightly longer than a normal jacket. No pockets other than the two in the front. Yes it would be good as a shell in cold weather with a bit of a base layer. Size up if you plan on layering much they run small.