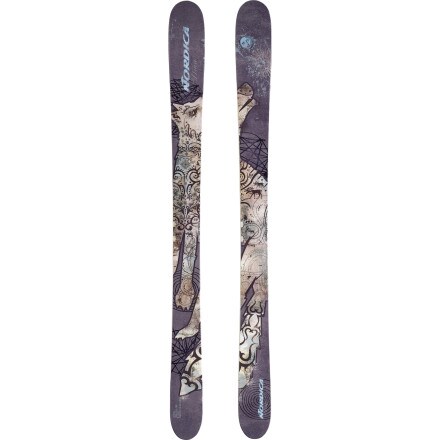 Videos
Description
La Niña is Spanish for ripping.
Whatever Mother Nature brings, the Nordica La Niña Women's Ski responds with fluent shredding. This rockered fat ski has plenty of float in deep snow but has traditional camber and sandwich construction for powerful edgehold and nimble turning. A wood and PU foam core keeps the weight down while delivering torsional stiffness and high-speed stability. And its Hammer Head tip design quiets vibration when railing on hardpack. Straight-shooting, air-stomping, and hard-carving, this top-of-the-line women's freeski board slays it all.

CamRock rockered tip and tail
Traditional camber underfoot
Energy CA sandwich construction
wi-Core wood and PU core
113-millimeter waist
Medium-to-large turn radius
UHMW sintered Electra Graphite base
Share your thoughts
What do you think of the
Nordica
La Niña Ski - Women's
? Share a...
Posted on
Hey anybody out there willing to help a...
Hey anybody out there willing to help a sista out, I'm looking for a solid all terrain/conditions mostly focused on pow days ski but can still charge it well on the groomers, crud and everything in between and came across the la nina's and they look great! I was wondering how they do in the wet/heavy snow of the pacific northwest? I'm living in Girdwood, AK this winter and want to be prepared for a sweet ski to rip anything that comes at me. I'm a Telemark skier though, do you think they would be just as good with a tele set up? I have also been looking at the Atomic Millenniums and they seem to be right up my alley too, has anyone skied both the Millenniums and la nina's by chance and can tell me the most significant difference between the 2 ? Besides the fact that the la nina's are just a bit bigger than the millenniums, which kinda intimidates me a little I have heard that the la nina's will perform better on the groomers since they don't have as much of an aggressive tip rise as the millenniums do. I'm hoping to Demo them on an alpine set up when the resort opens up just to get a feel for them under me legs. But anyone's opinion always helps. Thanks to all
Best Answer
Responded on
I demoed each of these skis in choppy wet Cascade snow in WA. I can say that the La Nina is once of the best crud skis I have demoed. It was solid in pretty much every condition, plowed through the worst heavy chop I have seen and was solid on the groomers. The Milenniums were much more chattery on the groomers in comparison. They had great float, but didn;t power through the worst heavy chopped snow as well as the La Nina. The Millenniums did however have a little smoother flex to them, which might be better for tele, though I don't tele so I am not sure. I would say that the La Nina is on the stiffer side for a powder ski. (Its identical to the Men's Patron, just a different graphic.)
Responded on
Thanks for the feedback tracey! So I ended up going with the La nina's and they are great! I was able to take them out on one of the few powder days we had up here in AK this past winter and they rocked it with a tele set up. Your right about the milenniums, i demoed them as well and found they were super chattery on the groomers, but the la nina's grip so well on the groomers and float like a dream in wet pow. They also don't feel as wide as they really are which is pretty sweet, so kudos to the makers! I can also see that the la nina's do have a bit more stiffness to them. I was hoping for a little more pop with them, but unfortunately i have not experienced it yet, maybe I just need to find more dry snow. I demoed the k2 coombacks a few years back with a tele set up down at grand targhee and they are super poppy and playful ski's, I don't know if it was the dry snow helping out but those are fun and they might just be my next ski. All and all though the la ninas are a sweet ski and I highly recommend them. :)
Posted on
Nordica La Ni?a Ski - Women's