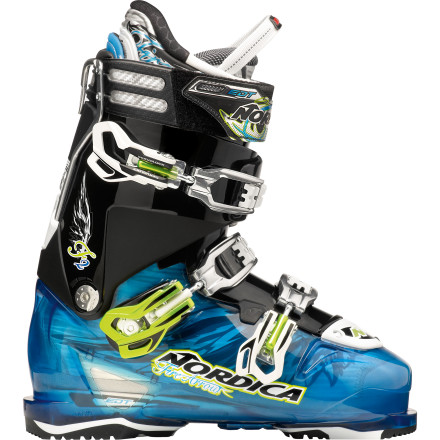 Make way for the touchy-feely and super-adjustable yet rip-roaring Nordica Firearrow F2 Ski Boot. It's sensitive, its stiffness increases as you flex forward for increasing power transmission to the ski. And it's strong, with a bomber three-piece PU shell that is stiffer laterally to better control today's wide skis. You can shred precisely as you like to with its adjustable flex, double canting, and a precision-fit, thermomoldable liner. It's everything you'd want and more.

Three-piece, easy-entry, laterally stiff PU shell makes no concessions to achieve high performance and comfort
EDT technology features carbon-reinforced bootboard that attaches directly to shell to increase torsional stiffness by 50%, thus sending more power to the skis with less energy and enabling you to make sharper turns
ADJ high-performance flex starts out in neutral and increases in stiffness as you flex forward; it's adjustable for low or high progression
Flex adjustable up to 125 maximum
High-performance hinge puts the pivot point high on the shell and further back for energy efficiency and quick rebound
100mm width provides comfortable platform
PFP precision fit liner with Touch Velvet lining is made of thermomoldable elastic, responsive material and fit with specific, performance-matched footbed
45-degree instep retention secures heel and provides comfort to the forefoot
Aluminum ServoLock buckles are lightweight, strong, and easily adjustable
Double canting adjustment helps you achieve an ideal neutral stance
High-traction dual-density PU sole prevents slips and falls on the plaza or walkway
What do you think about this product?
Have questions about this product?
Could you explain me the difference between...
Could you explain me the difference between F1 , F2 and F3 in the Nordica Ski Boot for menyear .



My teenage son of 15 years had bought an F3 and since a yehe want from 5-10 inches to 6 ft 2 so I am thinking to take over his boot 28.5 size and buy him a new pair , I see that you have F2 kight blue black color in sale in 29.5 which sholud fit is 10 or 10.5 foot.
Hey Carl,

The F1 flex is 135, the F2 flex is adjustable up to 125, and the F3 is adjustable from 100-110.

The 29.5 will fit UK size 10.5 foot, but if the size is US 10.5 it will be a little big. You could try wearing thicker socks with that size and having the liner molded to your foot to have a better fit.