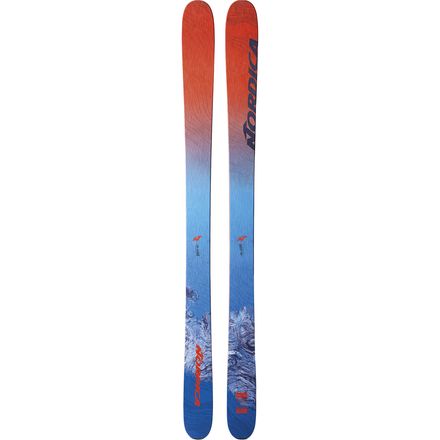 Keeping order on the tough slopes is a tough job, but somebody's gotta do it, and who better than the lawman who's riding the Nordica Enforcer Ski? Whether you're rounding up rustlers on the groomers, chasing down scoundrels in the trees, or tearing up pow in pursuit of purloiners, the Enforcer's moderate 100mm waist and playful but stable feel will help you have more fun than any respectable sheriff should, so you can hit the whole mountain hard in addition to maintaining law and order.

There's nothing particularly revolutionary about the Enforcer's construction, but there doesn't have to be, because it's such a solid ski. Nordica built it on a wood core that gives it a surprisingly poppy and nimble character without a flimsy or lightweight feel, so you can boost off small lips and little pillows without giving up stability when it's time to hammer through chop. The Energy 2 Titanium construction lays down a titanium laminate on either side of the core to supply the damp and stable feel that only metal can provide, while full ABS sidewalls prevent the Enforcer from twisting under serious edging forces and flapping around when you're hitting extra-legal speeds.

The Enforcer has a pretty traditional shape, too, with 80% traditional camber for bombproof edging, 15% nose rocker for just enough float in pow and smoothness in chop, and a 5% smidge of tail rocker to let you get juuuust loose enough in soft snow. It's also cribbed the snubbed and low-profile Hammerhead nose from the extra-burly Patron, so you won't have to deal with excess vibration or a hooky feel in the tip. Nordica engineered the topsheets to shed snow so you don't have to haul extra weight around with you, and finished the Enforcer off with burly and lightning-fast UHMW bases to provide that extra juice you need to stay ahead of the powder-plundering criminals.

All-Mountain Enforcer rocker profile
Energy 2 Titanium construction
Wood core
ABS sidewalls
Titanium laminates
Hammerhead nose
UHMW base
Snow-shedding topsheets
What do you think about this product?
Have questions about this product?
Very Impressed
Familiarity:

I've used it once or twice and have initial impressions
I was reaching for the El Capo and the Helldorado when the Nordica rep jumped in and told me i had to take these colorful skis for a spin. He touted that they would be a top selling model for the upcoming season and as a young turk i scoffed at him thinking "no way, they can't be that good, he is getting paid to say that", But i took his advice and one run later i was a believer. These skis look very impressive in person, the hybrid rocker camber shape is progressive with just the right amount of stiffness expected from Nordica. The sidecut is more traditional, but that's because its a time tested shape that works. This ski follows a trend of all-mountain skis that you can truly take anywhere in most conditions and i think this is one of the standouts in that category. It's very predictable, not very chattery, and has a nice responsiveness that is not overpowering. These are for a slightly more advanced skier because they do take a little extra muscle to whip around, but that's a good thing.

The top sheets have a ghosted image on top of the detailed graphic that is hard to see pictured above, but it looks great in person.

I would recommend this ski for someone who is also looking at the Solomon quest series or the Rossi all mountain skis (super/soul series) to be your daily driver. This is a serious contender, don't let the looks fool you.
i currently ski a 187 brahma and 186 atomic theory. i'm on the east coast, 30yr old, 6'3, 210lbs ex-racer. i am torn between 185 and 193... any advices? does it ski particularly short? on the west coast or for big mountains 193 would be no brainers, but on 600-700 vertical drop hills I fear it could be too much ski. thanks
Best Answer
Hey Marc,



I haven't skied these yet but have handled them and chatted with the rep. I'd agree with your assessment that 193 would be the easy choice on the West, but maybe a bit cumbersome out East. If you like the length of your Brahma's and Theory's, I'd say get the 185's. They are a stiff and burly ski that isn't soft and doesn't ski too short.



Feel free to contact me directly with any questions.



Ben

Brabinowitz@backcounry.com

801-746-7564
Im 6'2'' 190#, demoed a ton of skis last year and purchased these late season. I went with the 185s considering that this would be my all mountain ski and I wanted to make tight turns on groomers, trees, and ski bumps. Im happy I went with 185s... If Im doing a big open line in deep snow Ill use my powder skis.