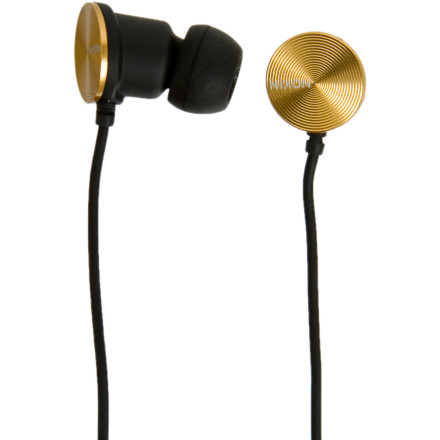 Detail Images
The roof isn't on fire—it's the Nixon Wire Mic Headphone that's burnin' shit up. This hot little headphone combines stylish Nixon form with modern function that makes average headphones look like used tissues. An 8mm dynamic drive delivers surprising clarity, and Nixon included a cord mic for use with a two-way device—so you can stay in touch with your agent without having to remove your earphone.
Had a pair that looked identical to these except for color and slightly different mic. Worst sound I've had in an aftermarket set. Muddy.
Pretty decent headphones for the price. Good sound, good fit, and stylish. I prefer these way over skull candy. They last a lot longer and can take quite the beating.
These headphones are so nice! Although they can get expensive, they are well worth it. I snowboard throughout the winter and take them everytime because the snow doesnt even effect them. We all have left stuff in our pockets before doing laundry, and unfortunatll my nixons were one of the many items, i got them out of the dryer thinking they were toast but to my suprise they worked like nothing ever happened!

AWESOME PRODUCT!
I just got my wire mics, and Nixon has made quite a lot of improvements to them from the earlier releases. The ear buds are now much smaller and fit perfectly without falling out. Also, they've changed the material used for the wire, which resolves the sound transmission issue. It's rad to see that Nixon has taken our feedback and actually acted on it.
First of all the music is extremely quiet. Second of all my real problem was where the wire splits to the two and goes to the earbuds one is super long like 2 feet long and the other is only 3 inches it looks so rediculus. These headphones are in no way worth the money. My 20 dollar skullycandys are so much better for the moneys. So in a nutshell these headphones such and Nixon should stick to making watches
These headphones are awesome. They have quick-click navigation through songs and the sound quality is great. A little overpriced though. These headphones are perfect for the iPhone.
Whats the difference between the "HP" sets...
Whats the difference between the "HP" sets and the non "HP" ones?
HP means high polish. shinier.
straight up sucks is right
i bought these and instantly gave them away. lah-ame. sorry but the button is HUGE! and doesn't really function that well. i was hoping for super sleek and small...sorely disappointed.
ummm i'm bummed about these
well first of all the mic boom is GIANT! second of all there is soooo much noise from the wires if you just so much as look at them! I love nixon products and was expecting much better quality. In fact me and 2 of my friends got them all at the same time and we went a day with em and then immediately sent them back. There are MUCH better headphones out there for this price. not recommended, but cool...kinda
How does the sound on these compare to the...
How does the sound on these compare to the Skullcandy FMJs or the Titans?
Thanks
Best Answer
I own a pair of titan ear buds and compared them the the nixon buds... titans win hands down, no question
I agree the sound quality on these are great, lots of base. I love Nixon products and thought these were a steal when I saw them on clearance on WM. I bought two pairs and while they are stylish they are poorly engineered. The cord is nice that it doesn't tangle easily and looks cool but the sound of it brushing up against anything when these are in your ears is loud and uncomfortable. My other complaint is that the microphone is bulky and not centered in relation to the ear buds. As a result when you have these just hanging around your neck (not in your ears) the heavy mic causes them to slip off. Be aware no volume controls on the mic.
I would recommend these for riding on a plane and thats about it.
These earbuds are slick looking, but the cord transmits static whenever you move. I tried them on, listened to a song for about 15 seconds, boxed them up and sent them back. I got static whenever the cord touched anything. I bought these to use when I ski, but there's no way they would sound good with the cord brushing against a coat. Definitely not worth the price.
Just got mine in today, and I have been testing them out. They are awesome! Great highs and lows, and fit my ears perfectly without any discomfort! I'd recommend them! Only lows about these is that the separate lengths the right and left wires is awkward, and I think they would be better if they had rubber linings of the wires rather than the cloth. Great build quality otherwise, and works with the iPhone perfectly!
Ditto on Sound Transmission
These things look nice and their audio seems pretty clear, certainly better than the cheapo earbuds I've been using. But the cloth material transmits a TON of sound. Anything I could tell this even from walking around my apartment. So they sound great, but you can't move while you're wearing them. Hmm. They're going back.
These sounds great, and block out a lot of the ambient noise in the office or plane, etc. Only problem with that is when you are trying to use them as your phone headset, you can't hear your voice, and it's hard to tell if you are talking too loud.
I've had loads of problems with headphones that sit in your ear. Most of them wiggle loose and fall out or they sit funny in my ears and end up hurting. My $200 Shure's are the worst of all as far as fit but "WERE" the best for sound. These Nixon's have just passed those up. In fact my Shure's to a quick trip to the trash once I got these in my lobes. The sound in them is truly amazing! They have much richer high tones and much deeper bass tones. It just sounds like a much more full sound effect. They work perfect with any generation of iPhone too which is a plus. They're definitely worth the dough!!!
Does anyone know what the hp stands for...
Does anyone know what the hp stands for on the white hp or black hp models?
Thanks
Best Answer
The HP are the iphone specific models. The others are standard and need an adapter to fit iphones.
You are wrong. It stands for High Polish
It blows my mind how people are reviewing Nixon buds so well. I can only assume that they are judging purely on appearance. When I first got these buds, I wrote a rash review about the great sound quality and how cool they looked. However, I've now been using them for 3 months and, well, I'm not using them. I quickly found that the cord is AWFUL!!!!!!! for transmitting sound. I'm not talking about riding, I mean if you're sitting down at your computer and you breathe, the cord makes a ruffling sound. It's incredibly horrible. They are also useless for any form of exercise as the oversized bud simply doesn't fit the human ear (even with the multiple sizes of buds you get) and you'll be continuously trying to shove them in. Overall, you are most definitely paying for the Nixon name. I'll continue to buy their watches, but I'll look elsewhere for headphones. Please, don't waste your money. Skullcandy make more comfortable and equally stylin' buds, or for a similar price to these you can get a pair of Shures or Sennheisers, both of which blow them out of the water for sound and comfort.
Write your question here...Will this product...
Write your question here...Will this product with with Motorola two way radios?
, ☃bcs_badge_alumni_label☃
It says the mic is for use with two way devices so I would assume they would work just fine.
Will these work in an iPhone?
Will these work in an iPhone?
Best Answer
BBO- You will need to buy a small adapter. The audio jack on the Iphone is designed a little deeper than most. The reason I have heard is so that the audio embedded in videos can be correctly heard. Regaurdless of the reason, all standard audio jacks need to have the small adapter added.
Matt, Thats for the First Gen iPhone. For the Second gen the mount is flush with the top of the phone so it will work with any smaller size input for headphones. What I was wondering was if the mic worked with the iPhone? i.e. being able to be heard through the external mic on the headphones.
I just picked these up and they work with all generations of iPhones thus far.....and they've got killer tonal qualities!