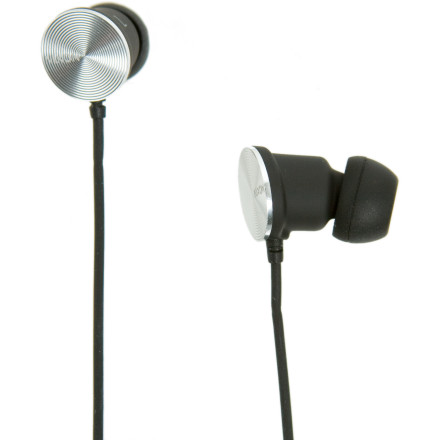 Detail Images
Whether you like your Beethoven with some bounce, or bump your DJ Benzi mixes on the run, the Nixon Wire 8mm Headphone satisfies your audio preferences. Nixon crafted this headphone with both form and function in mind. Powerful 8mm drivers and a wide frequency range deliver surprising clarity, while an ergonomic fit with customizable tip options ensures you won't have to adjust your headphone every time you feel the urge to bang your head.
Garbage?
Familiarity:

I've used it several times
First off, I love Nixon products....

However? These headphones are crap. They haven't died on me yet? BUT its only day 1! If i even slightly touch the input jack and/or bend the input cord from phone -> headphone, it cuts out... Now i understand wear and tear on headphones. I go through a pair of 'em once every 2 months? BUt the first day!? I expected this from Skullcandy... but from Nixon!?



They fit the same , sound the same ... they're headphones ... BuT do they last the same? Heyyyy'll NO
after less than a month the cover feel off one of the ear bubs, upon replacement the dealer advised that it happens all the time. Sound is good as long as the cord isnt hitting anything, cause that goes straight through. Thought Nixon had nailed it with these, on the specs and how good they look but after several months, i wish i spent a bit more and got something better. sorry Nixon.
I'm a huge Nixon fan, and I was really unimpressed with these. Not only do they fit weird, they had a short in them within 3 days of snowboarding. Not very practical.
Unanswered Question
How am i supposed to know if the mic is...
How am i supposed to know if the mic is working or not? It seems that my phone is not picking it up.
They have really surprising clarity also they block the noise in crowded places.
Expected more from these and from Nixon........
Unanswered Question
i have only used mine like 4 times and the...
i have only used mine like 4 times and the sound is very distorted, do you think they would warntee them?
I've had these headphones for 5 months now and I've had no problems. Sound great and look good. A little expensive but they are very high quality compared to the skullcandy equivalent.
Good headphones with great sound. I have smaller ears and they come with the different size ear piece and they are really comfortable.
I'll give them the courtesy of saying they're headphones look very stylish. But the fact that they don't fit at all, whatsoever, even aftertrying all 3 rubber cups. That really doesn't make me want to use them, much less purchase them. And the fact that they sound absolutely terrible. And I mean TERRIBLE! I don't know who decided these were ready for production, but I think they should be fired on the spot. Much better off using the stock iPod/iPhone headphones than these JUNKERS!!!
I'm writing them a complaint today in hopes to get my money back and then putting them in my Blendtec blender.
Will it blend? That is the question.

NIXON: you really F'd this one up, big time
Is there a muting switch on the cord?
Is there a muting switch on the cord?
I really wanted to love these headphones because i love Nixon but i was not impressed with the sound quality AT ALL. Sad to say that my crappy skullcandy smokin buds sound better than these. I even upgraded to the 10mm version and they STILL didn't sound better. sad face.
These headphones are so rad. They fit amazingly and sound somewhat amazing. I had mine for a month and the left one quit working..
they really are great. sturdy cord, they go in ear deep enough that you can fit them under your hat or helmet w/out uncomfortable feeling. small enough that you can roll em up into your pocket.my biggest complaint is that the cord dies pretty soon. i already went through 4 pairs of these. they go right near the jack, after 4-6 months depending on use, it will start losing left or right channel (you can than move the cord around to bring it back) and than soon after they die..its frustrating because if the cord area was replaceable, buds could be saved.
It kind of blows my mind how well people are reviewing these buds. I can only assume that their review is based only their appearance. When I first got these buds, I wrote a rash review about the great sound quality and how cool they looked. However, I've now been using them for 3 months and, well, I'm not using them. I quickly found that the cord is AWFUL!!!!!!! for transmitting sound. I'm not talking about riding, I mean if you're sitting down at your computer and you breathe, the cord makes a ruffling sound. It's incredibly horrible. They are also useless for any form of exercise as the oversized bud simply doesn't fit the human ear (even with the multiple sizes of buds you get) and you must continuously push them in. Overall, you are most definitely paying for the Nixon name. I'll continue to buy their watches, but I'll look elsewhere for headphones. Please, don't waste your money. Skullcandy make more comfortable and equally stylin' buds, or for a similar price to these you can get a pair of Shures or Sennheisers, both of which blow them out of the water for sound and comfort.
Nixon made some great looking headphones, but I don't think they listened to them before they boxed them up. These things suck.

The fit is good. I heard some people complaining about the headphones being to heavy, but I didn't find that to be a problem. They stayed in my ear just fine.

The sound was pretty decent until I moved. The feedback from the cord brushing up against anything is absolutely horrendous, and LOUD. I'd use the stock apple buds before these. I hate the apple buds.

These are going back.
Anyone know what the cord configuration...
Anyone know what the cord configuration is? symmetrical Y, behind the neck or something else?
Love the way they look but what is more important is how they sound and I didn't think there was anything special about the way they sounded. I also hated the fact that when the wires rub on anything or you touch them you can hear it and it is really irratating.
these are super nice headphones, sound great, fit great, look great. if you have dirty ears, clean them out before you put in the earphones. i likey alot. this is a steal