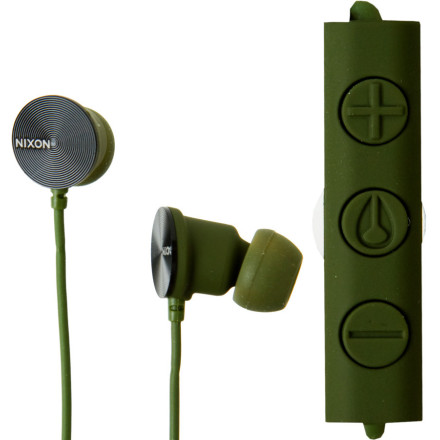 Detail Images
You know you've been there; deep in the heart of a pulsating jam pumped through to a smartphone, into your ear canals, and downloaded to your cerebral cortex and then ... STOP! Your soundtrack-for-the-commute is suddenly interrupted by a call leaving your soul partially satisfied and frustrated physical-self fumbling to unplug the headphones to answer the call, which is likely not as important as your new favorite song. The Nixon Wire 3-Button Mic Headphones provide the means to switch back-and-forth between sweet jams and the call to discuss après-work drink meeting times.
3-Button mic and volume control lets you make/receive calls without holding the phone to your face or using the speaker
3 Sets of silicone tips to help provide the most comfortable fit
Custom carrying case keeps the headphones organized and safe during transport
Soft-touch coating makes putting the ear buds in and out easy
Mic & volume control compatiblity: iPhone 3GS; iPod Touch (2nd Gen); iPad; current iPod Shuffle, Nano, & Classic
Mic & audio compatibility: iPhone 3G & 1st Gen; iPod Touch (1st Gen); Blackberries w/ 3.5mm jack (select models)
Audio only: any device w/ 3.5mm jack
Shocking
Gender:

Male

Familiarity:

I've used it several times
I like everything about the product except the periodic zap it would give me in my left ear. I've requested a replacement since this zap is probably caused by a defect.
sickest headphones ever! (till they die)
Gender:

Male

Familiarity:

I've put it through the wringer
i have the surplus and they have a good build quality. defiantly worth at least $120. it even comes with a semi hard case. pretty dope for $60



i think the cable shorted


The sound quality probably the best for the cost. but they do look nice. I've had mine for a few months without any problems. I tend to be rough with my stuff too.
Product design is excellent as it always is with Nixon. But the quality is complete garbage. After usually about 2 months, the connection goes to crap, and one of the ear phones will go out. Something with the headphone jack. This has happened to at least 5 pairs of Nixons for me. This will NOT last, especially if you're an active person and use these while riding/ skating/ hitting the gym.
Will the mic & volume control work with...
Will the mic & volume control work with an Iphone 4?
These fit great, and look amazing. The mic and buttons work well, and feel way more solid than most OEM earbud/mic combos.

As far as sound quality, these completely murder stock iPod headphones, and even the more expensive silicone-tipped Apple earbuds. They fit more snugly, and I found myself needing to readjust them MUCH less. I'm sure there are other brands that are louder or more crisp, but none of them look as good as these do.


Like most of the reviews have already said, these DO transmit quite a bit of noise up the wires if they rub against things. For me, that wasn't really a dealbreaker -- iPod at about 75% volume covers it up nicely -- but it's a little bothersome when you're on a phone call. It's not bad enough to make me want to return them, just annoying enough for me to give them 4/5 stars.


Bottom line: When they go on sale, they'll be worth every penny.
These headphones are far and away THE best headphones out there. Even arguably worth $100. (Beats in-ear headphones don't even compare).

I am currently loving my second pair of these (which I returned a pair of diddy beats in order to buy).

These headphones have excellent tight bass which is not blown out or distorted and really just resonates in your ears. The treble/highs are also fantastic, never crackling or fading like other headphones I've used.

These are also some of the most comfortable headphones around. Great shape/design, and are really just quality built. They feel solid in your hands, have a nice rubberized finish and are rather tangle free (when stored properly).

And my favorite thing about these headphones are the style. These will turn a few heads. I often get complements on these headphones:

"Those are so sick"
"Are those really expensive headphones?" -->(which they aren't for the quality)

etc.

Anyways, Nixon has done a good thing with these high quality reasonably price headphones and I will probably continue to recommend and purchase these headphones exclusively until they are discontinued. Which hopefully are never.

In summary, I have absolutely no gripes with these headphones. They block external sound great and have almost no sound bleed. I love popping these in and really just enjoying my music. Buy these, and I have no doubt you will do the same.
Not the loudest headphones, but the clearest. Great treble and some great bass
I got these headphones for my droid x knowing that the controls possibly wouldn't work with it. They don't which is fine but I will let you know what the do. When you first plug them in, the music player automatically comes on with a random song in shuffle mode. So all you have to do is then change it to whatever you want. No big deal. All three of the buttons just pause the music which comes in handy. So if you have a droid, expect these same results. The sound quality is alright. They seem similar to the skullcandy smokin buds. At least thats my opinion. I am not an expert on sound quality. They are great headphones nonetheless.
I bought the first Nixon Wire 10 headphones when they cam out a few years back and loved them! Though the cloth covering the wire was a horrible distraction and the lack of mic with iPhone control was a disappointing annoyance that I didn't appreciate until I didn't have it.

These FIX all that! Although these are the 8mm divers the sound quality is just about equal to the wire 10, and the PU covering the wire eliminates the background noise (but not completely). The mic and controls are easy to find while on my bike commute to the clinic and most importantly my wife can hear me clearly on a phone call while I am speeding through the urban jungle.

LOVE'em!