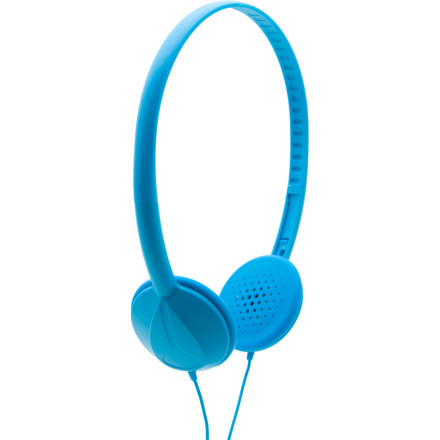 Community Images
Super lightweight, the Nixon Whip Headphones are ideal for jammin' your tunes on the go. The 30mm drivers provide plenty of frequency response. So whether you're feelin' some rap or metal it's still going to sound prime. And the custom molded silicone ear cushions make it easy to ignore the world all day.
Share your thoughts
What do you think of the
Nixon
Whip Headphones
? Share a...
Great low profile headphones
Familiarity:

I've put it through the wringer
I wear my goggles under my helmet and I was looking for a pair of headphones that also fit under my helmet. These are perfect. I won't wear earbuds snowboarding so it was great to find a nice low profile over ear set of headphones. I have 2 different colors of these and I have had them for a couple years and there haven't been any issues with sound quality or durability.
Alright Quality
Familiarity:

I've used it several times
These aren't the best sound quality but not bad either. The cord popped out of mine pretty quick so I wouldn't recommend for snowboarding unless you are taking it really easy. Probably would have lasted longer if I had been more cautious.
Niiiiiiiiicce for the snow
These are nice for a day on the snow. Stick to your head, alright when they get wet, and don't have ta mess with sticking it back in your ear. Do fit a little funny if you don't have a FULL head of hair or beanie on but it does the job. And they do look a little funny on ya without a beanie or something on
If you are looking for quality sound I would not recommend these.
They worked good for riding though, still work even after getting them wet with snow. Sounds Quality is not so great. (Matix headphones have better sound quality)
having already purchased the Nomadics and the Troopers, I was relieved when Nixon finally put something a bit lighter and more user friendly on the market. These sound just as good to me as the Troopers, however they are less conspicuous (but still manage to retain some of Noxn's understated, eye catching styling) and far nicer to use on an every day basis. A word of warning, the colours are bright, probably more so than some photos suggest. I have them in orange and they are quite a flourecent colour.
For their size I was pleasantly surprised. They pack a decent punch that was better than I expected, however they don't handle treble too well on my ipod when it's at it's highest volume. This is easily dealt with by urning the trble reducer EQ on. They fit very comfortably and the sound travels through my beanie without any reduction in volume. These are a great alternative to in-ear phones if you want to give your ear drums a rest. Go buy them, they are definitely worth the cash.
I would give these 5 stars all day if mine hadn't just broken. I copped for like $15 off whiskey, well worth it, and much more. So comfy with the rubber/padded ear piece. Pulled the cord too hard apparently below the cord split and mine went caput. Otherwise solid, real solid.
these headphones were a last minute buy before i headed up the mountain for the first boarding session of the season. they do not disappoint. the bass on these bad boys is amazing and the silicone on the headphone makes them stick to your beanie so they don't slide around. i would definitely recommend these to anyone looking for a low profile, great sounding headphone that you can beat into the ground and not feel bad about.
Unanswered Question
Hey im looking for some headphones that...
Hey im looking for some headphones that will work with a helmet (i have to wear one for my season pass) some that will fit under or rest on my neck...any suggestions?
i got them blues n ive been bumpin em since i took em outta the package.
the silicon earpads are so perfect, you can headbang fat n ur beanie falls off way before the headphones even move!
Buy em, rock em, love em.
These work great with my Red Mutiny helmet. The sound quality is amazing for the price :)
These were just delivered today. Tried them out and the sound was very solid. The look is great and the price was fantastic since I snagged them on whiskey militia for next to nothing. Overall, I hope they hold up and look forward to rockin' them around campus.
Do these ship to the United arab Emirates?
yess...
Do these ship to the United arab Emirates?
yess we have snow in the desert :P
Snow in the desert! Hella! Unfortunately though, we can't ship Nixon product internationally. Might wanna try a local dealer!
first off these shipped really fast, ordered on friday and i got them on monday. the phones themselves arent like what they look like in the picture. they are much smaller and feel so much better than they look. the sound these phones make is of the chart, for being so small they deliver. bottem line, GET THE PHONES!!! well worth the cash
Unanswered Question
Do these fit underneath a helmet?
Do these fit underneath a helmet?
When I popped this pair of headphones out of the packaging, I couldn't help but be a little taken back by their simplicity and minimalistic feel. They seemed a little cheap looking, but I proceeded to plug 'em into test their intended use. For the size they really pack a punch.. distortion free at high levels.

I bought these for snowboarding, and in my opinion they are the best suited headphone for that. Their low profile design will go great over a beanie and under goggles. You can thrash around without these things moving whatsoever. I think Nixon needs to cut back their packaging materials cause I'm pretty sure the box uses more resources then the headphones themselves. I'd recommend these headphones for anyone looking for a good all around boarding go-to pair. I'm over fussing with jamming cold earbuds in my ear on the mountain. Overall the silicone ear cushions are just enough stick to stay put, they produce quality sound and I can't even tell I'm wearing headphones at all because they're so light and form fitting.
i got them mainly for their looks, and relatively cheap price, but i've been pleasantly surprised with their comfort and sound. the silicone rubber is really soft and feels good. the cord seems a little thin, though, and while i'd worry about breaking it while snowboarding or something, it should be fine if you're just lounging. the sound also has some decent depth to it -- the only knock is that they fit a little loose. if you press the ear pieces snug against your ears (like when i wear a beanie over it or something) then the sound is improved. but for the price, you def can't go wrong with these.