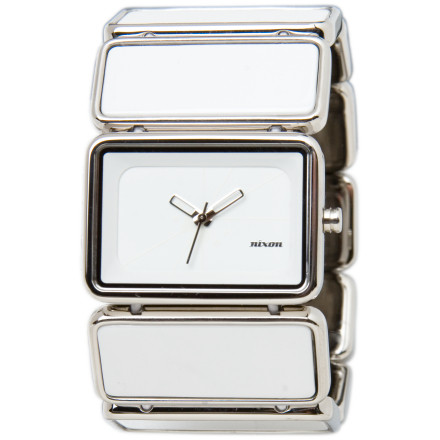 Detail Images
it's a cute watch, it's way big, the only thing is it gets dirty way fast.
What is the width of the vega ss watch?...
What is the width of the vega ss watch? Is it the same as the plastic?
Thanks
Here is an answer I found from a BC customer regaurding the same question: 1 inch 3/4 long, and 1 inch +/- tall. Circ. is 8 1/2 round but can stretch about 9 or 10, but then you deal with gaps in between. And yes, the stainless steel is the same version as the polycarbonate.
Is it easy to get links removed from this...
Is it easy to get links removed from this watch? I have small wrists...
Best Answer
Links from the Vega cannot be removed, the elastic strings through all of the links. It will fit most wrists, it's also the kind of style which if fits a little looser still looks good. Hotness.
This is a very cool watch, but like DSub said below... its a big watch.

Also, I bought this for a friend and it had major scratches after she wore it 1 time. I'm thinking about returning it (if possible)
I have fairly small wrists but I can't imagine this fitting too many people, this watch is huge! I would need to take out 2 links for it to fit, but unfortunately you can't take links out of this watch, so I'll be sending it back. Also, I ordered the white & the pictures of the band look like they are white with stainless steel on the edges, however it is actually entirely stainless links & the edges are a little more rounded than they appear. I don't think it looks as nice as the pictures. I'm pretty bummed because this is the 2nd Nixon watch I have ordered & both have been huge (Nixon Motif was the other one), maybe I'll try Roxy.
No, not really. Shipping weight is 0.79 lbs. that includes the box and stand it comes with. This thing is most likely around the 1/2 lb. range, probably less even.
how do you remove a link, is that even...
how do you remove a link, is that even possible
Don't think you can remove a link the watch is One-Size Stretch Band